"Style is a way to say who you are without having to speak."
One would have never guessed that I was in my backyard when I took those pictures; seems more like a forest. Hurricane Sandy deemed it necessary to uproot the neighbor's tree and relocate it in our yard. Nevertheless, I am thankful it did not fall on our house nor theirs.
I found it quite beautiful actually to witness the leaves transform from their original greenish color (as it was the case when the tree first fell to the ground) to more vibrant hues of orange, gold, brown and red a few weeks later. In one word, VersiColor 🙂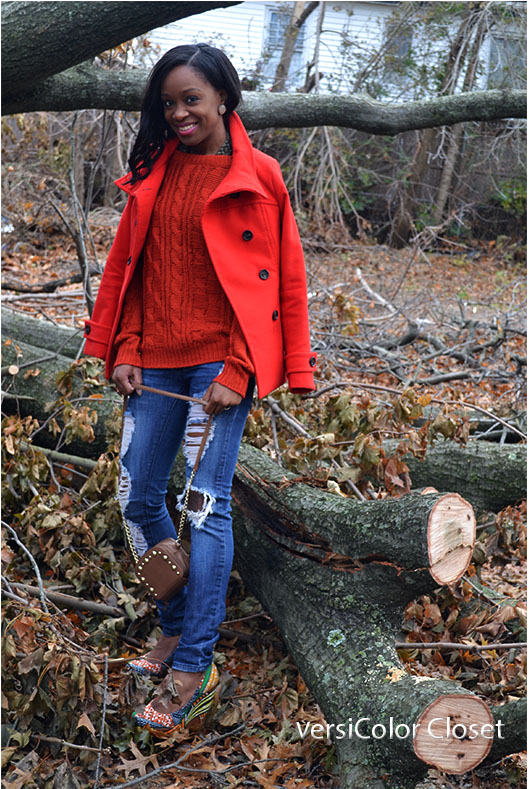 Here, I am wearing a burnt orange over-sized sweater that I got from a local boutique. Not only did the color catch my attention, but I was compelled to try it on when I noticed the spike details on the shoulders placed atop a leopard print patch.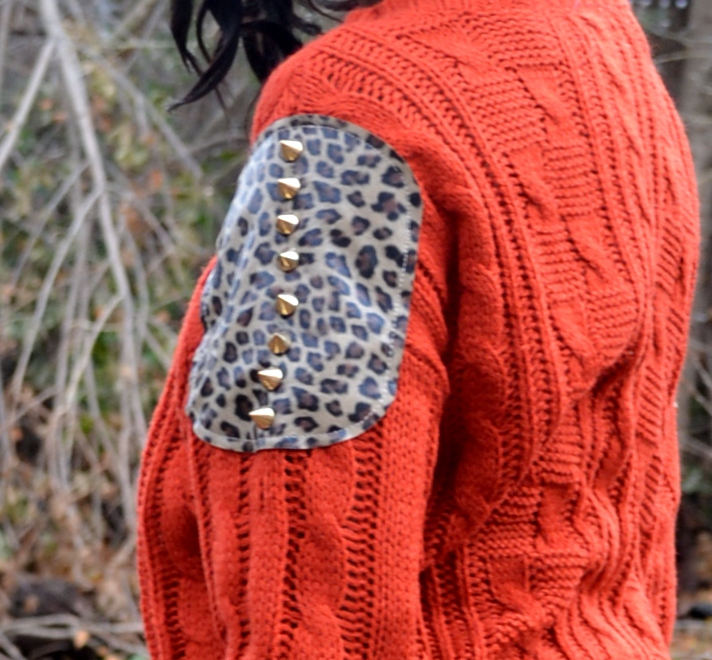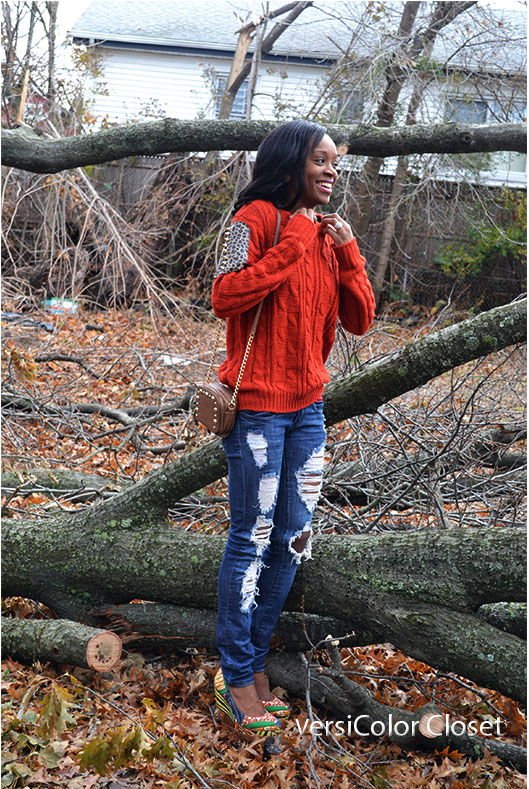 The wedges are made of this colorful African print, with which I fell in love at first sight. I cannot believe how much I have fallen in love with wedges nowadays because a few years back, you would never find me wearing one. I guess you could say that times have changed and my style has evolved over the years. Never say never!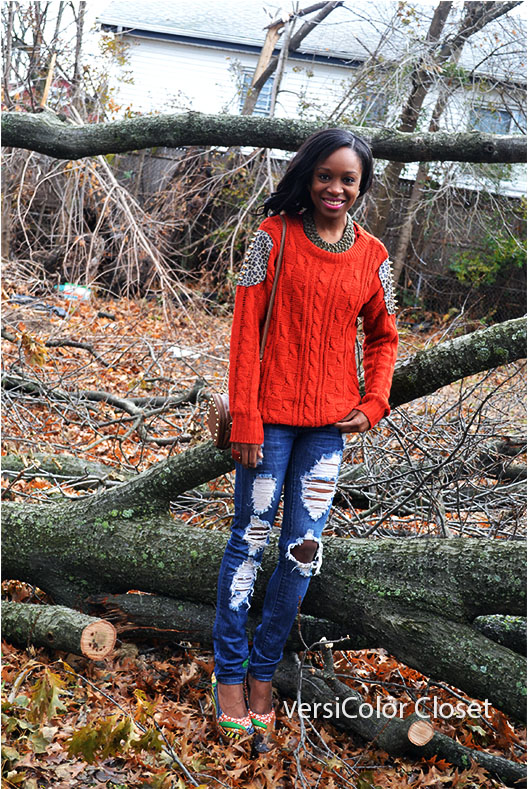 It is always great to wear something more comfortable and laid back unlike the usual office attire; With that said, over sized sweaters are the way to go because they allow comfort without compromising 'fabulosity'.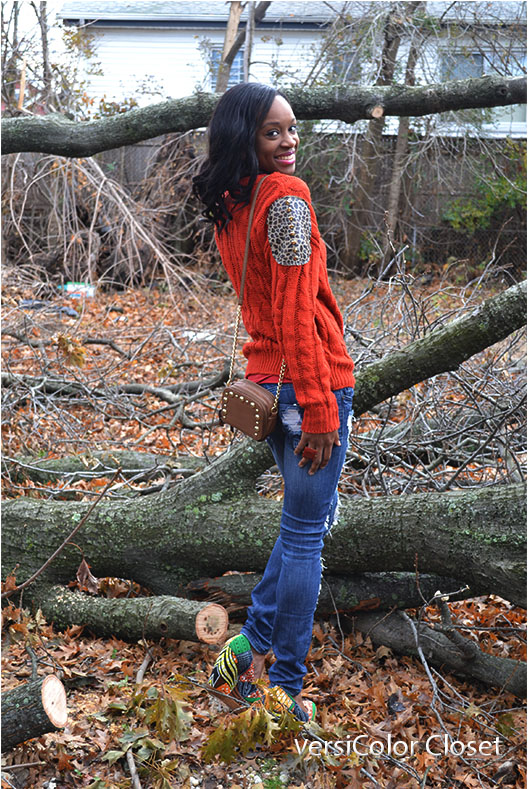 Considering the fact that I like my clothes fitted for the most part, I never thought I would like this sweater but once I tried it on, I did not want to take it off. I will put a few suggestions down below for what sites offer the most stylish and affordable ones.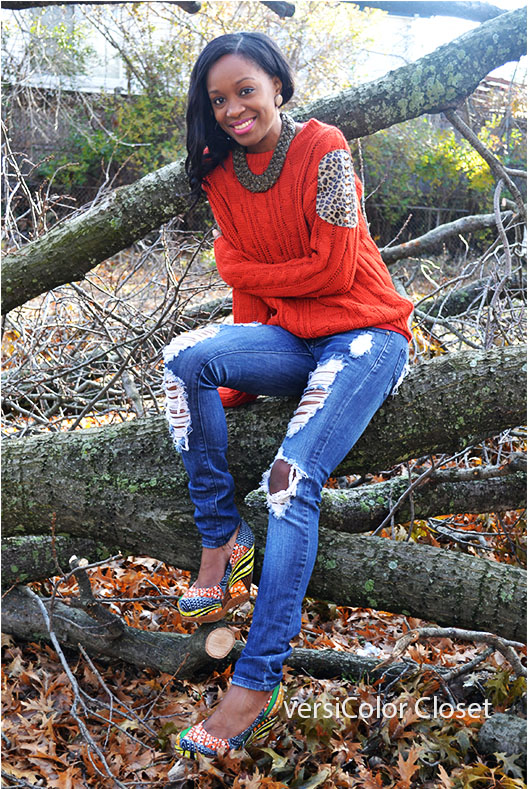 I hope you guys enjoy this post and I hope this blog is fulfilling its mission of inspiring readers around the world to bring a little color to their wardrobe no matter the season. Feel free to share your thoughts and comments down below and thank you for reading.
Sweater: Small boutique. Similar here; Asos also has a pretty much identical one here | Shoes are from Aldo and are still available in sizes 6 & 6.5 here | A couple suggestions for other printed wedges: Option 1 & Option 2 (super cute leopard print) | Cross body bag is by Jessica Simpson (via DSW)  | Similar ripped jeans here | Lastly, the coat is from H&M. Necklace details and suggestions provided in this post.
Edwina
Photography by Nathalie Jean-Baptiste