Hello everyone!
As you may know, us New Yorkers have been snowed in for a few days and thankfully, I did not have to go to work so I have been hibernating in my PJ's hence why I have not posted any OOTD (Outfit of the day). However, since Valentine's day is around the corner, I decided to put together two outfits to give you some ideas on what you can wear either to dinner or wherever else people go with their significant others on Valentine's day.
The first look: I think this outfit is very simple, with a touch of sexy and definitely easy to recreate without necessarily having to go shopping. The turtle neck sweater dress is from Guess (old) and I just added a pair of suspender tights. To add a pop of color I added a blue clutch from H&M with a fuchsia band and also blue suede cap toe pumps from Aldo. Gold hoops are also from Aldo and the statement ring is from Afaze.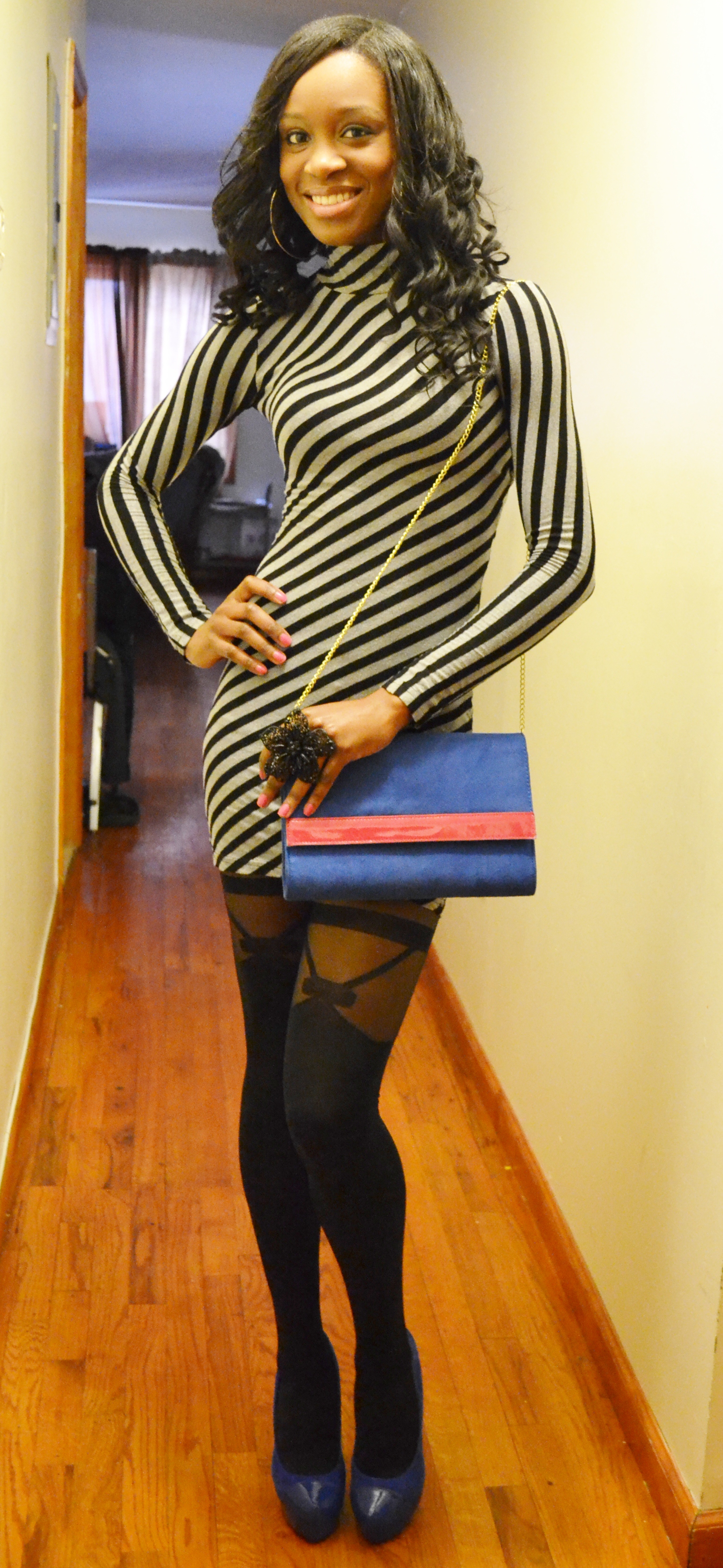 (Don't mind my crazy posing in that last picture. I think I was dancing)
I hope you guys like look #1. Here are a few links to affordable sweater dresses: 1. Leopard sweater dress | 2. Midi Sweater dress | 3. Mesh sleeve bodycon dress 4. Broken stripe sweater dress
The suspender tights can be found for under $20 here.
The second look: I am wearing a pink sequins shirt that I actually wore for Valentine's day last year but styled it differently. It is from H&M and the blazer is from Charlotte Russe. I do not remember where those pants are from but I must say they got pretty cold on me as I took these pictures because the fabric is quite light. The wedges and the clutch are both from Aldo. Bracelets: Forever21
I did not want to suggest all pink and red dresses because they are so 'typical' but accessorizing with pink and/or red is probably the 'right' way to celebrate love 🙂
I hope you guys enjoy these ideas and I hope your Valentine's day will be wonderful even if you are single. It is the perfect day to pamper yourself and celebrate love with family members, friends, and not necessarily only with significant others (although love should be shown and celebrated on a daily basis in my opinion).
Happy Sunday and be blessed! And as always: Be bold. Be fearless. Be Versicolor.
Edwina
Pictures were taken by Nathalie JB | Minimal editing done by me.