"Just the way it never rains when you have an umbrella, you'll never run into people when you look fantastic. But go outside in pajamas, and you'll run into every ex you've had" – Tim Gunn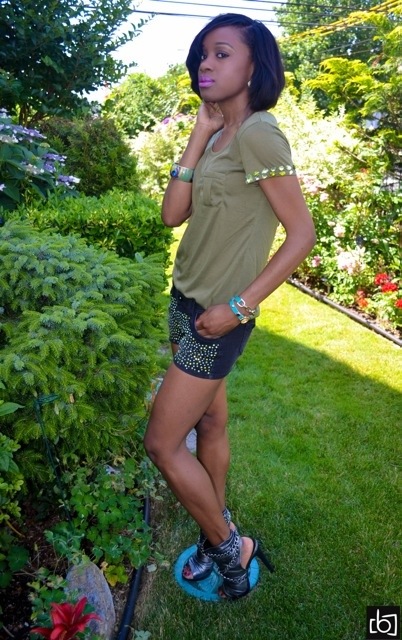 Hello darlings,
There is nothing better than looking fabulous on a budget. I tend to find some insane deals, especially when I have no intentions of shopping – like the $7 I paid for this sequins H&M skirt (seen here and here) when the original price was $199+tax. Here's the unbelievable story of these studded shorts:
I stopped at JCPenney last week to charge my phone (Chronicles of a constantly dead iPhone; I charge it any and everywhere. Don't judge me guys:-) Sigh! I digress). So of course I figured I would look around. Sure enough, I stumbled upon this pair of shorts, hidden in between a stack of shirts. There was only one: It was my size, it was by Nanette Lepore, it had studs and the price tag? $2!!! I kid you not. "The sartorial gods were on my side today" I thought. Since JCP's collaboration with Nanette Lepore launched since February, I was very surprised that there were any items left from the collaboration. I IMMEDIATELY proceeded to the register without trying on my awesome find, when the cashier threw me completely off guard when she said: "Your total is $1.97!!!" "You mean to tell me these shorts aren't EVEN $2?" I shot back in pure shock and disbelief! Score!!!
I also found this shirt at H&M's summer sale for $5 so my outfit costs a total of $6.97 minus the shoes and accessories of course. I couldn't have been happier!
What do you guys think of my thrifty finds?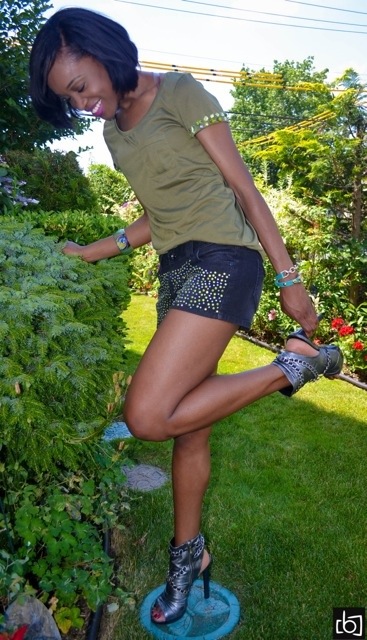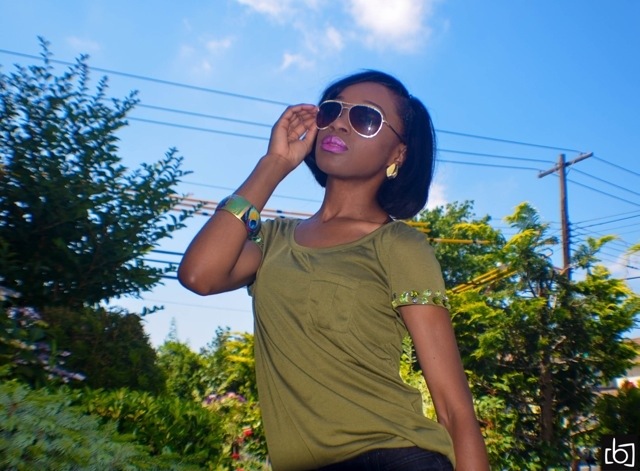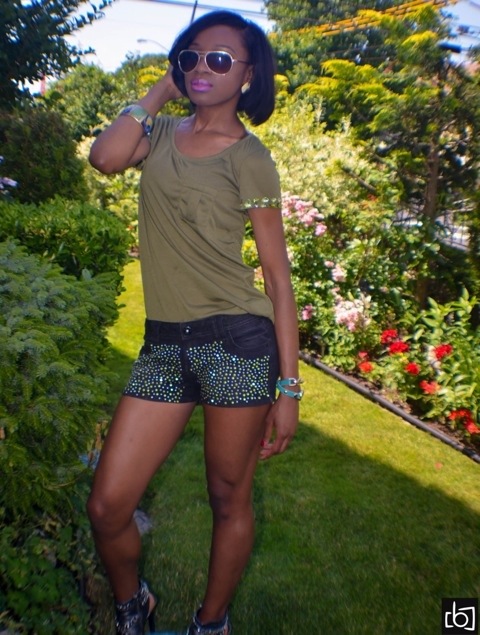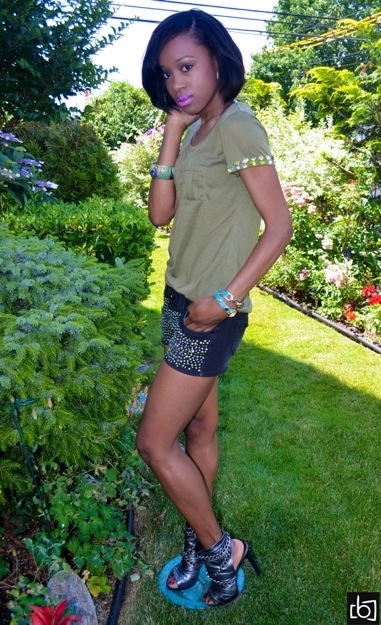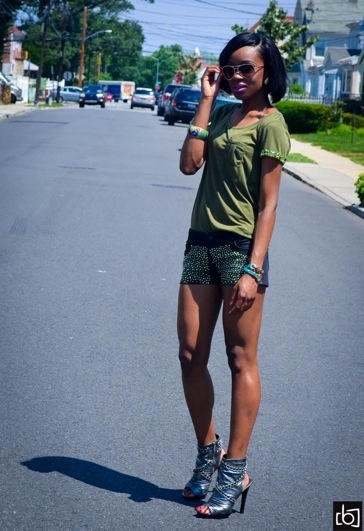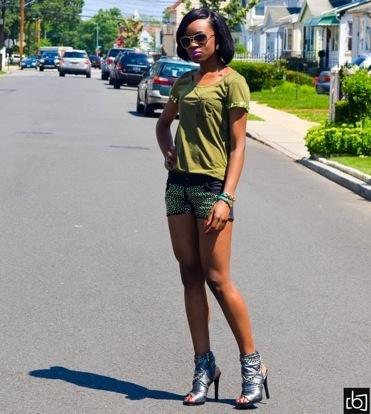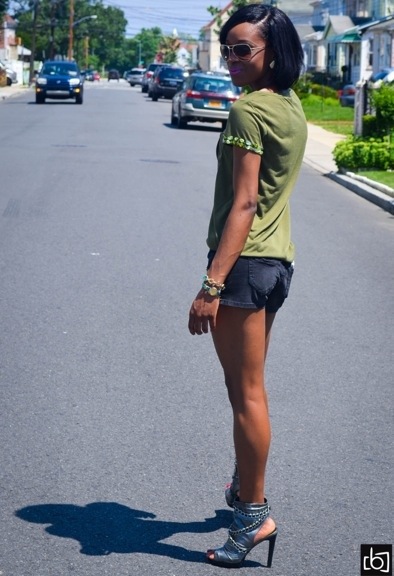 The details…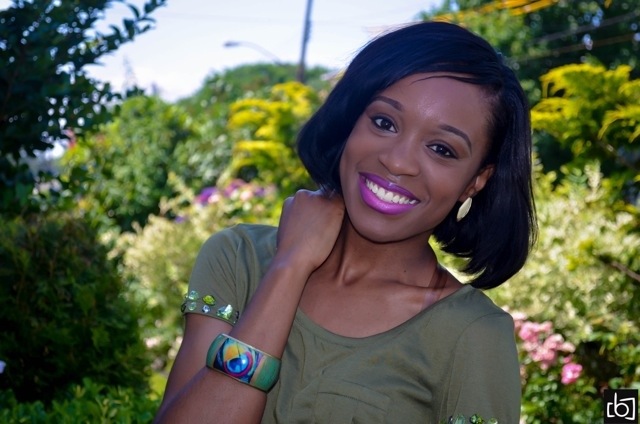 I am still struggling to find the perfect foundation shade but I think I am getting better at this whole makeup thing. Watching YouTube videos is really starting to pay off if I may say so myself 🙂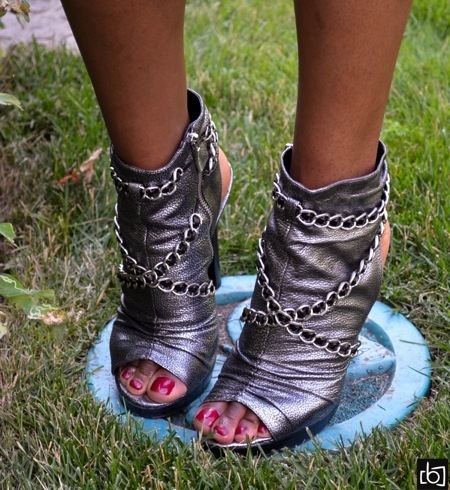 One of the most comfortable pairs of shoes I own: BCBG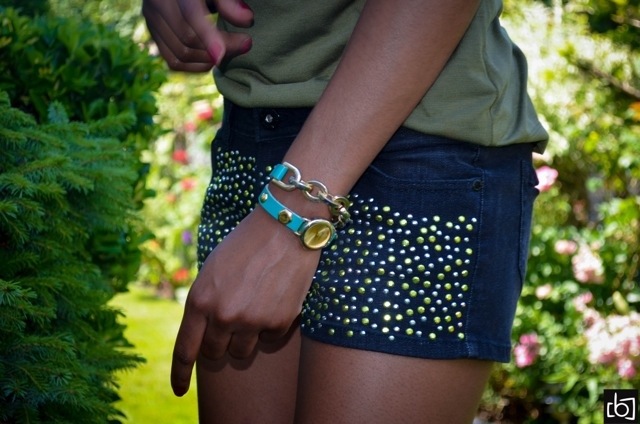 Green and silver studs…
Outfit details:
Shorts: Nanette Lepore for JCP (sold out) – shop similar shorts from the collection here.
Shirt: H&M (may still be available at your local H&M store)
Booties: BCBGeneration (old) – similar here and worn differently in this post: Neon, neutrals and long legs.
Sunglasses: Aldo – Shop here
Bracelet: Aldo – Shop here
Bracelet/Watch: Local boutique – Gorgeous and affordable option here
Big thanks to my VersiColor Closet's newest photographer: BC Oy. You may check out his Facebook photography page here or his website here. He is based in New York and specializes in formal events such as weddings and other types of parties, portraits and landscape photography.
I'm also thankful to a nice lady in my neighborhood for allowing me to shoot this look in her gorgeous garden.
Stay blessed darlings and remember to dress everyday like you will run into every ex you've had, because you just might.
Until next time,
Edwina
 Keep up with me on: FACEBOOK | INSTAGRAM | TWITTER | BLOGLOVIN