Last week, I posted statement earrings under $30 that a fashionista on a budget can use to amp up her wardrobe or add a sophisticated look to her casual outfit. Well, there is definitely more where that came from because I found you guys plenty of statement necklaces for when you want elevate your look without breaking the bank. Enjoy!
1. I find this Zara jewel to be absolutely breathtaking for only $49.90.  The Emerald stones and the pearls form a flawless combination.
Bonus: This gorgeous piece of art comes with a matching pair of earrings. I personally wouldn't wear both together but priced at $16.90, I definitely recommend the earrings as well.
2. This piece is also from Zara.  The crystal accents scream sophistication. It would go perfectly with a white tee or dress that has a rounded neckline. 
3.  This pendant style beauty is only $38 at Nordstrom. With its vintage flare, it's definitely a must have.
4. The various colors on floral piece define Versicolor but then I noticed the bugs and automatically imagined them crawling on my chest. Eeewww! Lol! Would you 'bug' out your outfit for $40? If so, click to purchase at Topshop.
5.  If you have more of an edgy style, this necklace is for you. Talk about a blinged out bib!
PS: Mixed metals are trending!
 6. This River Island piece fits the description of a cross between understated and statement. Love the blue stones. $50!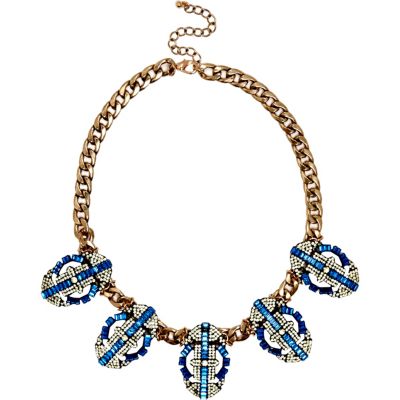 7. Asos carries this New look piece which is a score at only $33.92.
8.  Topshop does it again with this geometric pendant available at Nordstrom for $28.
9. Another New Look piece available at Asos. $25.30
10. Last but not least is this classic silver tone spike River Island necklace
 for $24.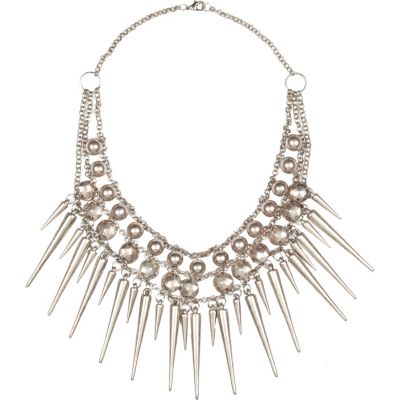 I hope you guys enjoy this post. If I have managed to convince you to buy any of these, be sure to comment below and let me know.
Thanks for reading.
Edwina
Stay in touch with me: Instagram // Facebook // Twitter