"Clothes and manners do not make the man; but, when he is made, they greatly improve his appearance." – Henry Ward Beecher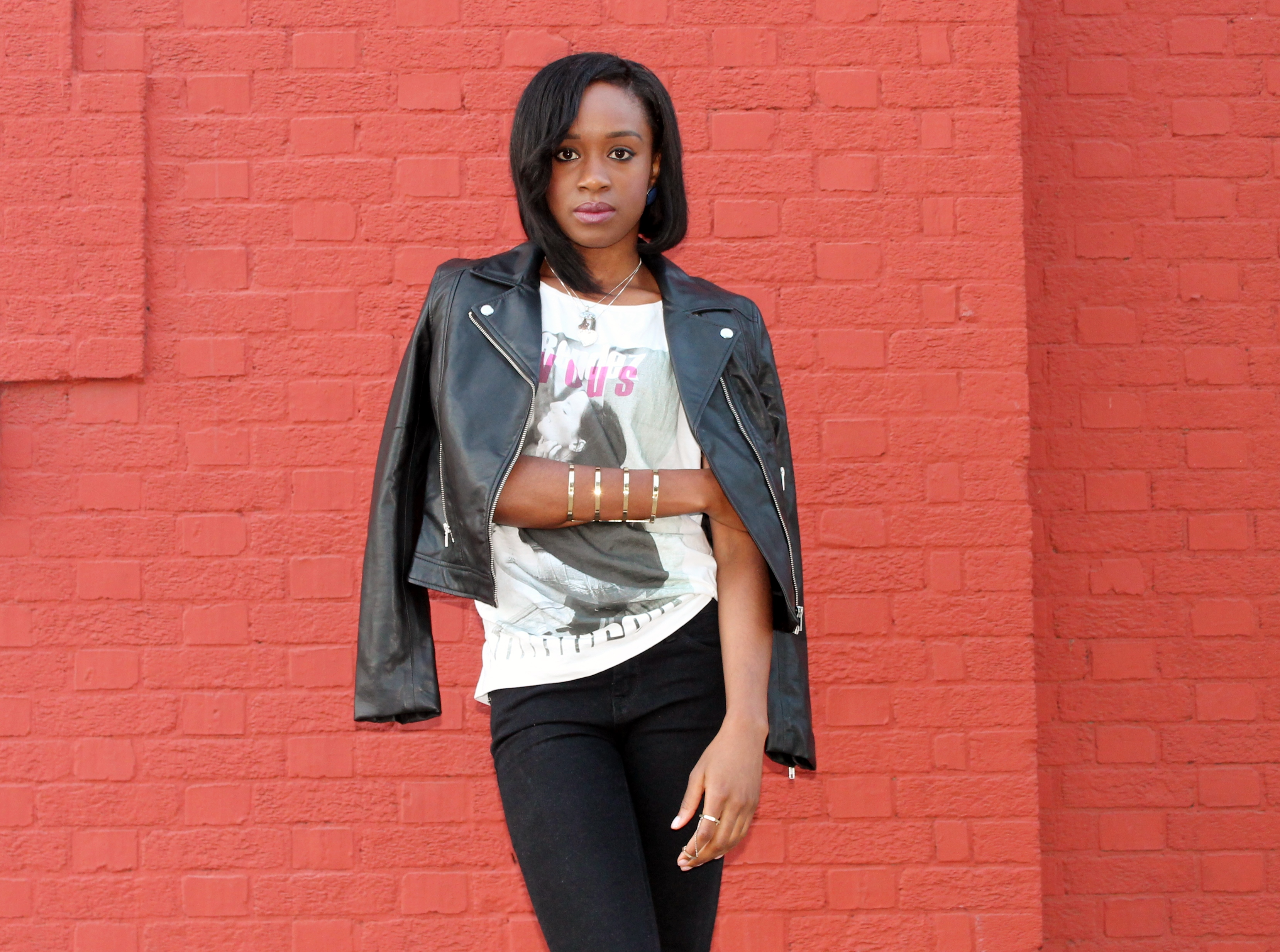 I'm not really a fan of the details on the back of this jacket but for a whopping $15 steal, I just couldn't walk out without it.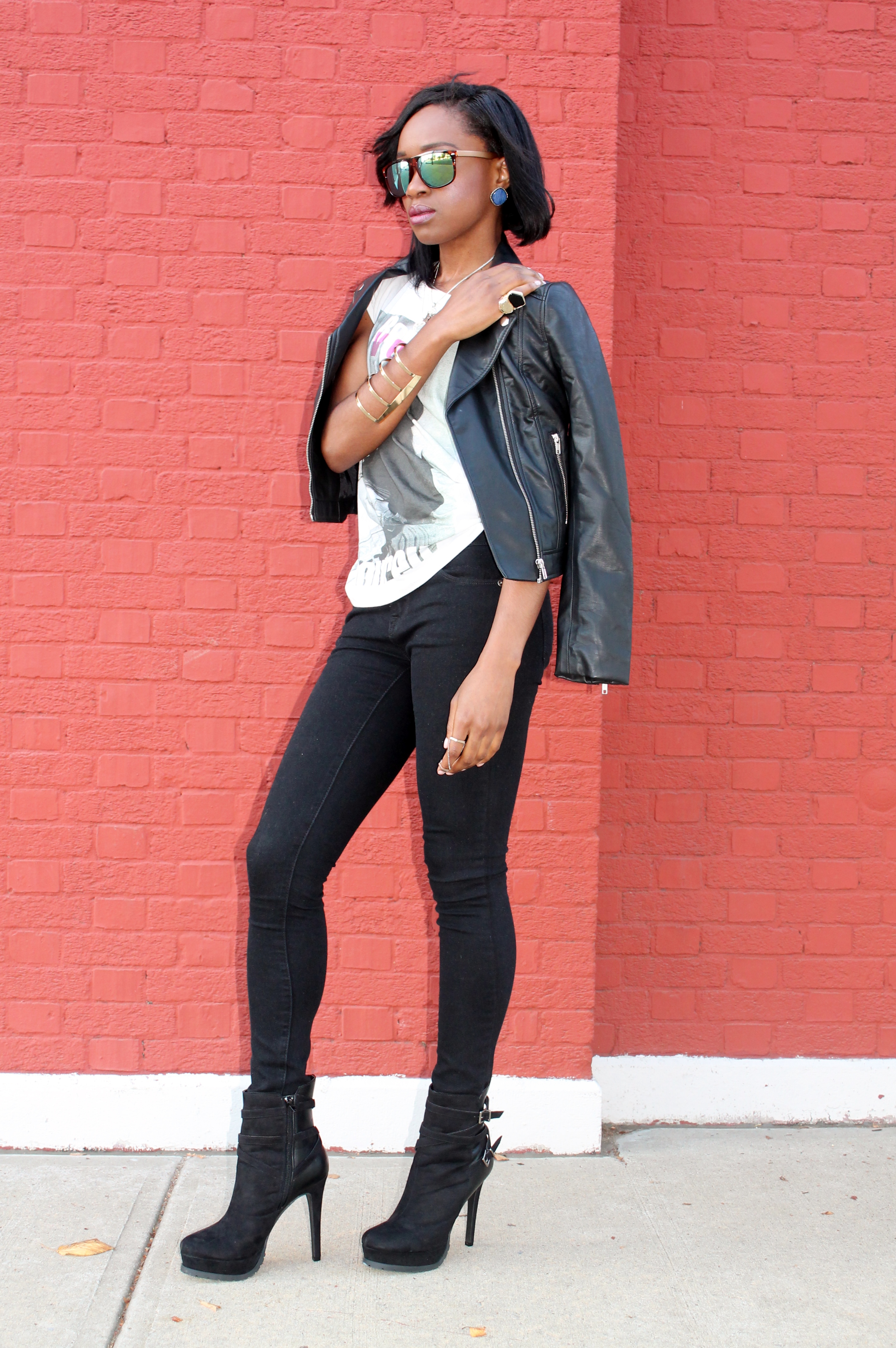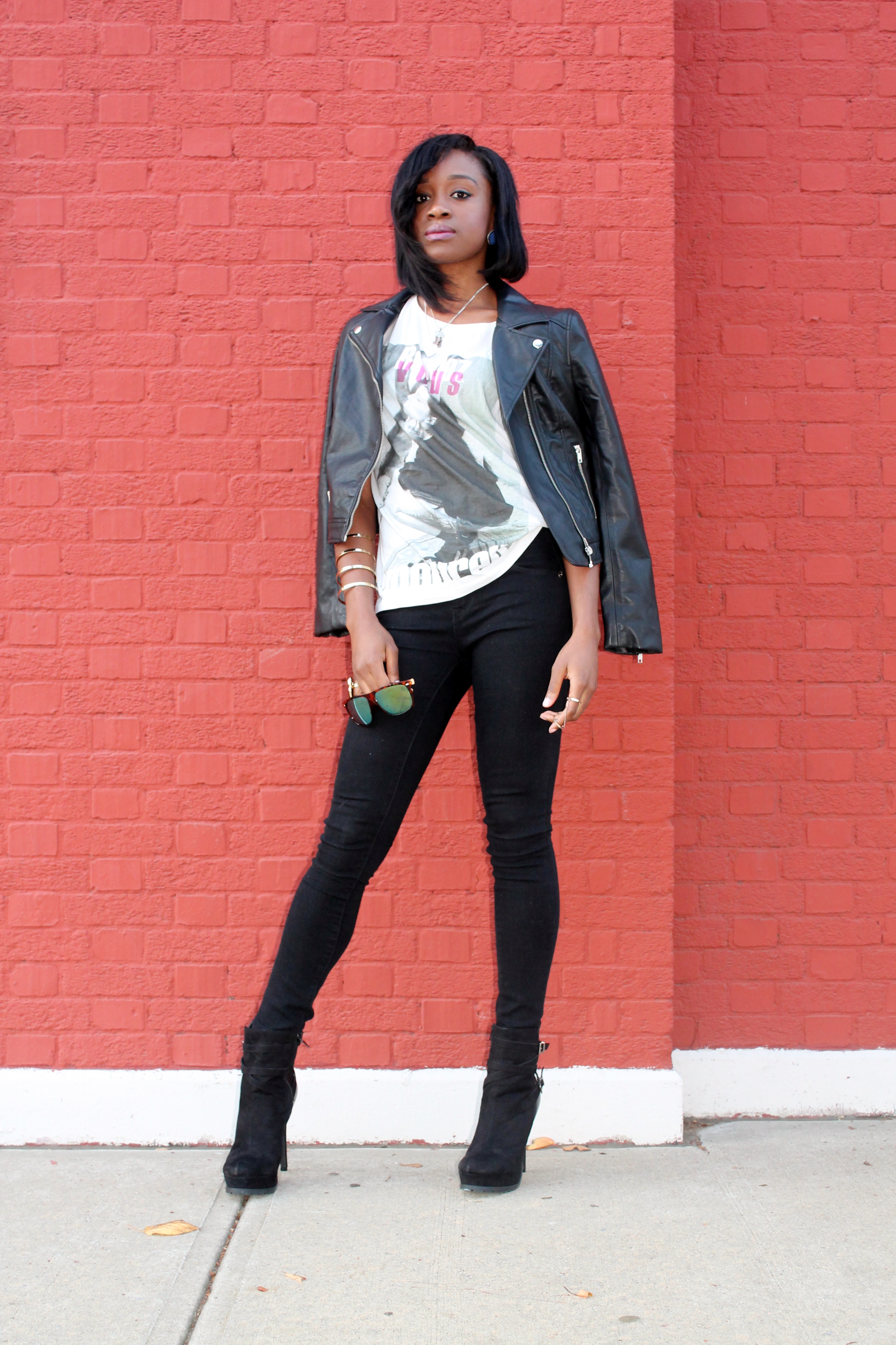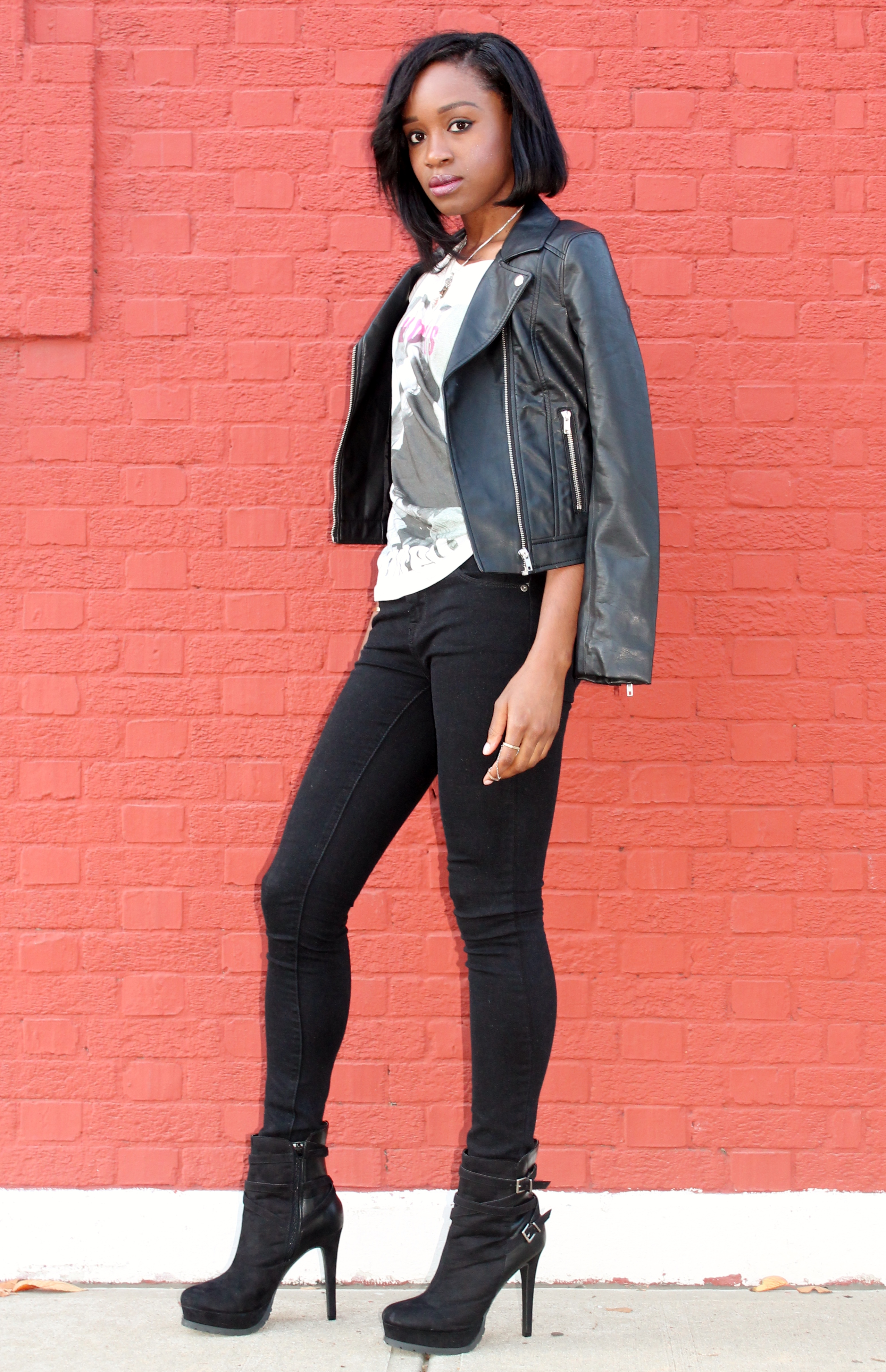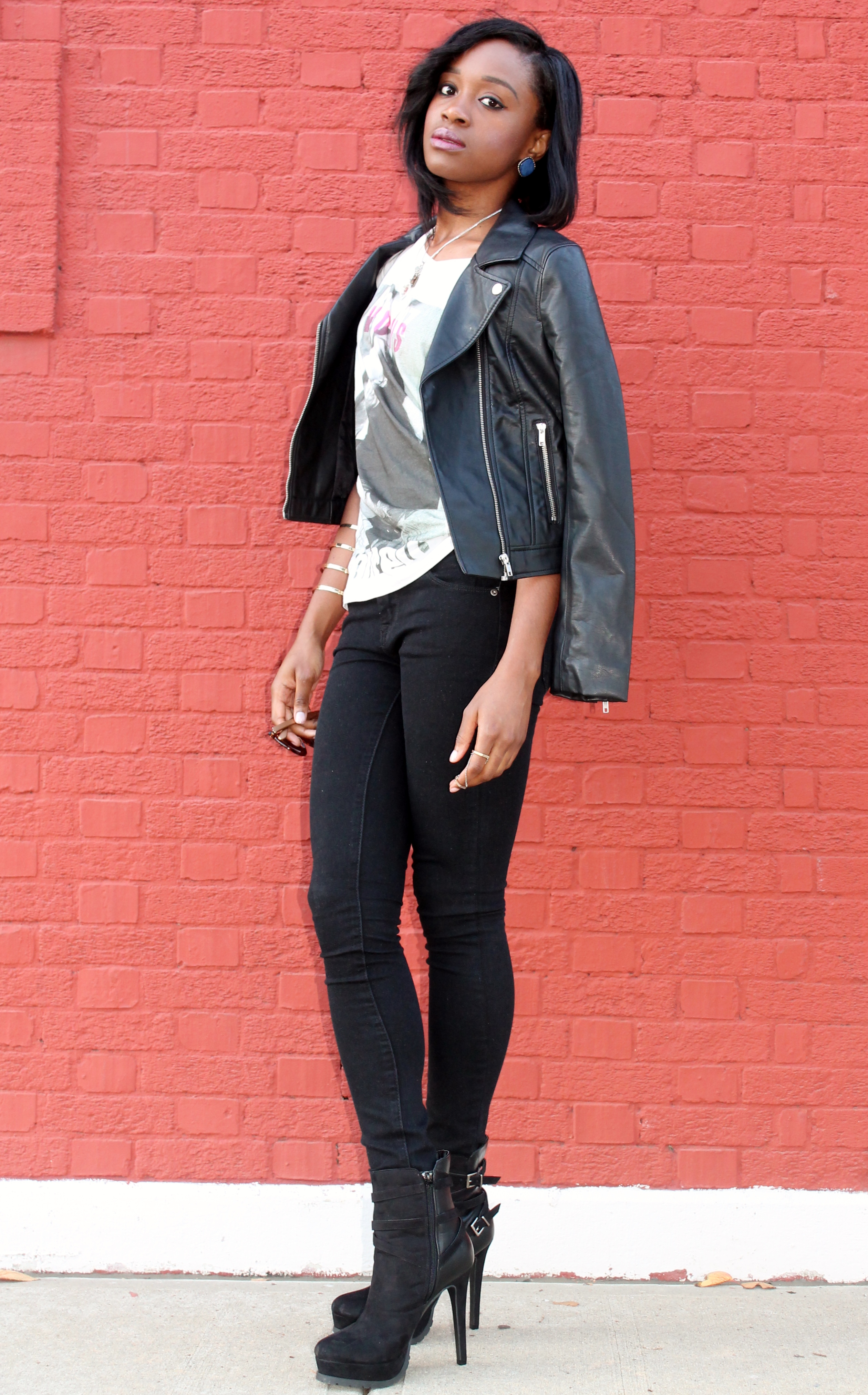 Outfit details: Rendez-vous amoureux T-shirt: Zara – Shop here // Black denim: Forever 21 – very affordable version for $9.95 here // Booties: Forever 21 // Faux leather jacket: H&M – similar here // Sunglasses: Rue 21 // Earrings: Aldo – Shop here // Black & gold ring: Missguided // Chain ring & cuff: Small boutique on 5th ave – Get similar cuff here
Hello guys, I hope everyone is having a good week so far.
I find it so funny that in my last post I felt like a Moroccan princess but in today's post I feel like more of a biker chick. That explains why it's so hard for me  to describe my style. The best word I could think of is versatile.
I've been trying to convince myself not to browse my favorite stores as often as I usually do, simply because even when I'm supposed to only be browsing, I always end up buying something. It was no different that evening, while checking Forever 21's new inventory. I mostly shop at the Times Square location and my goodness, is this store huge?! There are four floors altogether so going there always means at least an hour of browsing and some more time trying on the chosen few, and even some more time in line to check out. Oh the joy of shopping!
Within five minutes in the store though, I spotted these boots and simply could not believe they were by Forever 21. They are really stepping up their game lately. I usually refrain from buying shoes there, simply because they don't last as long; let's face it, you get what you pay for. But these? I had to have them. They are described as a pair of faux suede platform booties featuring a faux leather shaft and decorative buckled straps. The padded insoles ensure that they remain comfortable with prolonged wear and the platform helps with balance and stability. I am absolutely in love with them  and will be wearing them quite often this season.
Have you guys started shopping for the fall and winter seasons yet?
Stay tuned for more updates to my 'shopping guide' section – where I will feature stylish and affordable coats, boots and all essential wardrobe staples to remain warm and on trend for the upcoming cooler days.
Until next time dolls,