"When I started my musical career I was a maid, I used to clean houses. [My] mother was a proud janitor, my step-father who raised me like his very own worked at the post office and my father was a trash man. They all wore uniforms. And that's why I stand here today in my black and white and I wear my uniform to honor them." – Monáe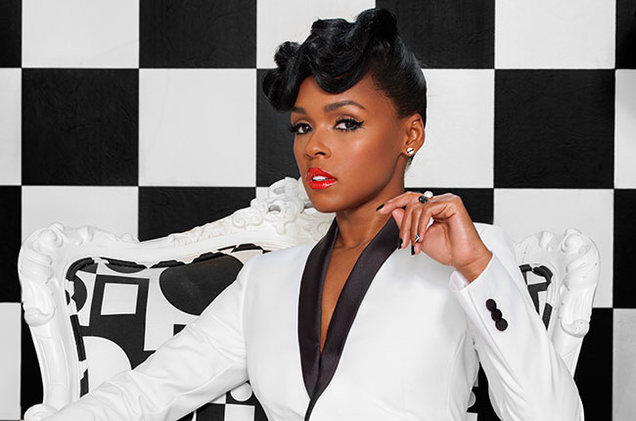 It's safe to assume that everyone has wondered at some point why Janelle Monáe almost always sports black and white uniform-like looks (repeat quickly 5 times. Lol). As with anything that causes me a bit of uncertainty, I googled her story when she first made her appearance in the public eye and what I found caused me to instantly fall in love with her – not only as an artist, but most importantly as a humble human being. Monáe's story is such a beautiful and inspiring one and the fact that she aims to be a role model for girls around the world is an added bonus. Far too often, we forget where we come from and the sacrifices that were made by others in order for us to achieve the level of success we all dream of; so this is a great reminder to always remember the ones who have helped us along the way and to always honor them. 
I must admit that I assumed she would probably look the same all the time because she wears the same colors but I stand corrected. Her style is in a category of its own; so are her gorgeous hairstyles. The musical genius has such a great eye for fashion and in my opinion has mastered the art of elegant androgynous looks. Somehow, her looks are always different and without fail very fashion forward even with their minimalistic feel. I would totally love to see more color (as in the picture below) on her gorgeous skin besides her lip color but I can't help but to be immensely inspired by her originality and super fun looks. 
Do you think Janelle should include more color to her looks or stick to her black and white uniform given the symbolism behind it? Feel free to chime in in the comment section. I'd love to hear from you!
Until next time lovies,
Disclaimer: All images in this post are results of a Google search and are copyright to their respectful owners. Versicolor Closet claims no credit for said images.