"Don't let the urgent things crowd out the important things."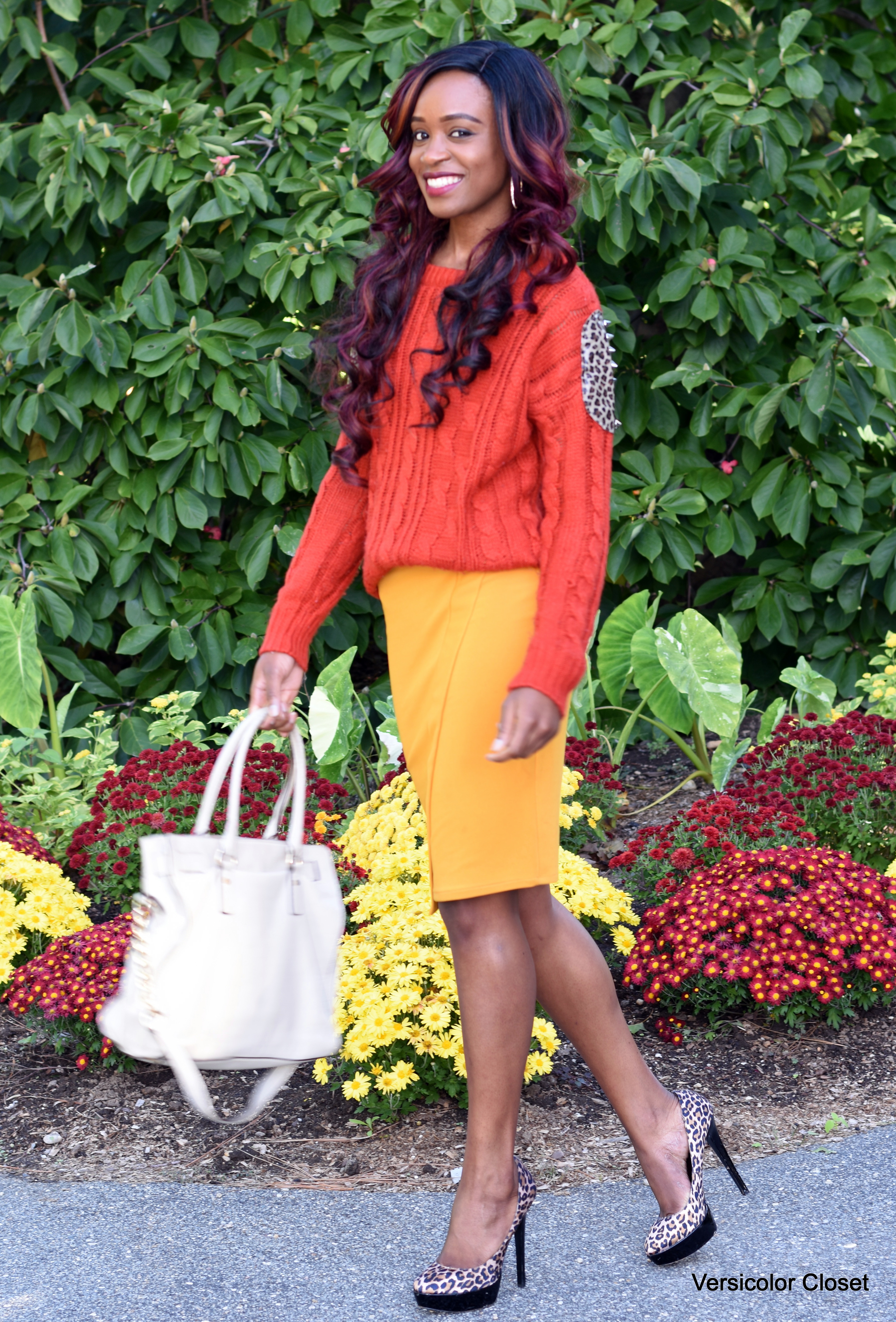 In this post from last week, I shared with you guys how burnt orange paired with burgundy and other shades of red turned out to be a great color combo for Fall but rest assured that you can remix your fabulous burnt orange finds all throughout this season with other hues in the color wheel.
This look came about without much forethought as I got ready for work this past Monday and I thought the colors formed a nice contrast against the blonde highlights and burgundy color of my new hairstyle. I accessorized with my favorite leopard jacket and pumps which serve as the perfect neutrals to pull the look together.
Wearing:
ZARA skirt – styled differently here – affordable option here // Oversized sweater from local boutique – shop options here // H&M jacket – similar here (on sale!) // Leopard print pumps (old) – love this pair
***
In this sermon,  Priscilla Shirer (a minister and the lead actress in War Room)  mentioned a book which talked about how we are 'slaves to the tyranny of the urgent.' The book talked about how "we live in a constant tension between the urgent and the important." That statement truly resonated with me because it is obvious that we live in a society where most of us are living an unbalanced life, wasting time on social media and having no time for what's truly important. We spend so much energy on our mundane routines that we are left with no quality time with our families and we don't listen carefully to their stories of hurt and pain until it's too late. We rush through everything and never slow down to live in the moment. And worst of all, we are left with no time or energy to communicate with God and spend time in His presence when doing so would save us from a lot of heartache.

With all that said, I challenge you all as I challenge myself to set your priorities straight, to stop neglecting the important because of the urgent, to make better use of our time and most importantly, to spend time with God. Your soul will thank you for feeding it with THE Word of life!
Thank you for reading.
Until next time,
Edwina