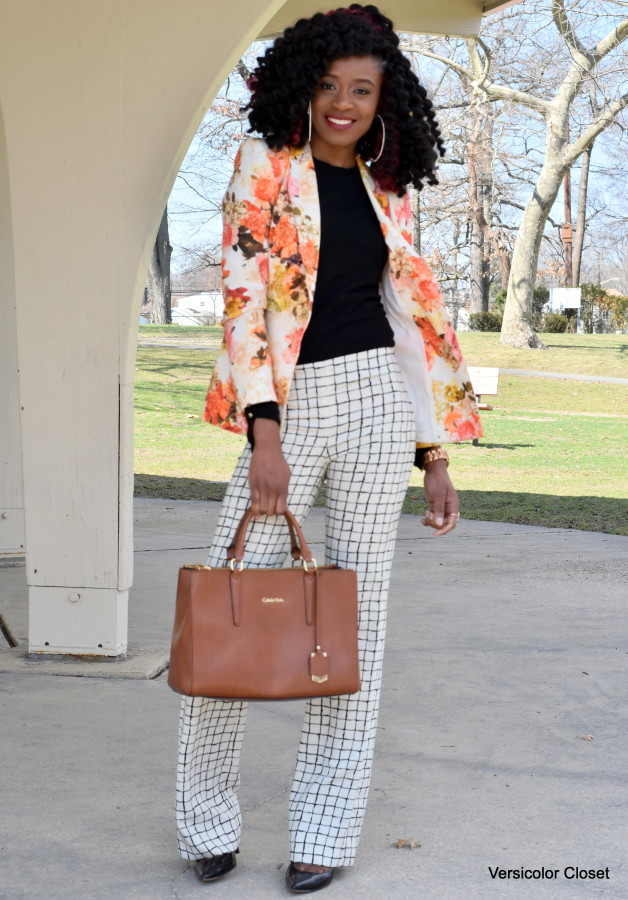 Hello beautiful people!
I just realized that I'm wearing Zara everything in today's post. What can I say? I love that store. Click here and here to check out previous posts where I shared tips on mixing prints. This super soft & versatile sweater I'm wearing can be found here in an array of colors. The trousers are sold out but you can try this lovely pair. Love this floral blazer. My bag is by Calvin Klein and the shoes are by Michael Kors . You can shop similar black leather court shoes here.
**
Someone called K-LOVE (a Christian radio station that I listen to) and had a very serious question to pose. The man was clinically depressed but considering the fact that he was a Christian, he was torn about whether he should take his prescribed medications to heal his condition or just pray and hope that God will perform a miracle. To answer his question, one of the DJs used the perfect analogy: "When you get a splinter in your finger," he said, "do you find a way to take it out yourself or do you pray that God will perform a miracle for it to magically disappear from your finger?"
Many times in our lives, we are like this man, awaiting extravagant miracles while dismissing blessings that have already been bestowed upon us. The message he was missing was that God uses different means, people and situations to answer our prayers but while we're believing God to answer our prayers, we must also do our part. It's a given fact that we have to have faith and persevere in prayer but let's remember that faith without works is dead. While you're believing God to heal you from your sickness, take your medicine and follow your doctor's instructions. While you're believing God to provide you with a new job, make sure you're researching job postings, applying and networking. While you're believing God to assist you in achieving a healthier and slimmer body, make sure you're eating healthy meals, small portions, drinking plenty of water and exercising. I've had to give myself this same pep talk when trying to figure out my purpose. I can guarantee that discovering one's purpose will almost always happen as a result of ongoing endeavors and projects. By doing things we've never done before, we're able to discern our passion and subsequently our purpose.
Success goes hand in hand with hard work no matter what we're striving to achieve. Let us be patient but let's do so actively. It may sound like an oxymoron to wait actively because waiting certainly sounds passive but 'doing' is essential in achieving our goals and realizing our dreams. Get started today on whatever you've been procrastinating on and give God something to bless. Lastly, we ought to remain open minded. Oftentimes, we bypass our blessings because they're presented to us in a different packaging than we had hoped for. God is able to do much more than we can imagine so keep that in mind and keep Him out of a box. Only then will he start to turn the ordinary into the extraordinary.
I've recently joined Snapchat. Follow me on there @versicloset and see clips of my life that never make it on the blog.
Stay fabulous darlings! Until next time…
Edwina