It all started with a dream… We did a lot of planning ahead, then our birthdays came. After a 13 hour flight with the Emirates, we landed in the UAE and our Dubai adventures began…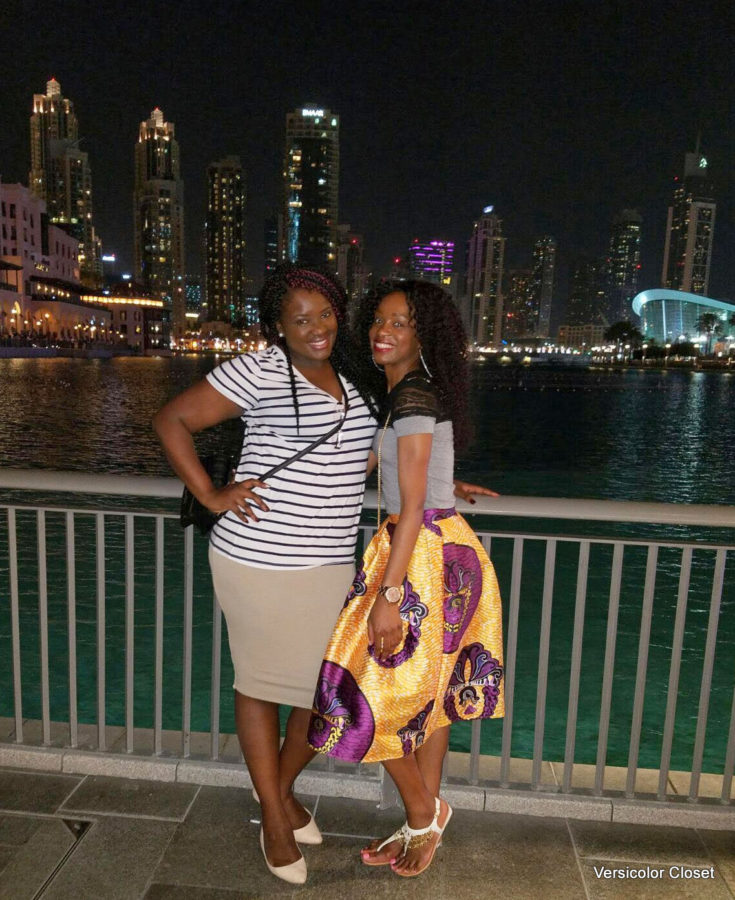 Wearing: SNAZZY CLOZET skirt // H&M top // THALIA SODI  sandals via MACY'S
Day 1: Dubai Mall – Fountain Show
It only took about 10-15 minutes to get to the airport from our hotel. We landed around 8AM but in NY time, that's midnight so to say we were exhausted is an understatement. Unfortunately, check in at our hotel was not until 2PM so we waited a little while in the lobby before our rooms were ready! The rooms were simple but clean and had a nice view of the surrounding areas.
We then showered and stepped out to grab a bite at a nearby restaurant called Landmark where we also had the best and freshest mango juice ever! Before I could finish my food, I was falling asleep in the restaurant and just had to go take a nap. Once I recovered, we headed out to the Dubai Mall to explore a bit. We took the metro and a few stops later we made it to our destination. The walk from the train station to the mall was at least 30 minutes so we were happy to finally make it. We watched the fountain show outside the mall which was amazing but way too short. I feel like it was over within a minute or so.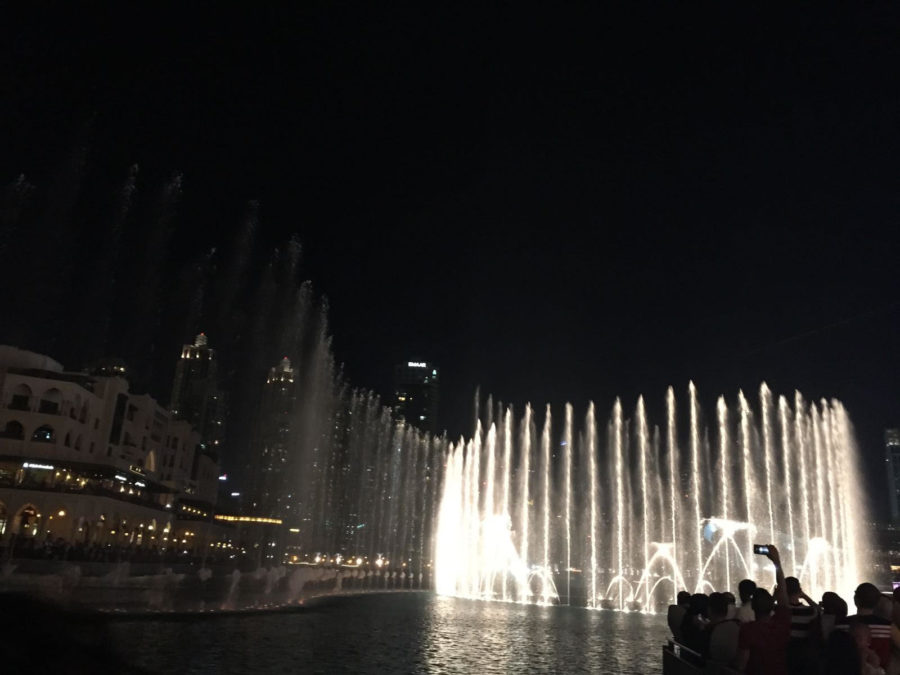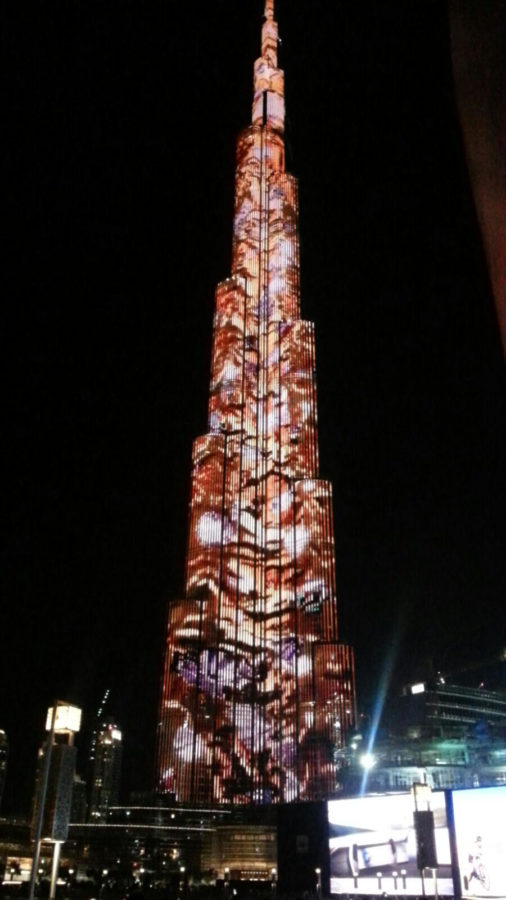 The Burj Khalifa at night – Tallest building in the world.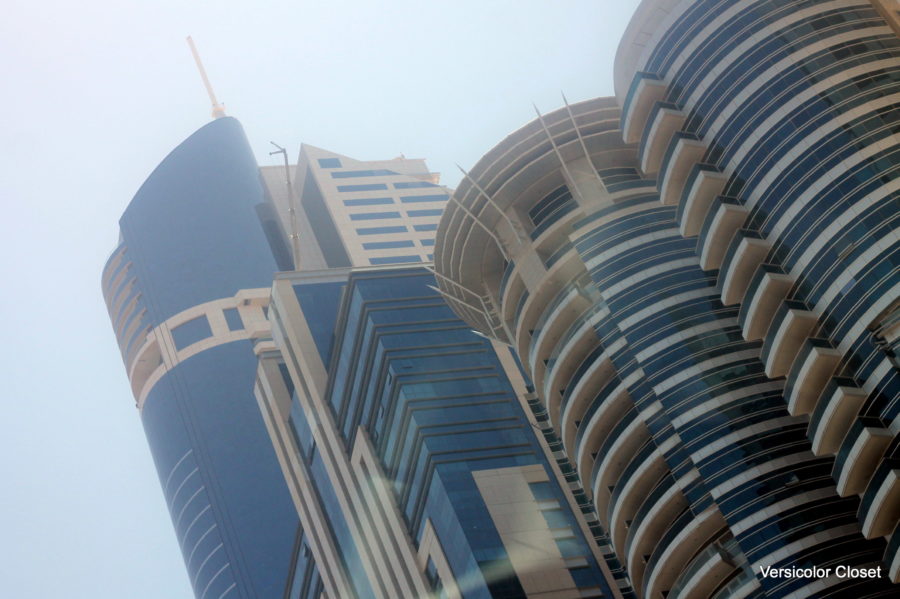 Because the metro's service ends at 11, we figured it was wise to grab dinner near our hotel. I had lamb which was pretty good. We then took a walk afterwards to explore the neighborhood a bit. I expected to see all the luxurious cars everyone says Dubai is famous for but all I saw were Toyotas and Range Rovers. I guess there's more to be seen…

Day 2: Butterfly & Miracle gardens
Since we had done our research before we came, we knew that there was a church nearby so we made our way to St. Mary's on Sunday morning and got there within 15 minutes. I was amazed at the number of people that attended the service but most of all by the diversity among them. Indians, blacks, whites, and everyone in between all gathered to worship under the same roof in unity and love. I absolutely loved that and wished there was more of that peaceful accord in the world.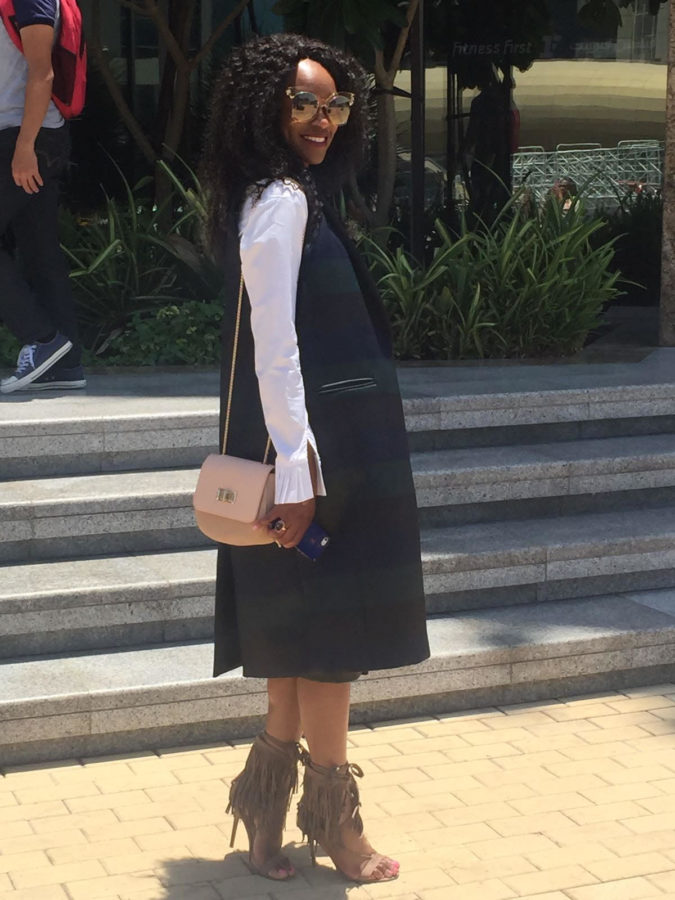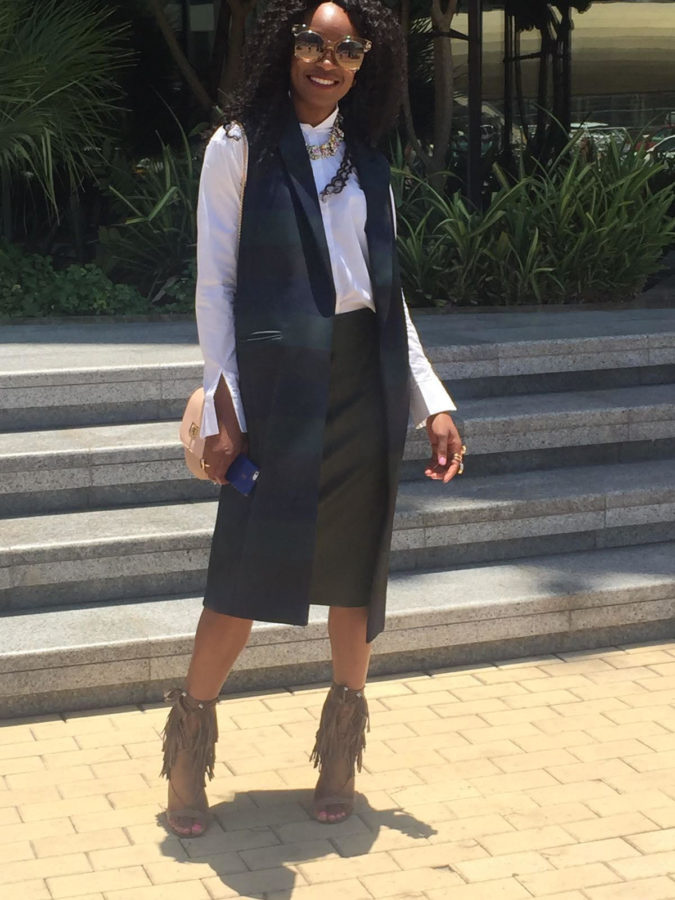 Wearing: ZARA heels // SHEINSIDE shirt // ASOS jacket // WHO WHAT WEAR via TARGET crossbody bag & GOLD SOUL sunglasses // SASSY JONES necklace // Sandals (gifted)
We took a cab to City Center where we grabbed lunch at a Lebanese restaurant. My lamb omelette sounded good in theory but it had way too much oil for my taste so that was a fail. From there, we took another cab back to the hotel so we could switch to more comfortable clothes and continue to explore Dubai and all that makes it an amazing place to visit.
The Butterfly Garden and Miracle Garden were next on our itinerary for the day. I'm not a big animal lover but I love butterflies. When we walked in, free drinks were given and ice cream was available for purchase. The first room was more like a museum of butterflies. Of course there were pictures of the Sheik of Dubai (the current ruler), and his son who will be the next leader and also the Sheik of Abu Dhabi. Not only are their pictures everywhere, roads are named after them and they seemed to be loved by everyone.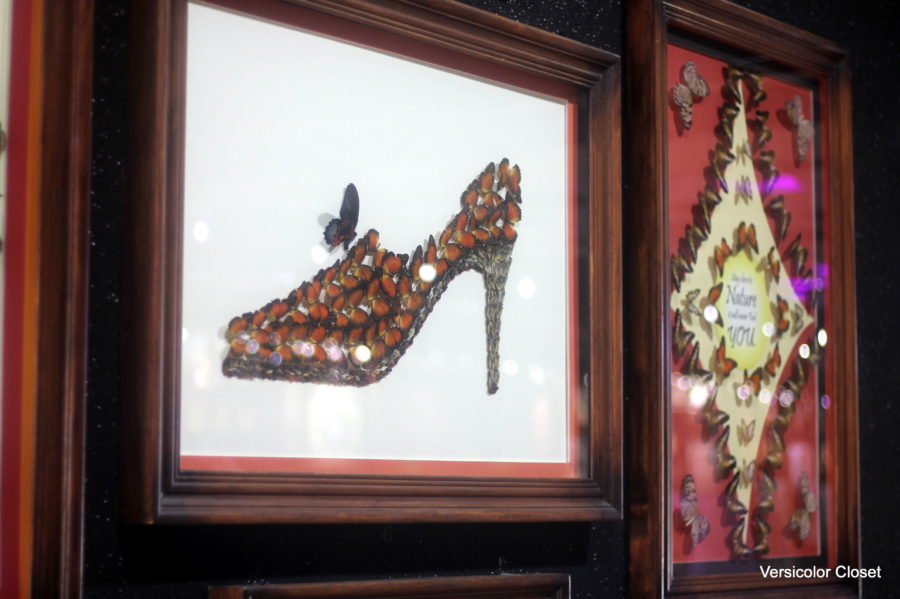 We proceeded to the actual butterfly garden which was quite magical. Listening to the soothing sound of the birds and cascading water made us forget the heat for a moment. We were even able to extend our hands out and have the butterflies land on us which brought out the kid in all of us. The simple pleasures of life!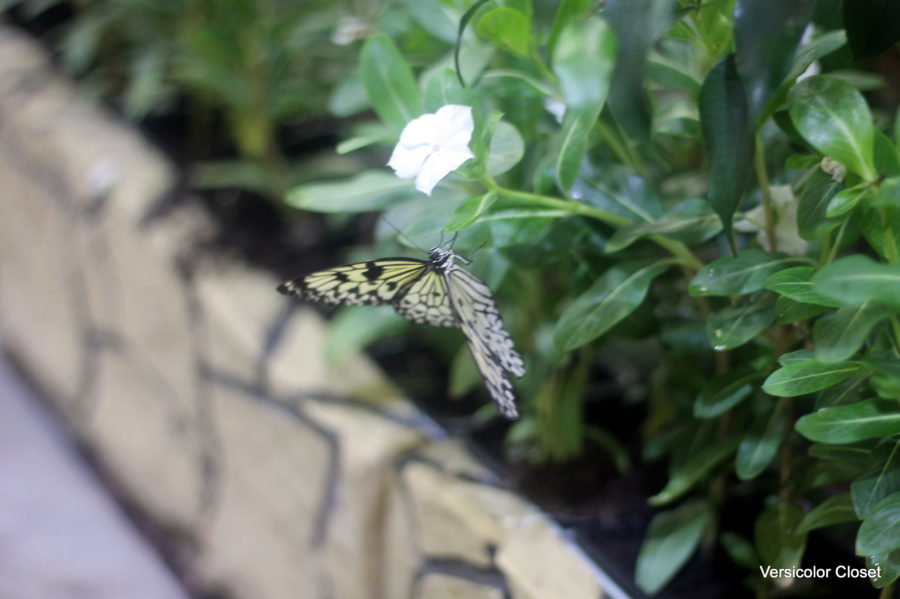 From there, we took a walk to the miracle garden which lived up to its name. I cannot even guess how many gallons of water is necessary to water the endless amount of flowers cut in various shapes that decorated acres of land. We grabbed an ice cold water and started walking around. By the entrance, there was a building in the shape of the Burj Khalifa and a wind mill which were made of oranges and lemons. I've never seen anything like it. I thought this garden would certainly be a perfect place for a wedding because no decoration would be needed. In certain places, there were upside down umbrellas in an array of colors which formed a ceiling that provided shade from the burning sun. I will have to let the pictures speak for themselves because no words can explain the beauty of this garden. The kaleidoscopic views of flowers everywhere were definitely Versicolor approved.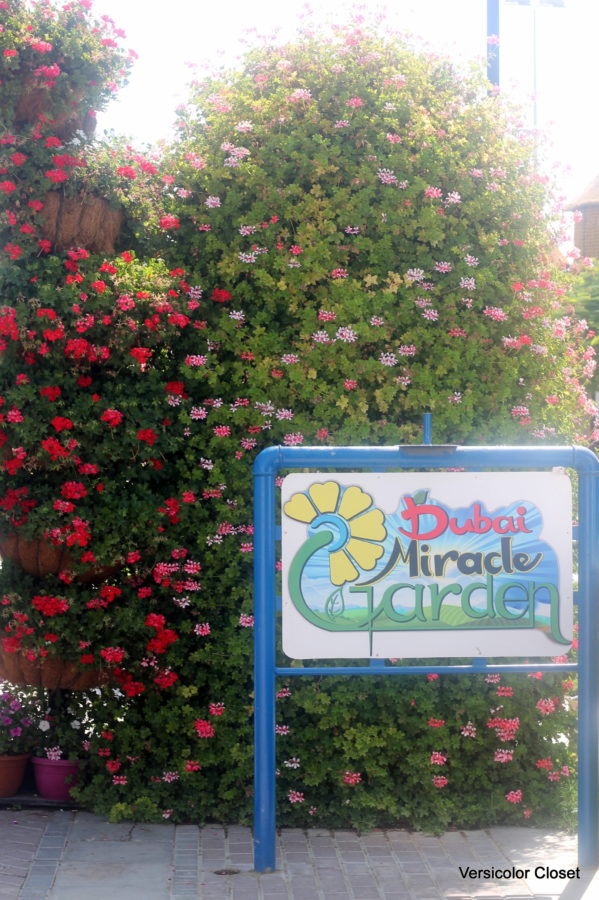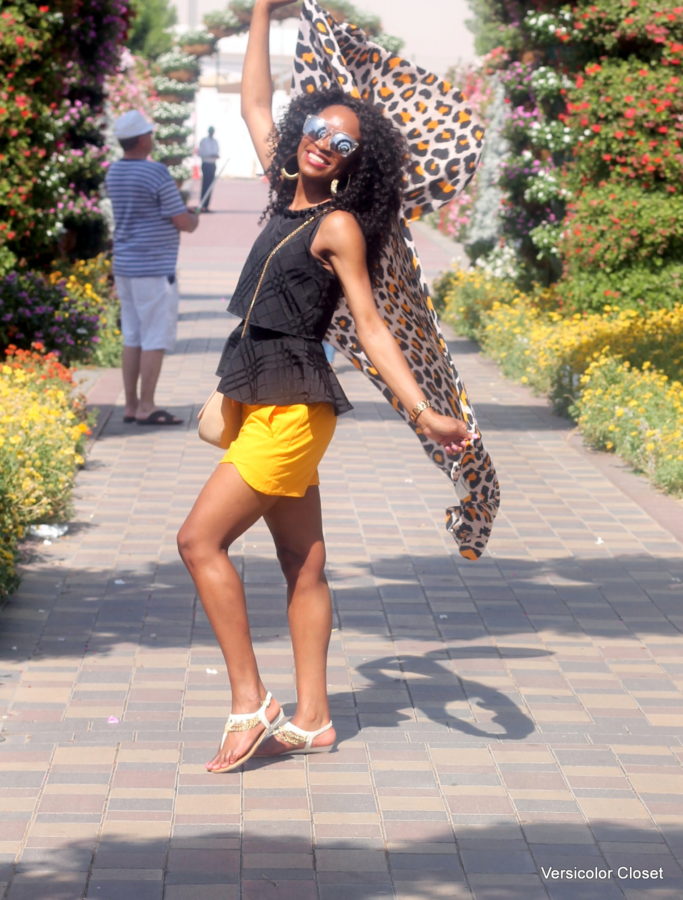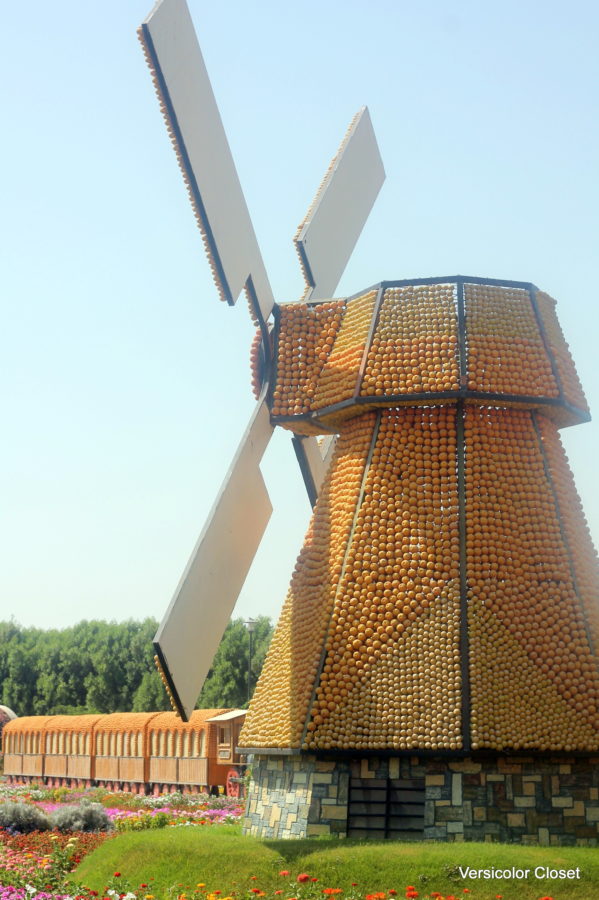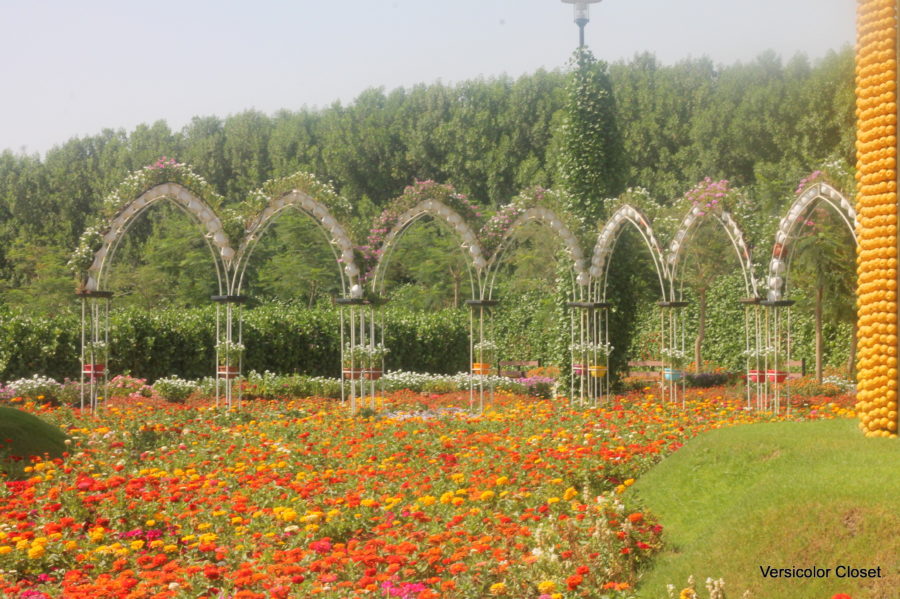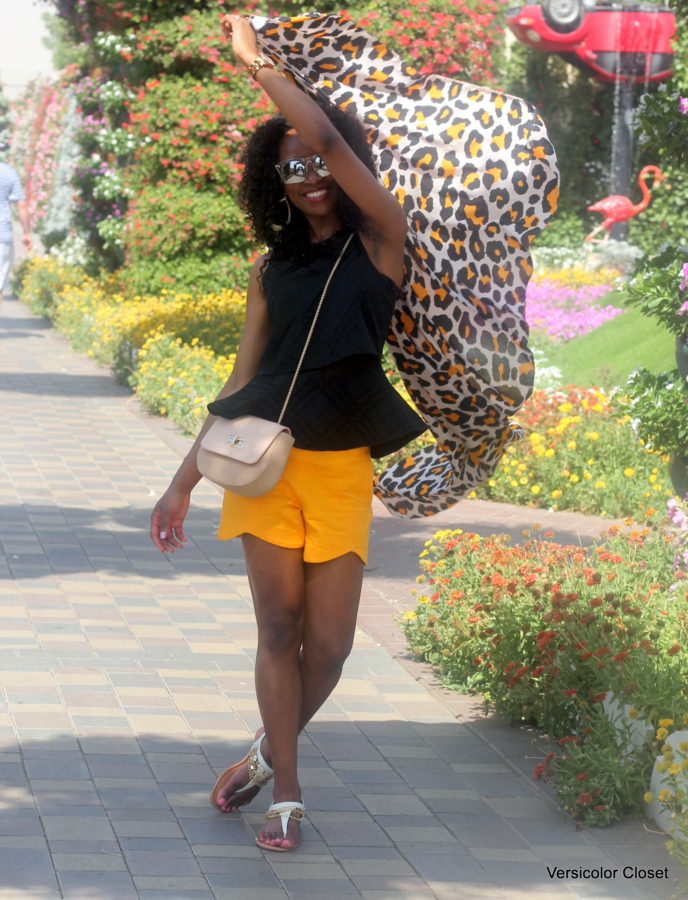 Wearing: EXPRESS peplum top, ZARA shorts, MACY'S sandals, H&M scarf, WHO WHAT WEAR via TARGET crossbody bag & GOLD SOUL sunglasses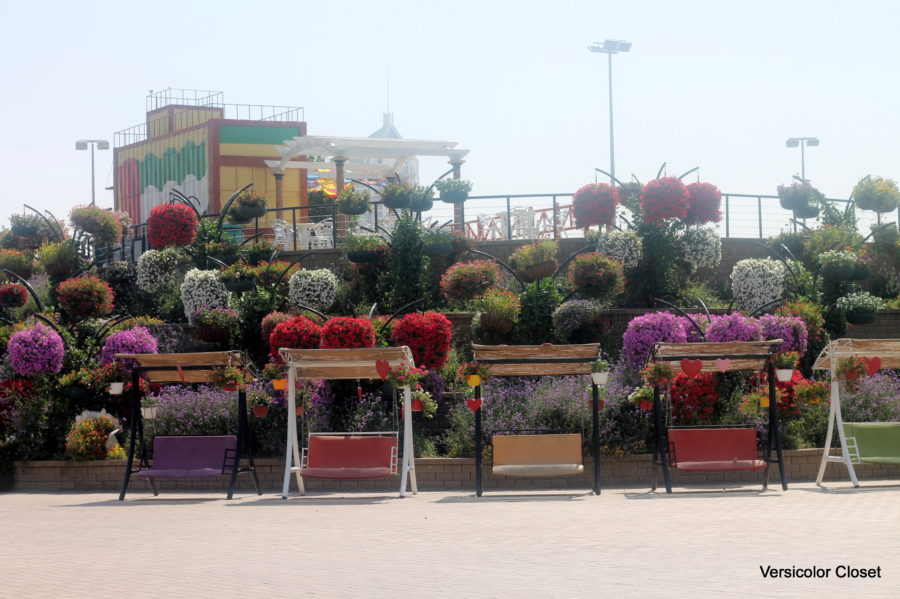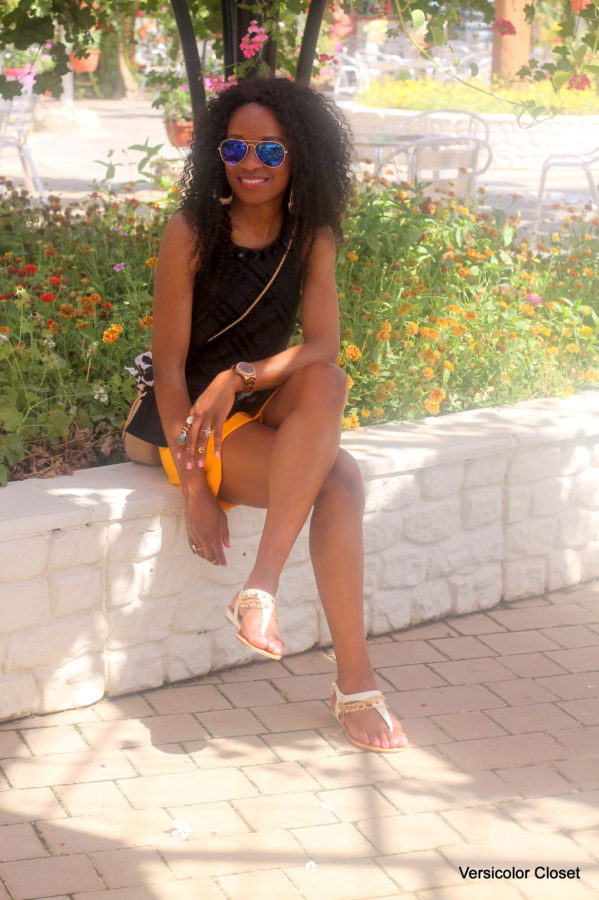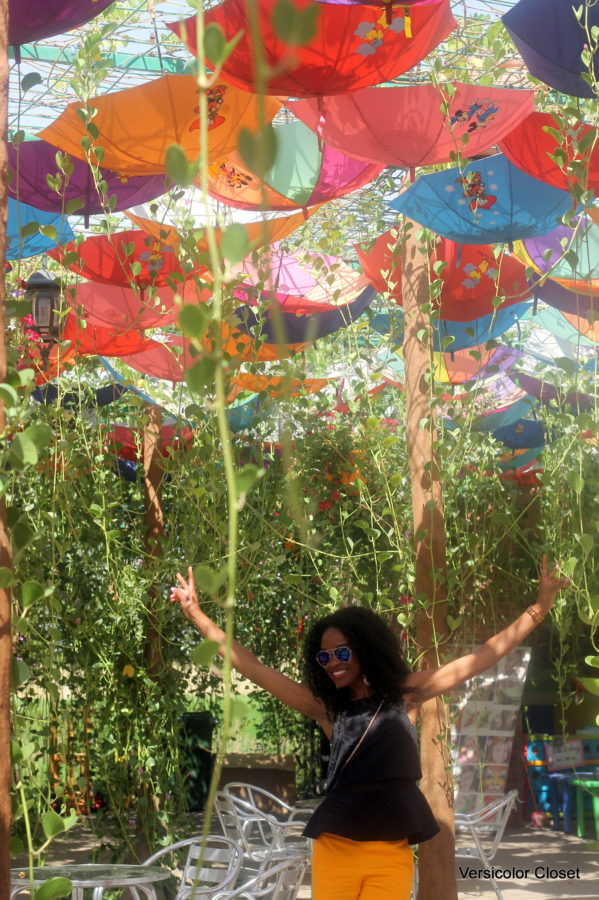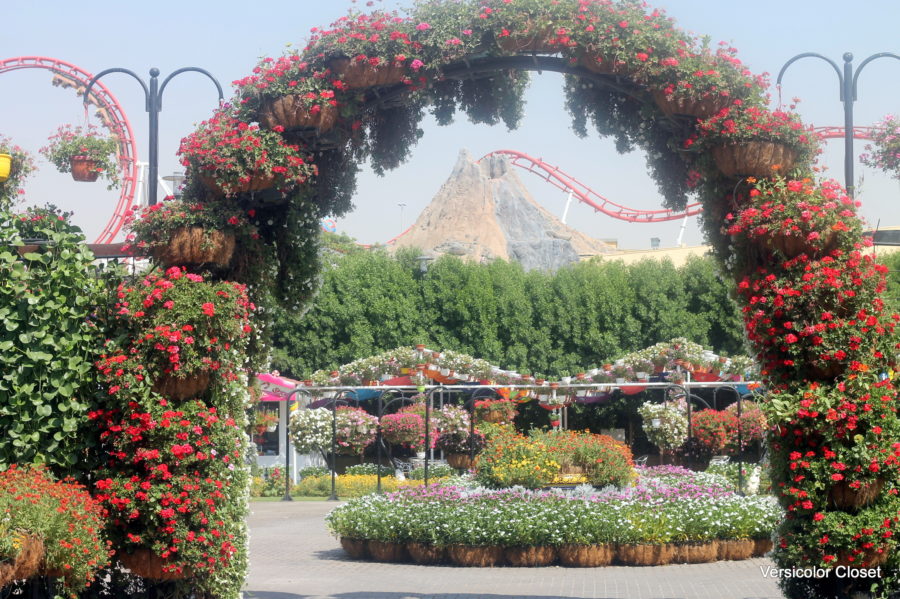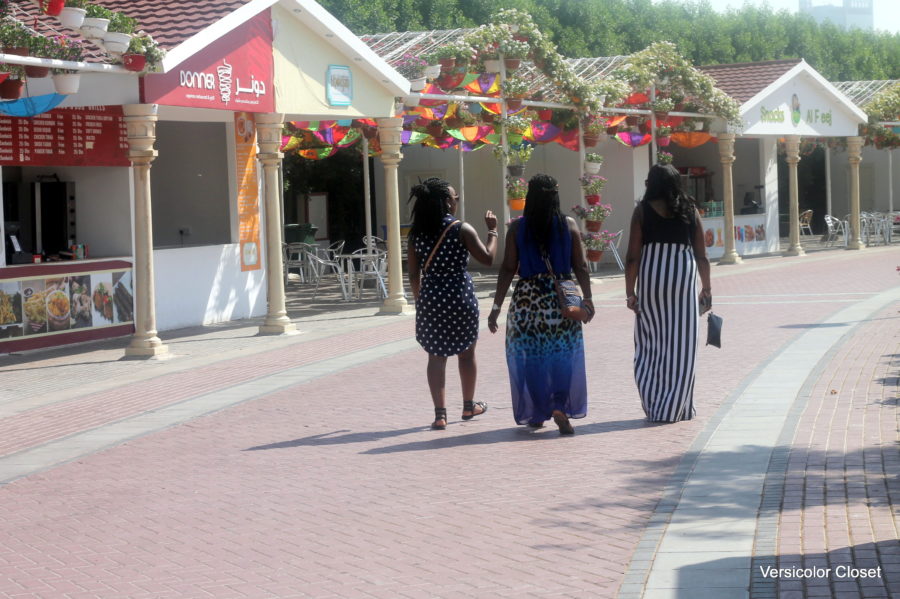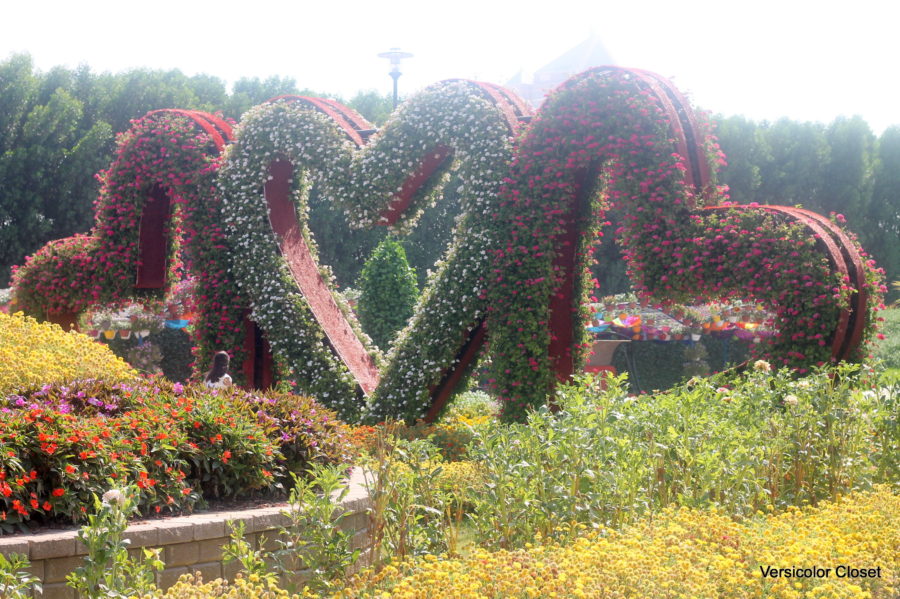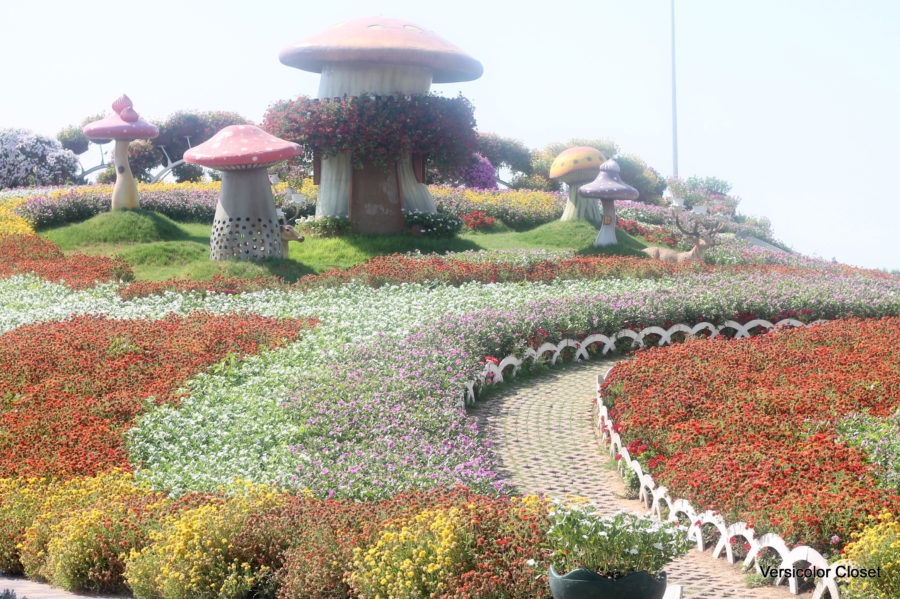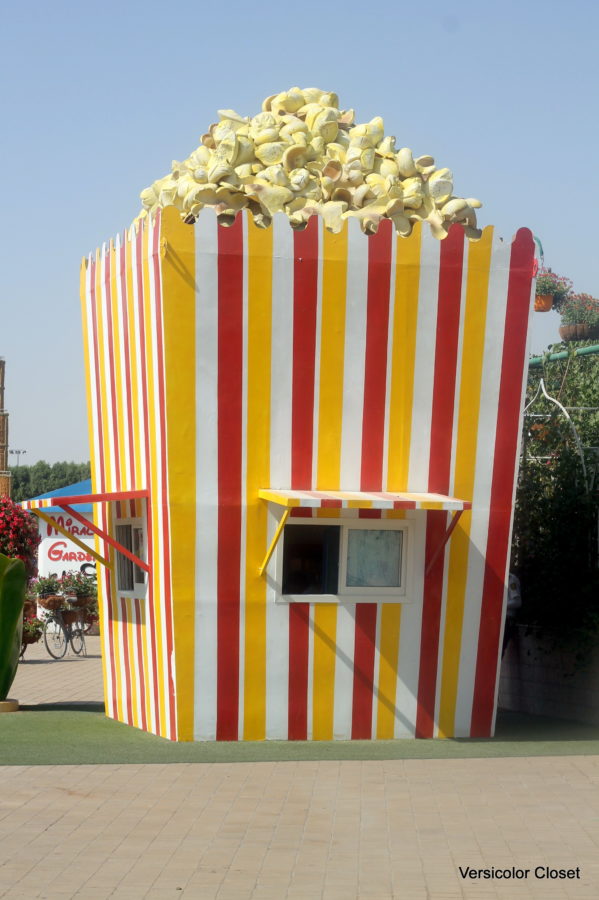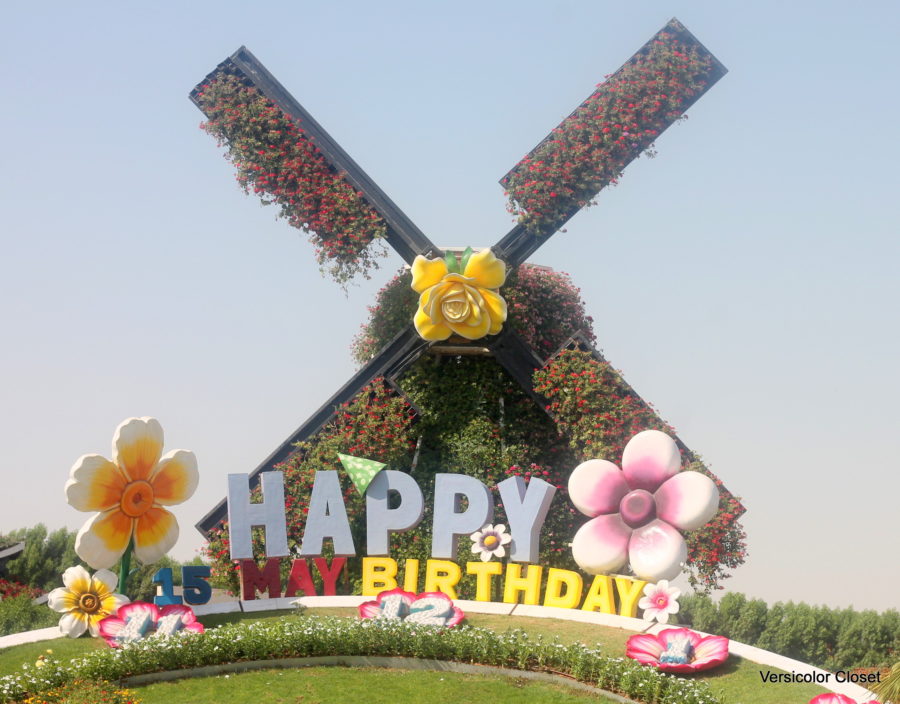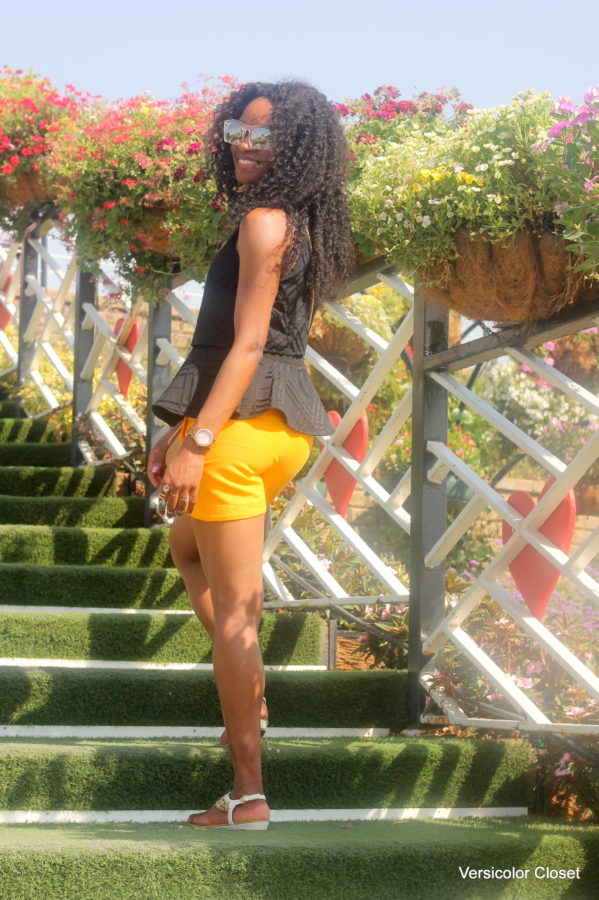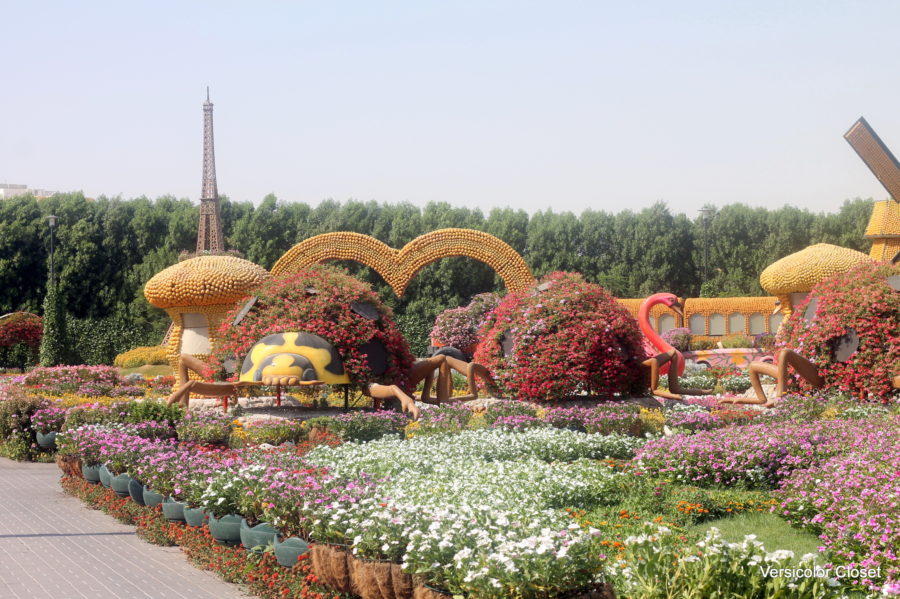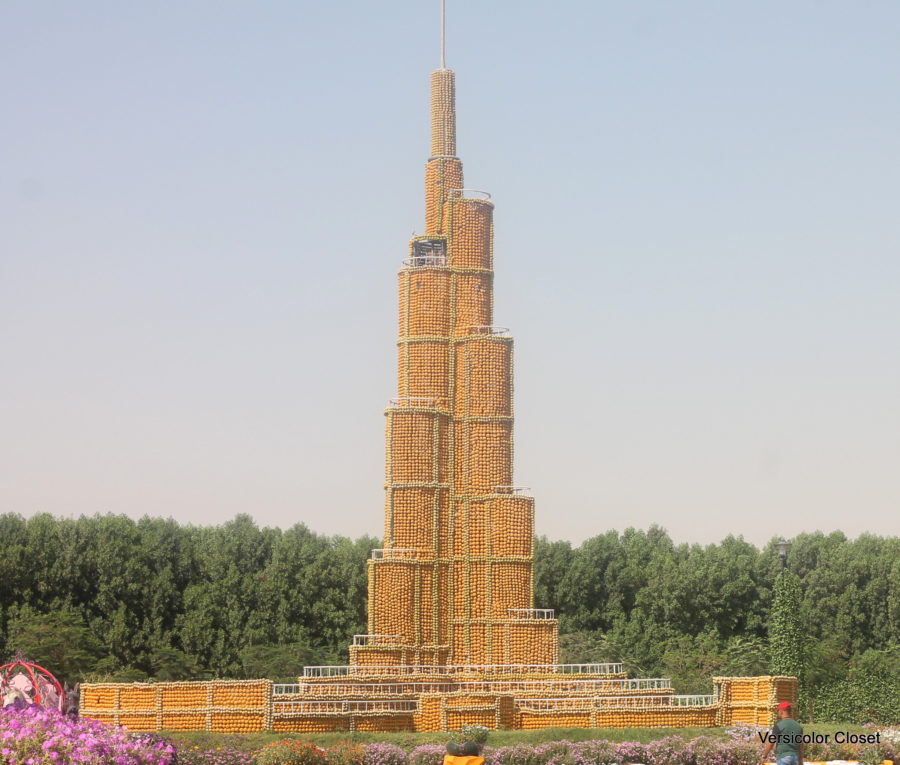 A replica of the Burj Khalifa made out of oranges.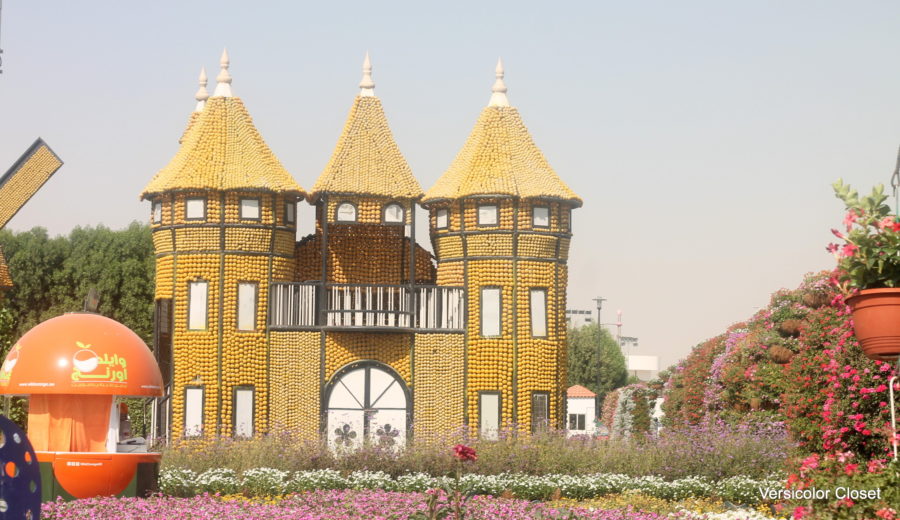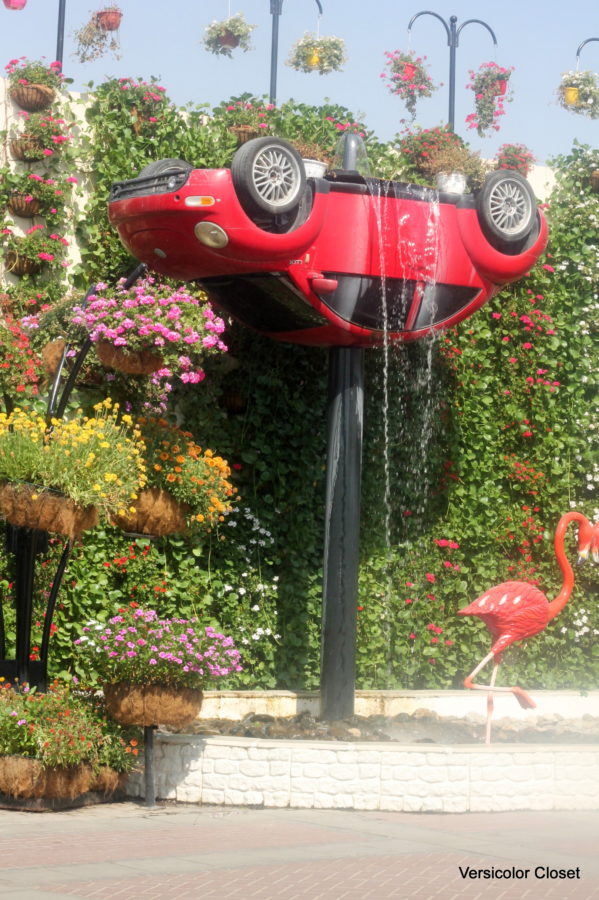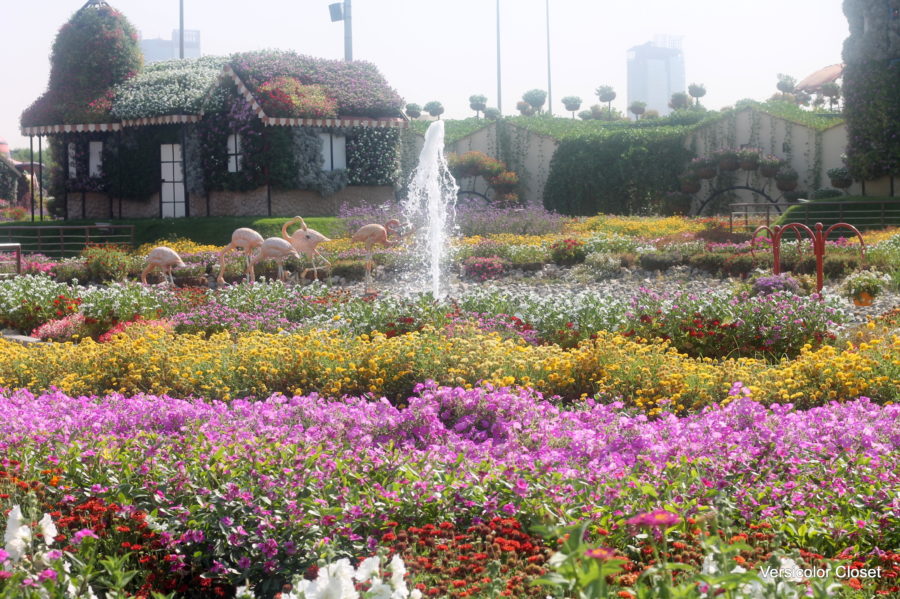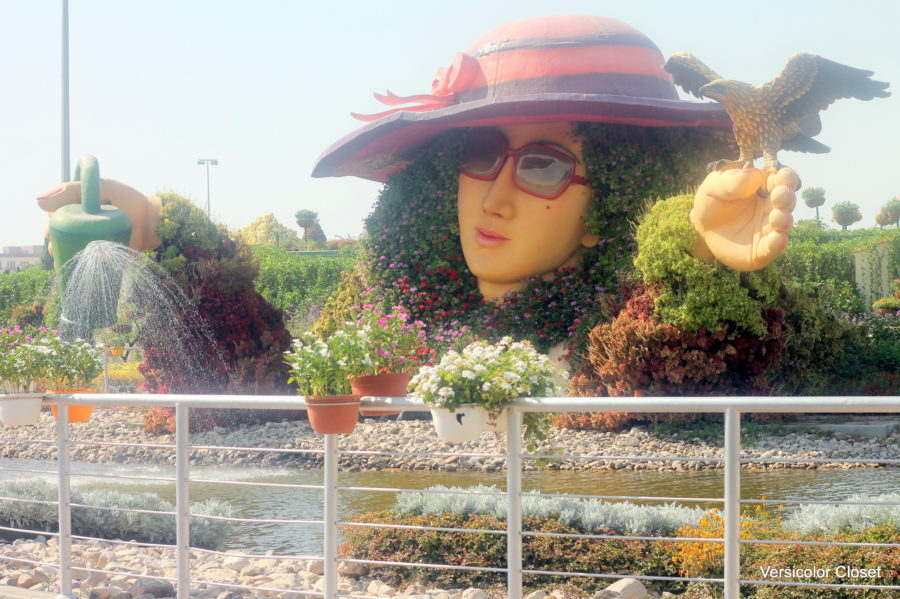 I have so much more to share with you guys but sorting through 1,700 photos can be time consuming so bear with me. Please subscribe so you don't miss anything and stay tuned.