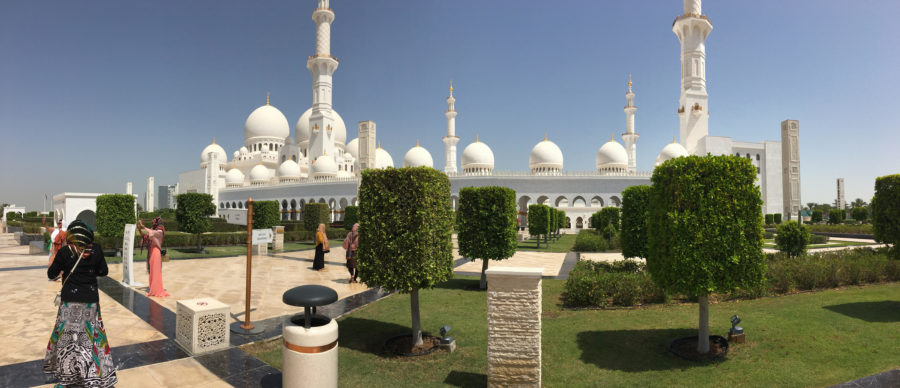 If you've ever seen a picture of Abu Dhabi, you've certainly seen the beauty of the mosques over there. In general, the architecture in the UAE is to die for but the Grand mosque in Abu Dhabi is a monument that pales in comparison to no other. So for day 4, we booked a tour and got picked up at

8:30

that morning. The drive from our hotel was about an hour and a half but it went by quickly although the AC in the bus wasn't as high as we would've wanted. You would think that living in a desert would imply that everyone drinks icy cold drinks all day and blast the AC on high everywhere but that couldn't be any further from the truth. We always had to request extra ice when we went to restaurants. Our smoothies were never cold enough and we always had to request that our cab drivers turned the AC up. One driver explained that they were so used to the heat that they were pretty much immune to it. Figured that much.

We saw her in the distance and couldn't believe our eyes as we stared in awe. She was built in the 1900s on many many acres of land. The whole thing is white and the pure gold accents emphasized just how regal she was. The Grand Mosque was just that: GRAND! I felt my blood boil a bit when the driver said that we may not be able to go in because we didn't make a reservation. I thought: "Isn't that your job since we booked the tour with your company? This mosque is the reason we are in Abu Dhabi so it would defeat the whole purpose if we were here and couldn't go inside." Thankfully we were able to go in from a different entrance but the driver said we only had 40 minutes. Surprisingly there was no entrance fee, but although we wore maxi dresses and covered our heads with scarves, we were told by security that we are not dressed properly because he can see our arms and thus we needed to pick up proper attire in the basement. Sigh! We provided ID and in exchange black gowns were given to us to wear over our already long dresses. To say we were on the verge of suffocation isn't too far fetched. It's at least 100 degrees everyday so multiple layers of clothes were just not the ideal wardrobe. If you plan on visiting, I suggest you wear the lightest clothes possible since you will need to cover up with a second layer upon arrival.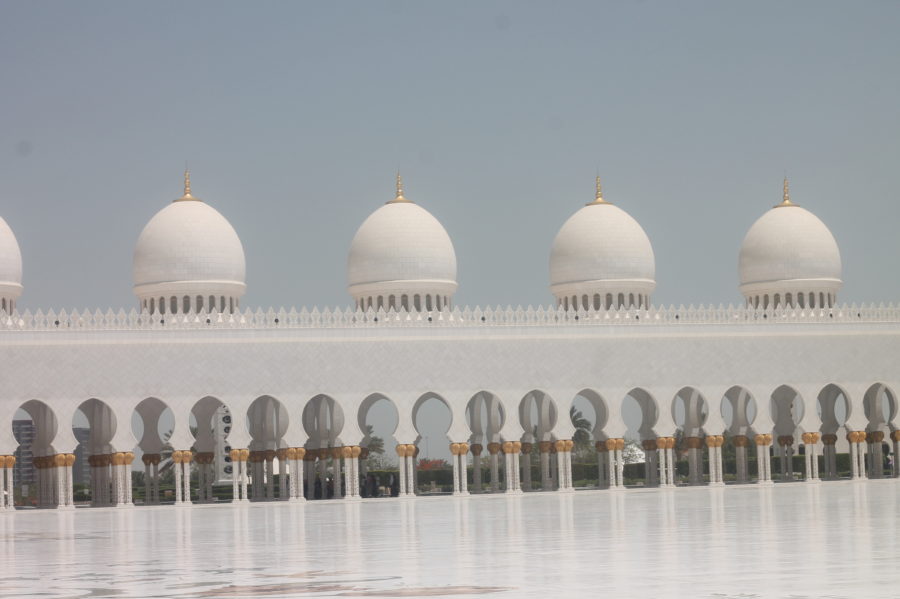 The mosque is surrounded by a pool which we wished we could dive in but we proceeded to the main entrance. My camera refused to cooperate since the sun was so bright; the pictures were either too dark or too light and I lost my patience trying to change settings to capture good shots of the building and swore to myself that I would enroll in photography lessons as soon as I returned to the states. There were prayer rooms for men and women separately and we had to remove our shoes before being permitted inside.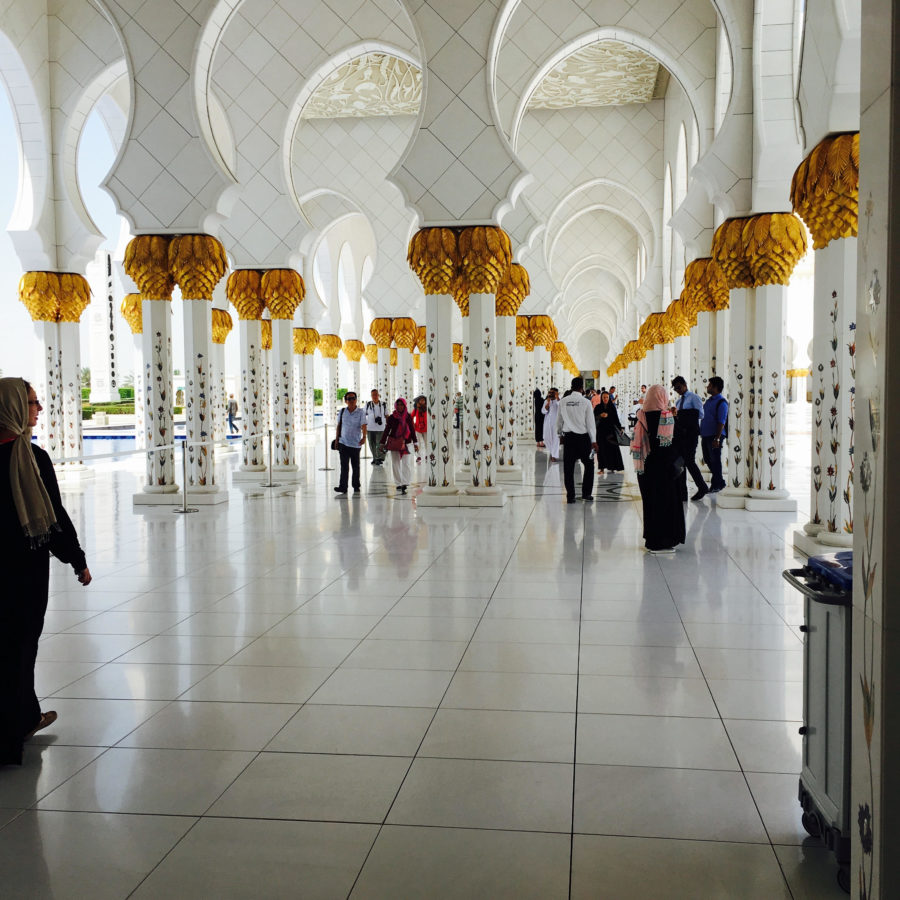 The indoor area was as magical as the outside of the mosque. Multicolored chandeliers hung beautifully from the super high ceiling and the walls were embossed with flowers in an array of colors. We were all mesmerized but looking at the time, we quickly proceeded to recover our shoes and return the rented kaftans.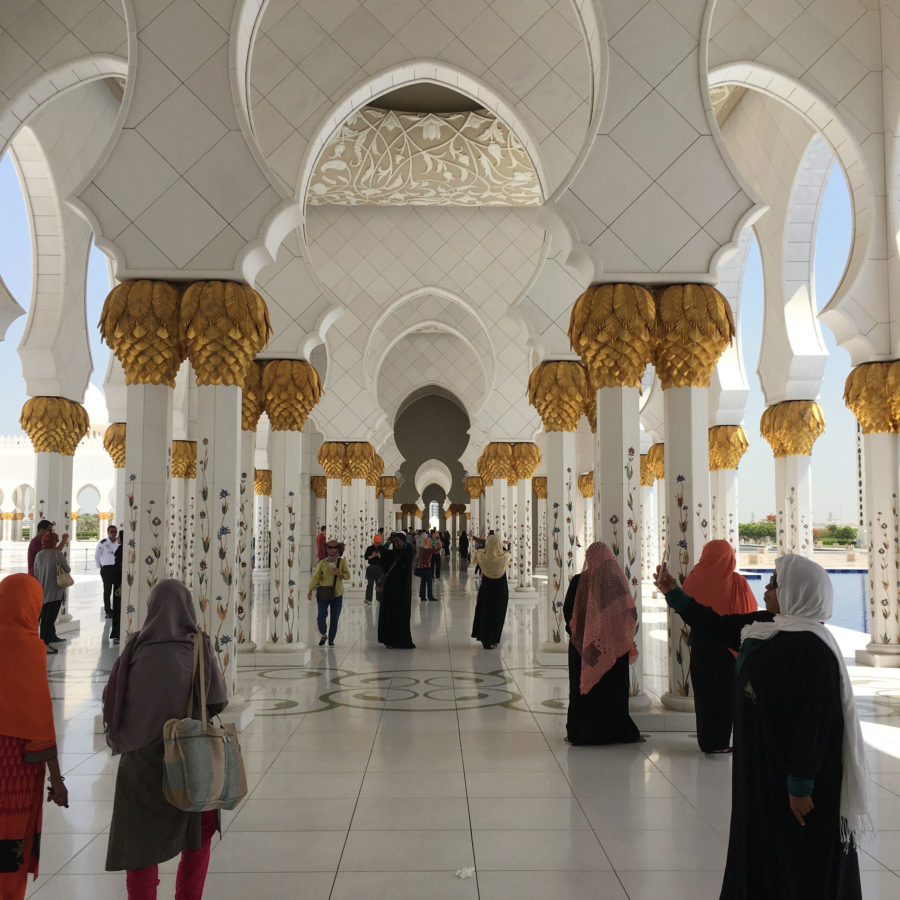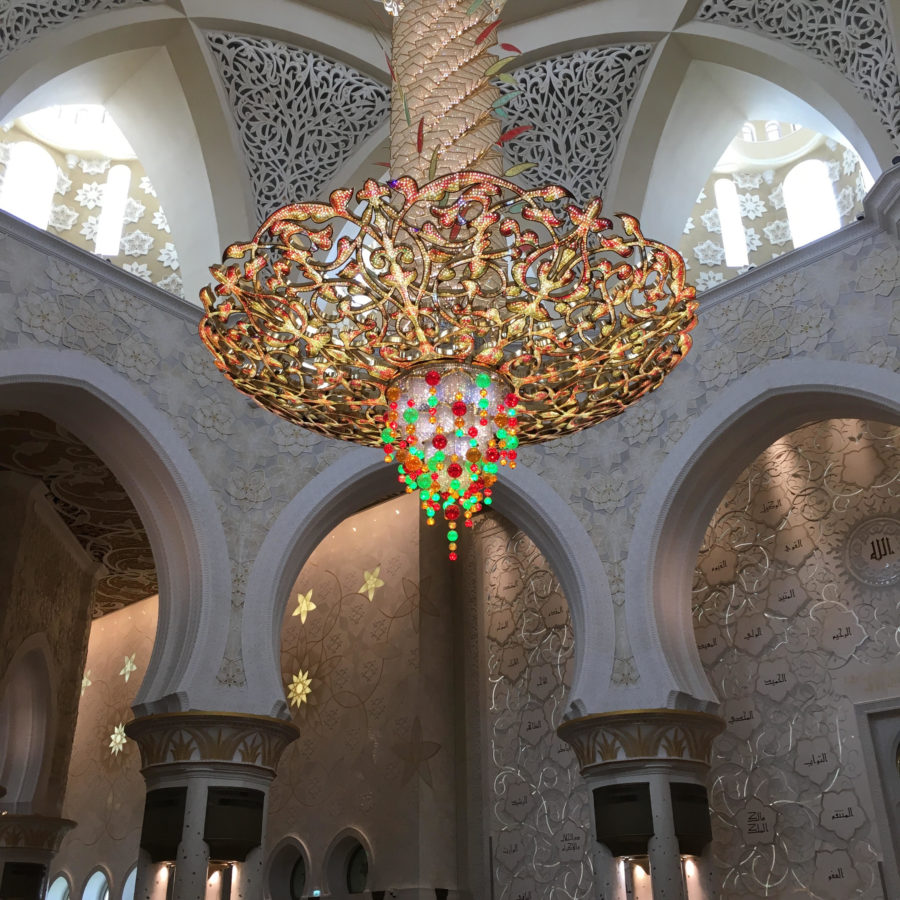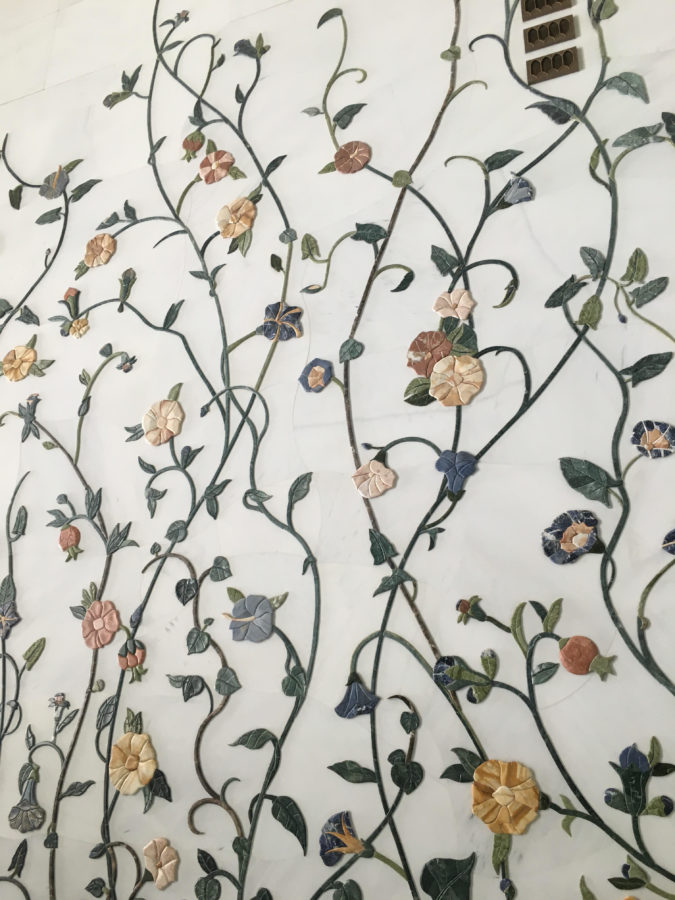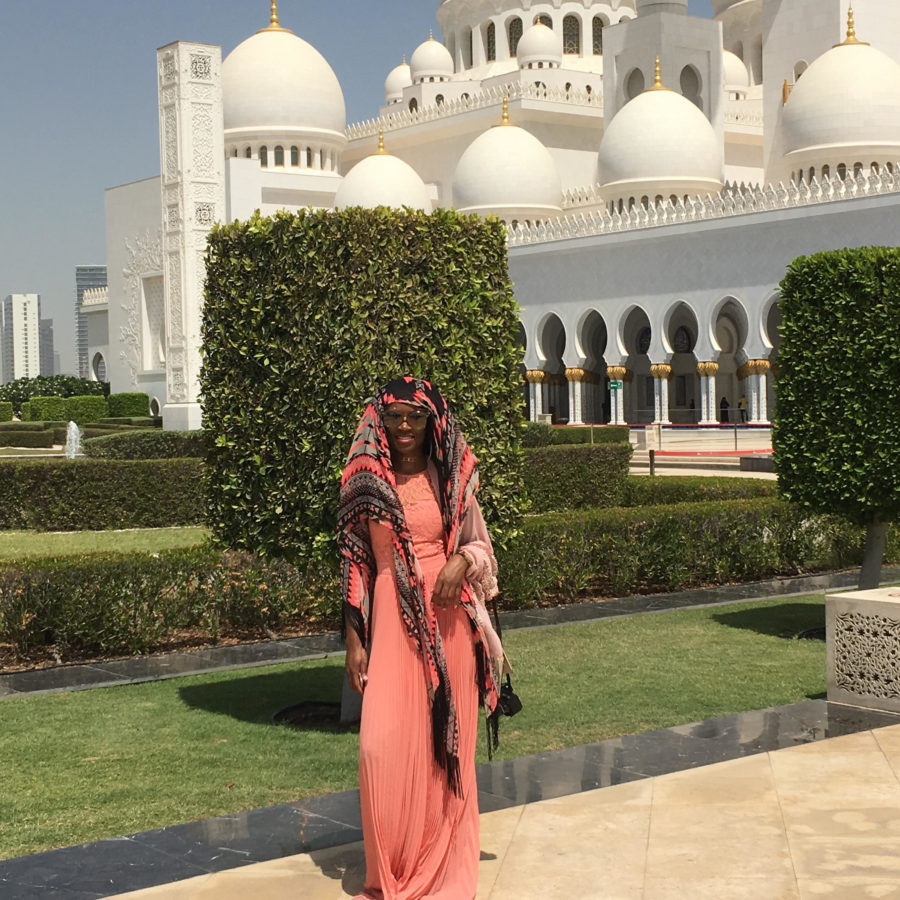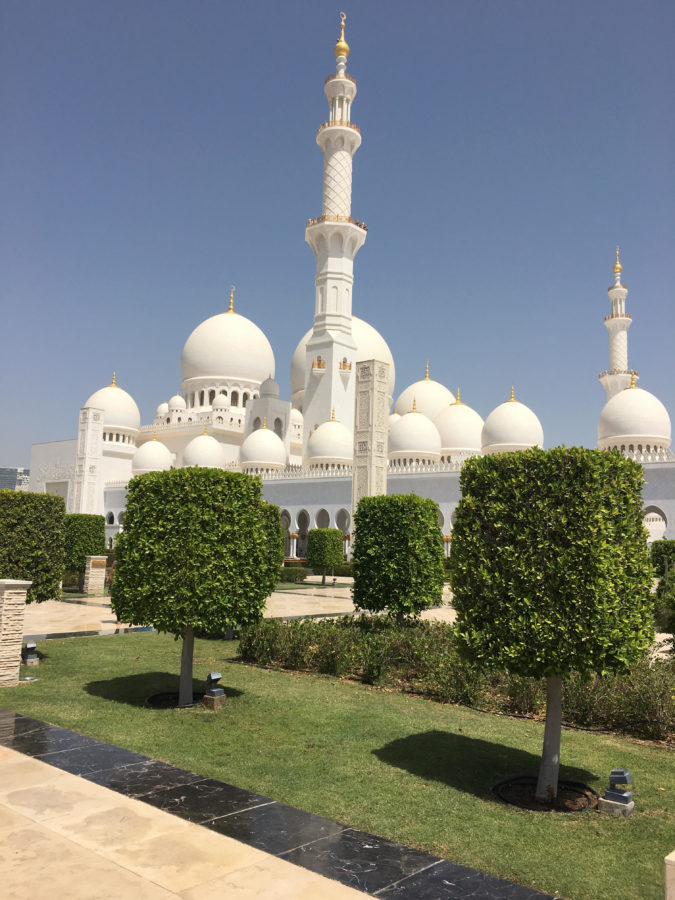 This miniature replica of the mosque was the only way we were able to see the whole thing. It is massive but beautiful from every angle.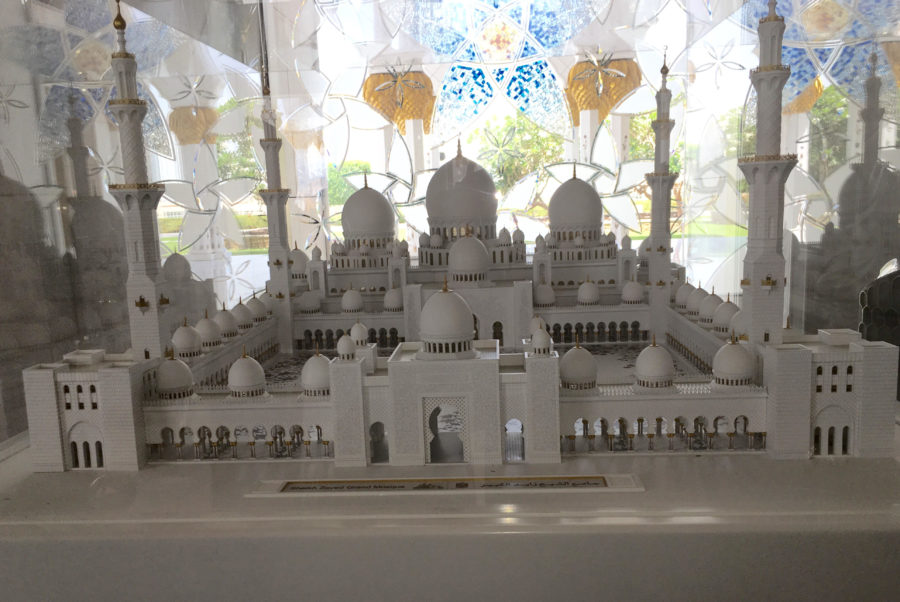 We also had the chance to see the Emirates palace where celebrities and multimillionaires stay when they're in the UAE. It was beyond breathtaking and grandiose. We also got a peak of the Etihad towers seen in Fast 7 which was filmed in Abu Dhabi. We then headed off to the mall of the Emirates for lunch where I had the best barbecue shrimp and fried rice.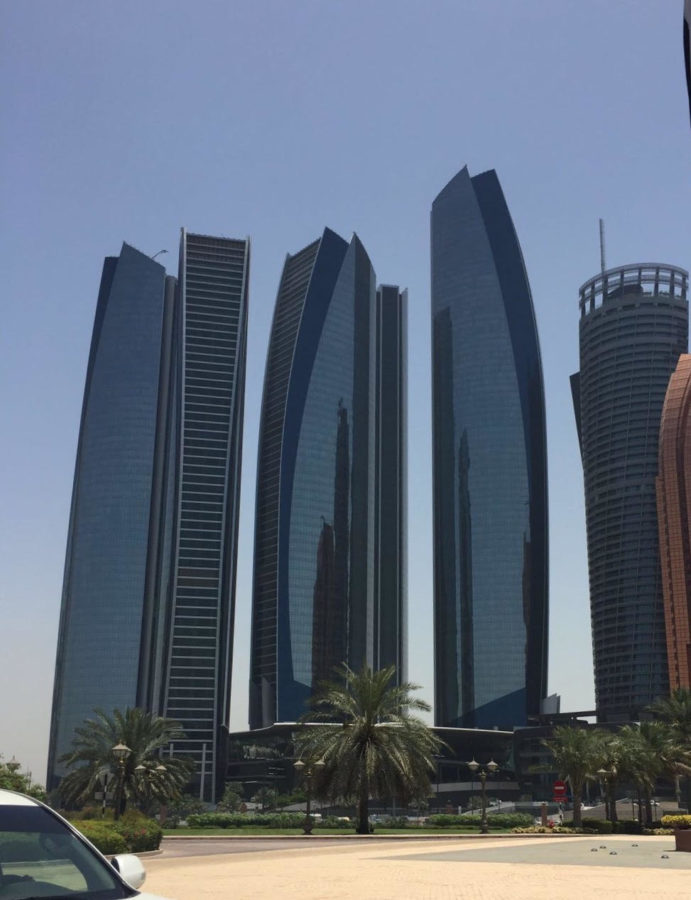 We made a quick stop at Heritage Village which had a small museum and various souvenir shops with a beach behind it with nice views where we snapped a couple pictures before returning to Dubai and going for a swim in the hotel pool.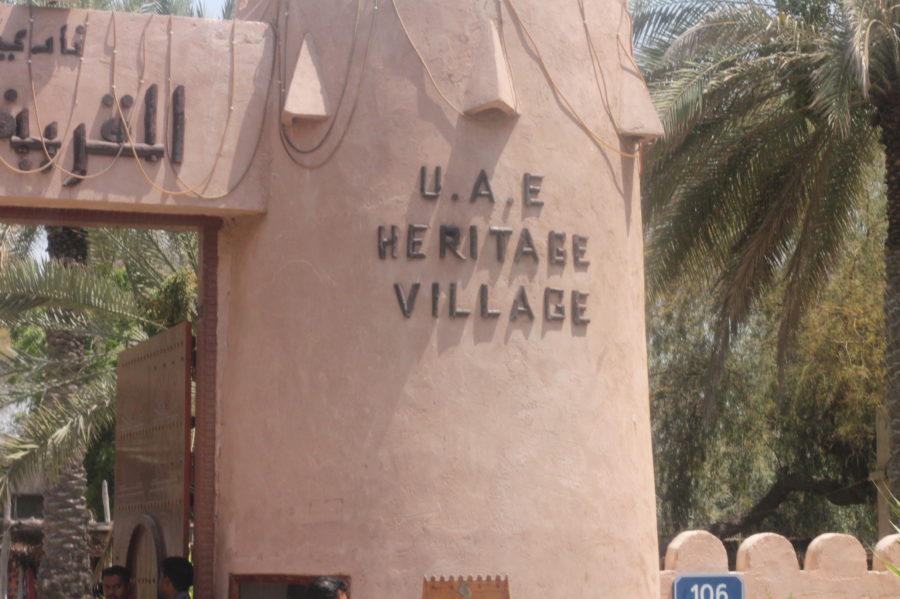 From there, we went off to Ferrari World which we mistakenly assumed was a museum of Ferraris but in reality, it was a water park where the rides were made from replicas of Ferraris. Since we were in maxi dresses and weren't dressed for roller coasters and were also taken aback by the prices for that activity, we only took pictures and grabbed ice cream for the road. Side note: Ice cream and gelato in Dubai is an art. They taste so good and fresh that you're tempted to try all the flavors especially the mango and Ferrero Rocher all at once.
That night, we took a walk near our hotel and went to Juice World for amazing fruit juices and to take in the beautiful decor made of real fruits. Highly recommended if you're in Dubai. There's one in almost every block so you should have no trouble finding a nearby location. We concluded that juices are a big thing in Dubai because there aren't liquor stores anywhere. Alcohol can only be found in hotels and bars but nowhere else since it is against their religious beliefs to drink. Since people have to settle for non alcoholic drinks, Juice World by default became a major hangout spot. Besides that, they smoke. Did I mention they smoke a lot? They really do smoke nonstop, anywhere and everywhere. As our tour guide said it best: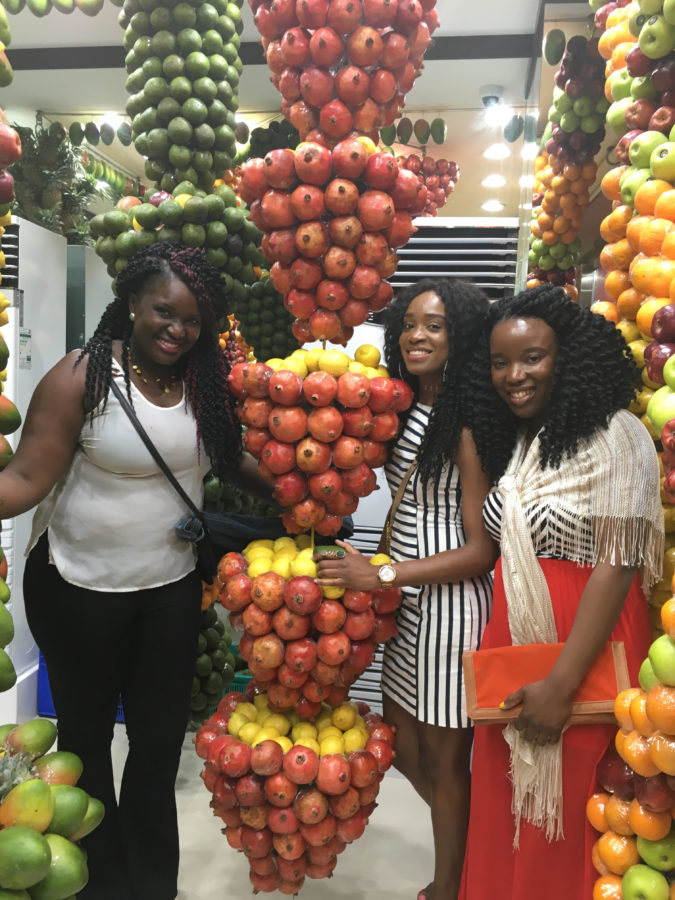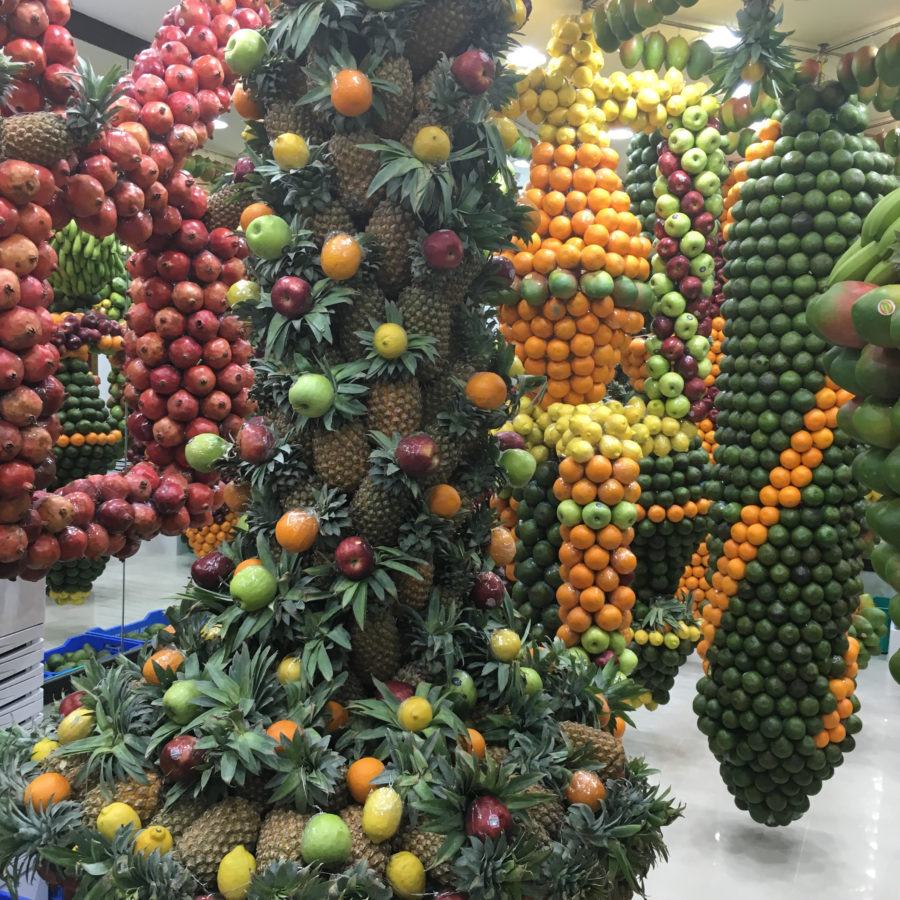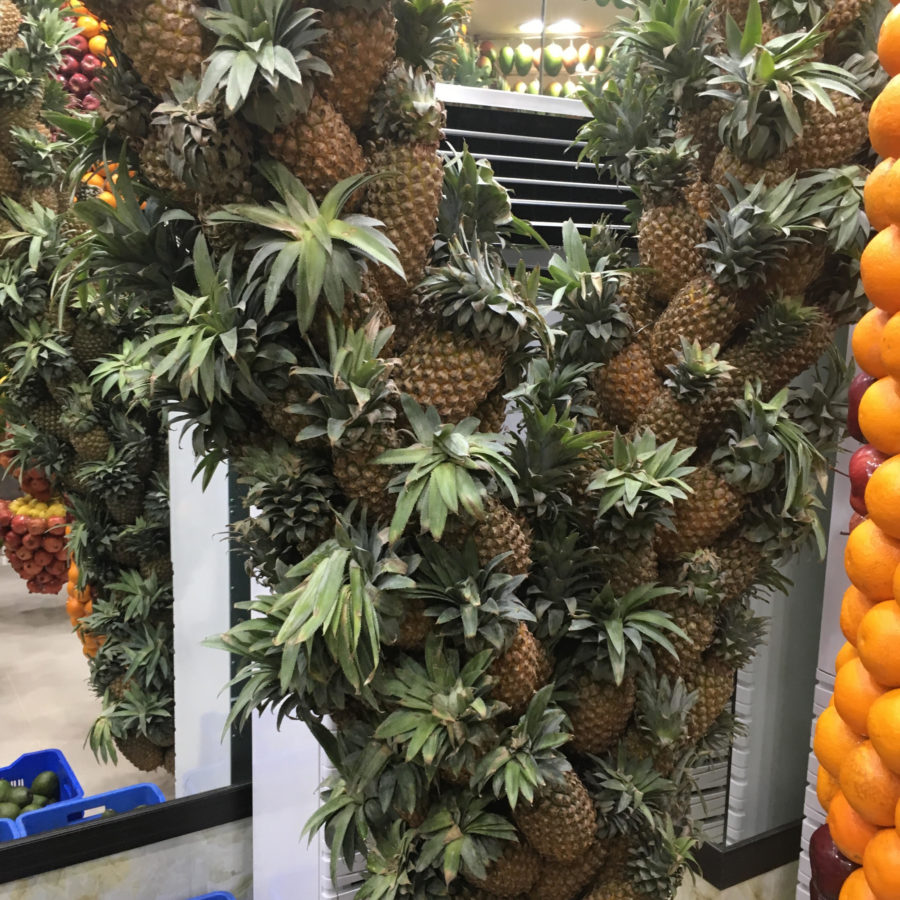 Overall, as magical as the mosque was, I must say that day 4 was a bit of a downer. I do not like being rushed so 40 minutes in the mosque simply wasn't enough. The heat was draining, the pictures didn't come out as nicely as I anticipated and the day started with me burning my dress as I ironed it that morning. Thank goodness I brought a gown for a shoot which served as plan B.
To make matters worse, a man approached me on the way back from Juice World, and said hello. I responded and kept walking only to be stopped again and he asked me with a heavy accent if I was "working". Dumbfounded, I repeated his question to confirm that I heard him correctly and he proceeded to offer me 100 Dirhams (~$27 US) for my services. Crazy things have happened to me in NY but never have I been mistaken for a prostitute. It's crazy how one bad thing in the morning can lead to a domino effect of aggravating situations that mess up your day but it's alright to have bad days and redirect your thoughts to the silver lining in every situation. This girl from Haiti was in Dubai & Abu Dhabi of all places on earth and was blessed enough to be able to experience it all with family and friends. Nothing can take away from the fact that this trip was simply a dream come true and I cannot wait to visit Abu Dhabi a second time.
Thank you for reading.
Versicolorfully yours,
Edwina