"Don't you ever change one brushstroke in your canvas because somebody doesn't like what you paint." – Tyler Perry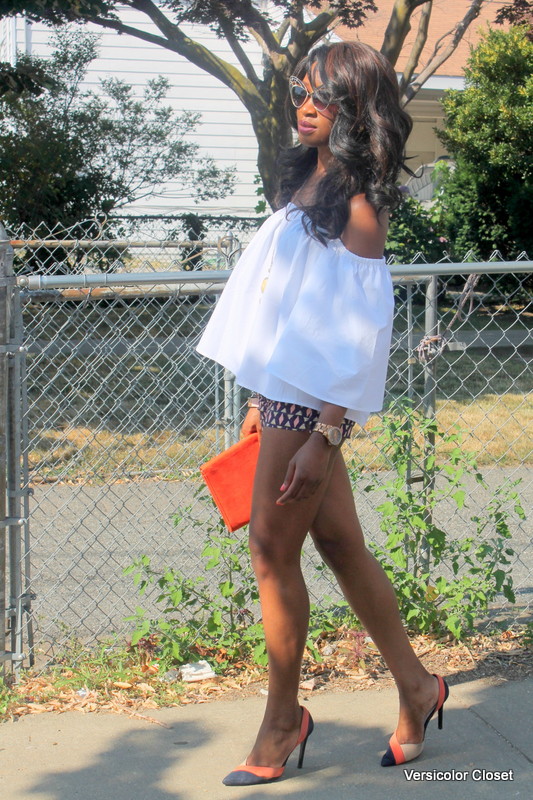 Hey guys,
Thanks so much on the great feedback about look 1 with this gorgeous top. For look 2, I decided to pair my off-the-shoulder top with a pair of printed shorts from H&M. Typically, I advise against showing too much skin but since there's no cleavage showing, I figured a little shoulder and a little leg action couldn't hurt! This look can be worn to an outdoor dinner, a lounge and if the heels are swapped for a pair of gladiator flats, this could totally work for a barbecue. Versatile tops for the win!
Outfit details: CHICWISH top (c/o) // H&M  shorts // ZARA heels (currently on sale!) //  H&M clutch (old) // GOLD SOUL sunglasses
If you typically shy away from bright colors, pairing a colorful bottom with a white top is an effortless way to include a pop of color in your looks! I mean what better time to experiment with color than the warm summer months when your skin is glistening against the sun?


Speaking of color, I stole the above quote from Tyler Perry's commencement speech at Tuskegee University's graduation. He spoke so eloquently and gave such great advice to the graduates but my favorite part was the message of not letting someone else's opinion deter us from our goals. Our destinies were written long before social media came around and gave everyone a platform to comment on how they think you should live your life. So what sense does it make to let someone convince you to keep living in mediocrity because they don't think your idea is going to work? Clearly, I'm not saying that anyone shouldn't give you advice or suggestions on your plans and goals but having discernment will help you differentiate between those who have your best interest at heart and those who don't want to see you do better than them.
So next time someone tells you what you should and shouldn't do, just remember that God gave you a vision that maybe only your eyes can see and comprehend. So stay focused on your end goal and keep pushing until your dreams come true and as Mr. Perry would say: "Don't you dare change one brush stroke in your canvas because somebody doesn't like what you paint!"
Later on this week, I will be sharing one last look with this top! But so far, do you prefer look 1 or 2? I'd love to hear your feedback so please feel free to chime in below. 
Until next time lovies!
Versicolorfully yours,
Edwina 
*Disclaimer: This post is in collaboration with SheIn but all opinions expressed are my own.