Your attitude is like a box of crayons that color your world. Constantly color your picture gray, and your picture will always be bleak. Try adding some bright colors to the picture by including humor, and your picture begins to lighten up. – Allen Klein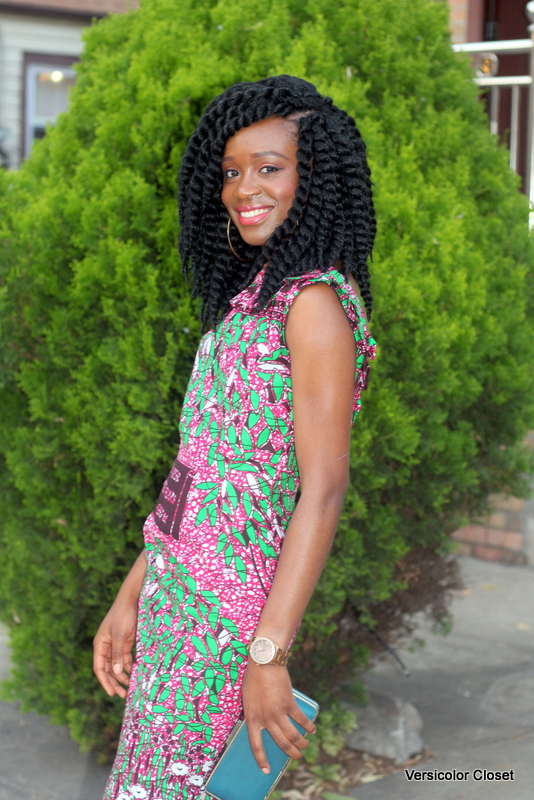 I've considered taking an extended break from blogging because posting about something as trivial as fashion in the midst of such sad times in the world seemed a bit insensitive. And then I thought about what this blog stands for: It was created to bring color to your cloudy days, your wardrobe and your lives as a whole by way of positive messages and kaleidoscopic clothes. So wouldn't it be nonsensical to stop spreading my little bit of light when the clouds are getting darker? Color is needed now more than ever so color I bring to you today my darlings!
Outfit details:
ANKARA HOUSE Aleshia dress (c/o) Use code VERSICLOSET for 15% off any purchase // ZARA heels (sold out but you can shop the sale here)
Introducing my new favorite Ankara midi dress. When Ankara House reached out to me to discuss a collaboration, I was over the moon because as you guys should know by now, I live for African print everything. From this two-piece sets, to maxi skirts, even accessories and now a midi dress to add to my growing collection, I have enjoyed rocking all things reminiscent of the great motherland! The vibrant colors of this beauty look great against my skin and though I had to get this dress altered a bit, my bum looks good in it if I do say so myself 🙂 
I love the way the neckline is completely covered but the opened back adds an unexpected touch of sexy to the look. Can you say business in the front and party in the back?! I wore this last week for a wonderful Thai dinner for mom's birthday but I would certainly rock this for an outdoor summer wedding as well. It makes such a statement on its own that I kept the accessories to a minimum and simply donned my new favorite gray Zara lace up heels to finish the look.
The folks over at Ankara House were kind enough to extend a 15% discount to all my readers with the code VERSICLOSET so if you ever wanted to rock some colorful prints, now is the time girlfriend. Custom made Ankara clothes are typically very pricey but at Ankara House, you get quality products at an affordable price so I highly recommend them. Just be sure to confirm that the sizing you select is the right one for you because UK sizes differ from US sizes. PS: I highly recommend this fun top which comes out to less than $25 US. Steal! 
Thank you so much for stopping by. Keep shedding light wherever you go and through whatever you say! 
Versicolorfully yours,
Edwina