There will always be someone who can't see your worth. Don't let it be you. – Unknown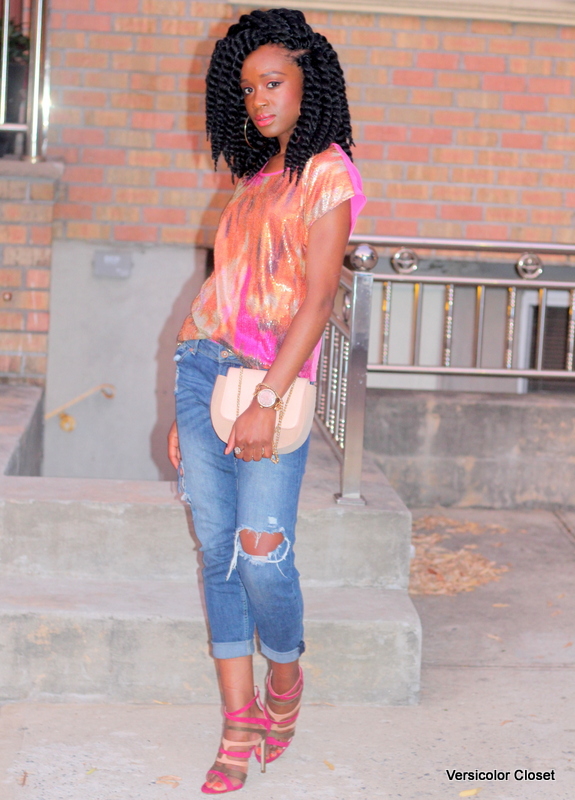 H&M sequins top (old) – Love this option // H&M distressed denim // ZARA heels – similar // WHO WHAT WEAR crossbody bag  (perfect size to carry your passport and small necessities when traveling!)
Hey guys,
I'm just getting back into the swing of things after being back home in Haiti for the past week. The whole time I was planning this getaway, I couldn't risk sharing it with you guys because I was surprising a few people by showing up there unnannouced which was absolutely epic! 🙂 Everything went well by the grace of God and we had the time of our lives. I'll be sure to share some pictures of my adventures very soon but in the meantime, I'm happy to get back to blogging.
Lately, I've been gravitating towards simpler looks but simple doesn't have to be synonymous with boring. I live for simplicity with a touch of glamour and / or color. Because the top is embellished with sequins, I went with minimal accessories and stuck to one color palette. A decade ago, I wouldn't have dared to wear sequins in the daytime. Now? Well let's just say I do what I want 'cause in my best Beyonce voice "I'm a grown woman" 🙂 To be fair, I wouldn't wear a sequins gown in the daytime (although you should if that's what floats your boat). However, styling an embellished or sequins item with a more casual one like this pair of ripped jeans or even sneakers will tone down the look a bit and make it more daytime appropriate. 
Let me know what you think of the look and if you ever wear sequins in the daytime. Have a fabulous day and an even better tomorrow!
Versicolorfully yours,
Edwina