"Power is gained by sharing knowledge, not hoarding it." – Unknown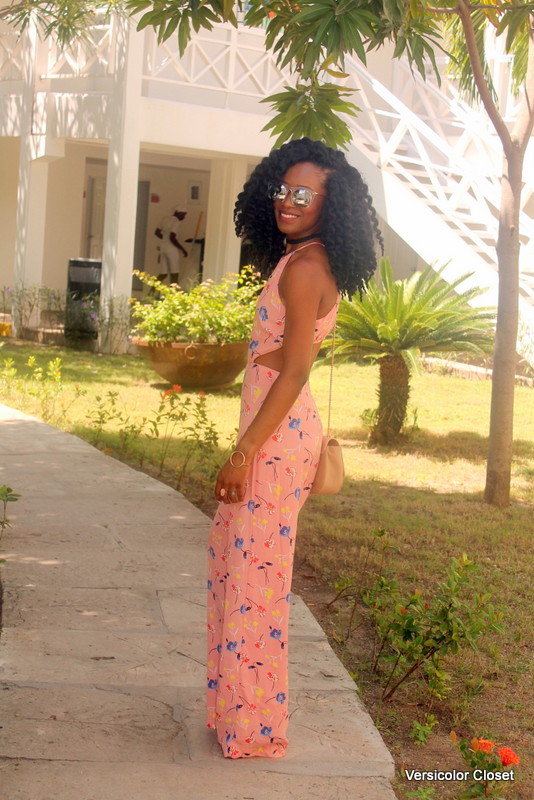 Whenever I go to a store and find a pretty multicolored item, my first thought is: "This is definitely #VersicolorApproved." When said item is only $15, well girl, you know I'm heading straight to the register. Steals like this are the reason why I swear by Zara's semi annual sale. I might not have bought this if it was full price because of the fact that the back is open which means I can't wear it year round but with a price tag this low, the fashion gods had me sold! Keep on reading for 3 tips for building a functional wardrobe for your lifestyle. 
Outfit details:
ZARA jumpsuit – sold out (shop options here)
ZARA heels – sold out (shop heeled sandals here)
WHO WHAT WEAR crossbody bag (here)
GOLD SOUL sunglasses (in leopard print here)
H&M rings and bracelet
CHARLOTTE RUSSE chocker
Now that I'm really stepping into womanhood (i.e. Dirty 30 here I come!), I have found what works for me style wise and have also mastered shopping for quality basics that will stand the test of time and the occasional trendy items to add some fun elements to my looks.  So here are 3 tips that you can apply when shopping that will stop you from thinking "I have nothing to wear."
Make sure you have all your 'basics' covered! 

Most styles are not for everyone. That's why we spend years figuring out what works for our bodies in order to dress appropriately. But basics, they don't discriminate. They're for everyone! Think blue or black jeans, white T-shirts, button downs, little black dresses, blazers etc… What makes one better than the next is the quality and the fit. We all have that one pair of jeans that fits our bum so well that we wouldn't mind wearing them daily. Well, a functional wardrobe is built mainly of such items.  They are worth splurging on or if you're smart like me, you can always grab them while they're on sale; that way you get the better quality without breaking the bank. 

Accessorize like your life depended on it! 

Time and time again, I have shared wardrobe remix looks (see here and here) with you guys that feature the same items but give off a completely different vibe because of the accessories and styling tricks used each time. I always suggest shopping your closet and rewearing pieces you already own with completely different accessories. If you wore that skater dress with flats last time for brunch, wear it again with a button down underneath paired with court heels, minimal accessories, and a low bun and you're good to go for the office. When you're running errands on a saturday, rock that same skater dress with a stylish pair of sneakers. Going to church and running out of options? Well you guessed it, use that same skater dress as a top and rock it with a longer A line midi skirt. The options are truly endless. So if you feel the need to go on a shopping spree everytime you have an event, STOP IT NOW and shop for fun accessorize instead! (see the fringe belt featured here)

Choose timeless pieces over super trendy ones! 

As mentioned above, I might not have bought this jumpsuit if it were $100 because the cost per wear wouldn't be worth it for me. However, it makes sense to buy a neutral colored good quality blazer at a hefty price because you can throw it over a dress for work, pair it with jeans for dinner, or even throw it over your floral jumpsuit. When shopping, take into account the cost per wear of the items you're eyeing. If you can't think of at least 3 ways to wear it, or might grow out of love for it [like you did with your ex, HA! 🙂 ] then don't buy it. When classics and trendy items battle, classics always win!
I had so much fun shooting this look while I was in Haiti a couple of weeks ago. The tropical temps and scenery at our resort were perfect for this look. I hope you found these shopping tips helpful. Please share this post with your friends who may need shopping pointers and kindly subscribe for more Versicolorful fashion.
Until next time,
Edwina