"Count it all joy, my brothers, when you meet trials of various kinds." James 1:2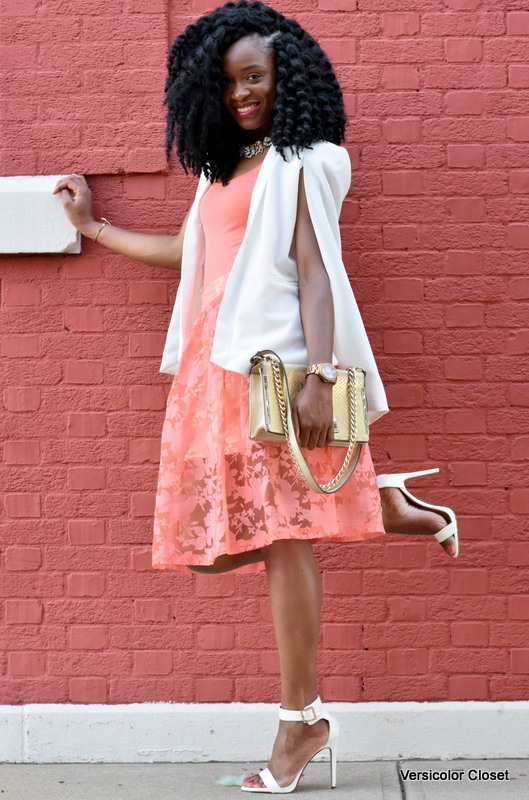 Happy Monday beauties!

About the look: Today, I'm sharing a simple look that I wore to work a couple of months ago. Because I work in a laid back office, I can get away with wearing not-so-wall-street-approved work wear so it goes without saying that I'm extremely thankful for the freedom to express my creativity through my Versicolorful wardrobe. You guys have seen this skirt styled differently here and this cape in my 2014 birthday post here. It's always a fun experiment to pair pieces you already own with different items in your closet so I hope you enjoy this look.
Outfit details:
TOPSHOP skirt // H&M tank top // NASTYGAL cape blazer // LULUS heels // ALDO bag // SASSY JONES BOUTIQUE necklace
Word of inspiration: Yesterday at church, a family came forward to share their testimony about how thankful they were that God saved their lives when their house burned down in its entirety last week. It was just so inspiring to hear their story of survival and also to see how upbeat they were even though all their possessions perished under the vigorous flames. What struck me the most was as the priest prayed for them, he said "We thank God for this fire." That caught me by surprise but when I thought about it, it made sense. "When was the last time I thanked God for something bad that happened to me?"
I mean it's so easy to share catchy phrases and verses on social media but it's another ball game to live out those words when facing difficult times. Many of us are quick to complain instead of giving praise and even when we give praise, it's only when things are going well… So next time your world turns upside down, will you be strong enough in your faith to thank God for the tragedy, during the tragedy? Food for thought…
Versicolorfully yours,
Edwina