"I realized if I wait until I'm not scared to try new things, then I'll never get to try them at all." – Marie Sexton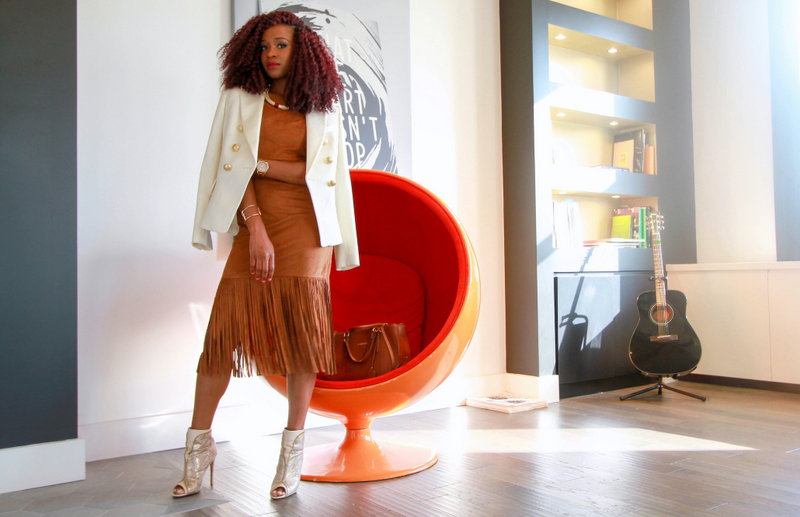 I am excited to share this look with you. It is part of a collaboration I did with my blogger babe Delfine of TheCocoGawdess. We decided to team up and share with you guys 4 looks, hers neutral, mine with a bit of color, to give you, our lovely readers some fall inspiration! If you haven't had a chance to check out the video, I've linked it here for your viewing pleasure!
About the look: Thank you all for the feedback I received last week about his red hair! I'm happy that you guys like it. I was a bit iffy about it at first but I think it paired well with these fall colors. Throughout this week, I'll be sharing the details of the looks featured in the above video. Today we start with this fabulous suede dress which I found at a random boutique at the mall for less than $15! Can you say score?! The fringe details makes it very trendy and the tan suede finish takes it up a notch in the sexy yet classy department! I was excited when I found the identical dress online at TJMAXX for you guys.
Outfit details:
Dress: Envy boutique at the mall – identical here // Structured blazer: HMxBALMAIN – identical here // Booties: Thalia Sodi via Macy's // Purse: Calvin Klein
Word of inspiration: I'd like to encourage you all to try new things especially if they scare you. We always talk about life being too short but yet we procrastinate in every aspect of what we do. See, the great things you've prayed for are on the other side of your comfort zone so you have to get uncomfortable to achieve your goals. I've always wanted to get on YouTube to expand my reach with this blog but there has always been a but. Clearly, this isn't the first video on my own channel and the process was a bit smooth for me because there was a team effort  but I feel that it's one step closer to the right direction. I can't wait for the day where I officially launch my own channel but rest assured I won't let the fear hold me back much longer. What have you been putting off?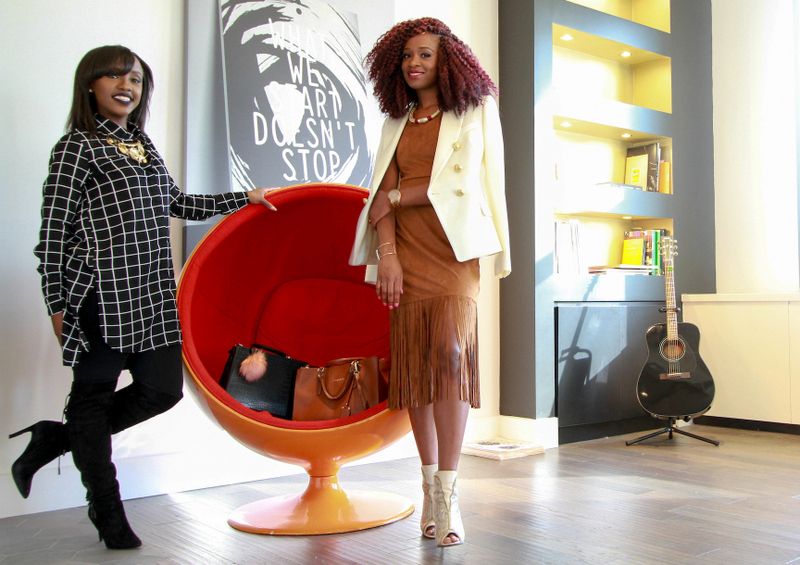 Please check out thecocogawdess.com for all the neutral outfit details and if you like what you see (how could you not?!) you can join the fun on Instagram and other social networks by following Delfine @TheCocoGawdess. 
Big thanks to the talented people who have contributed to the success of this video: 
Photography and Videography: A. Sutton Photography 
Music: Fritz
Editing: Delfine 
PS: How gorgeous was this Manhattan office we got lucky to do this shoot in? Totally goals! 🙂 
Thank you for reading & watching! As always, your feedback means the world to me. Please let me know which look in the video is your favorite and what your thoughts are on this look. Be well darlings! 
Versicolorfully yours,
Edwina