"You can spend your time, waste your time, or invest your time. It's your choice."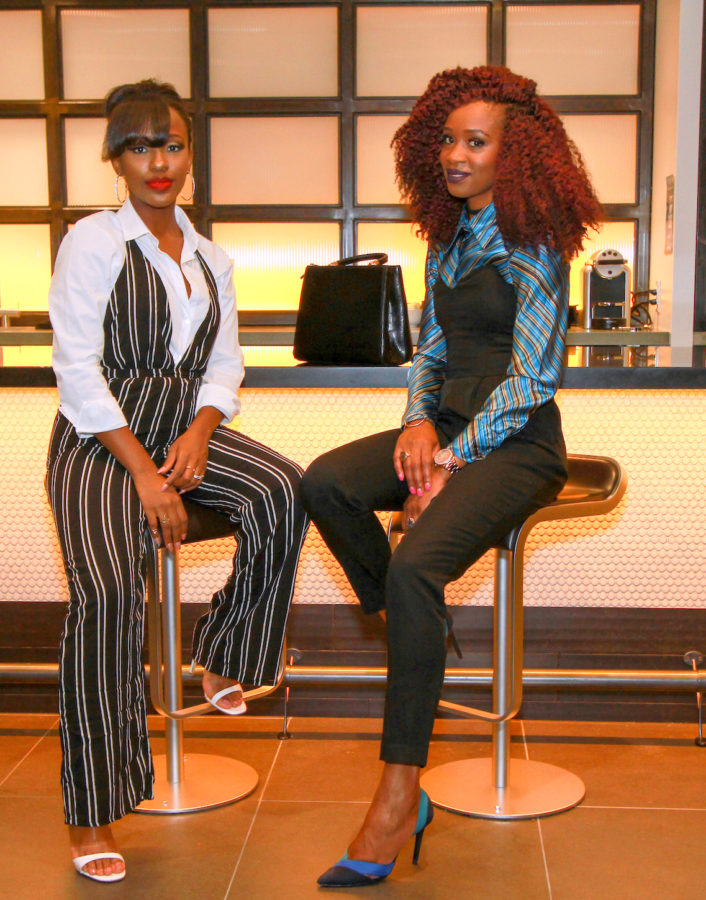 Happy Friday darlings!
Today, I'm sharing with you the fourth and final look from my collaboration with The Coco Gawdess. If you missed looks one, two and three, you can check them out by clicking on the links provided. I truly appreciate all the positive feedback I've received from you guys and I'm truly encouraged to keep pushing the envelope and trying new things on this space that will in turn inspire you all to not only dress but also live colorfully. That's the Versicolor mission! 🙂
About the look: We really wanted to incorporate jumpsuits as part of this lookbook as they aren't commonly seen as appropriate office wear but we are here to debunk those myths. We took what could have easily been sexy club and lounge jumpsuits and made them work appropriate with button downs. The gag is that we didn't even plan to layer but ended up styling both looks the same way. Can you say great minds think alike? 🙂 Since I didn't have a colorful jumpsuit on hand, I decided to layer with a striped blue button down which went quite well with these Zara shoes. So ladies, which jumpsuit are you going to re-purpose as work wear this season?
Outfit details:
H&M jumpsuit // OLD NAVY (old) – striped button down // ZARA pumps // H&M purse
As a reminder, I am hosting a Calvin Klein wallet giveaway on my Facebook and Instagram accounts. All you have to do is register your email here on this site and comment done on the photos posted on social media about the giveaway. Good luck!
I wish you guys a great weekend ahead. If you still haven't seen the collaboration video, here it is one more time for your viewing pleasure:
Big thanks to the talented people who have contributed to the success of this video: 
Photography and Videography: A. Sutton Photography 
Music: Fritz
Editing: Delfine 
Thank you for reading & watching! As always, your feedback means the world to me. Please let me know which look in the video is your favorite and what your thoughts are on this look. Be well darlings! 
Versicolorfully yours,
Edwina