"Once you replace negative thoughts with positive ones, you'll start having positive results." – Willie Nelson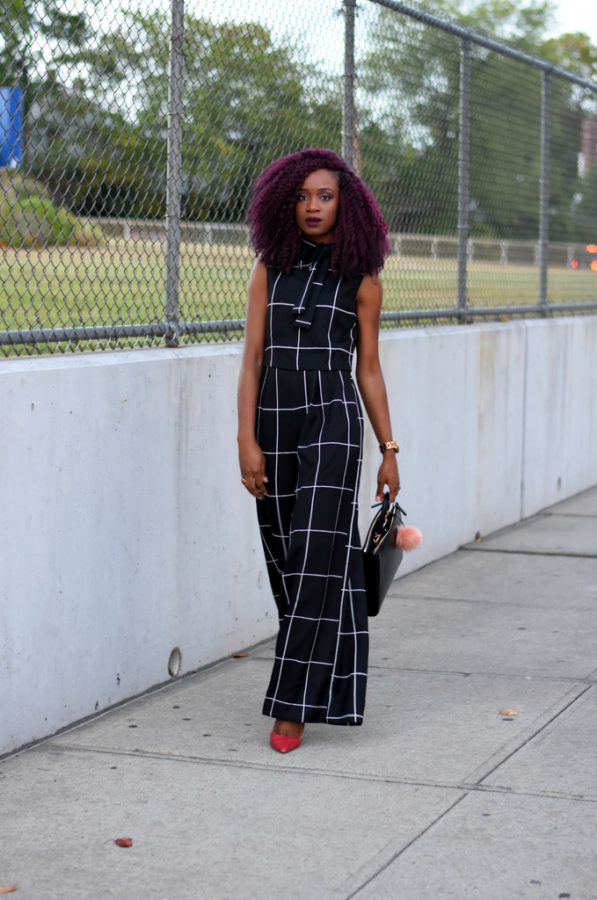 About the look: I cannot tell you how excited I was when the owner of SNAZZY CLOZET showed me this jumpsuit. There's something about a piece that screams timelessness and everlasting class that just does it for me. The fit is very loose which isn't something I normally go for given my slim frame, but it was a welcomed change. I love the sturdy material, the bow detail on the neckline, the wide legs and the fact that it appears to be a two-piece when it's really one fabulous jumpsuit. The fact that it is black and white is an added bonus as it allows for endless options when it comes to accessorizing. 
Outfit details: SNAZZY CLOZET Grid jumpsuit (c/o) // ZIGI NY pumps via DSW (sold out) – similar here // H&M handbag (only  $35! Also available in burgundy)
Word of inspiration: A few years ago, I came across the book "The Secret" which I never read but looked up because of the buzz surrounding it. The idea behind it is – in a broad sense – that once you think positive thoughts, you will yield positive results. I particular remember the testimonial of a man who shared his results after practicing "The Secret" for year. It started when he found a house on the internet that he absolutely loved. He printed the picture of said house and put it on his vision board. Fast forward to 5 years later, after moving in to a new home, his young child asked him what was in a particular box and he mentioned that it was his vision boards. The child, not understanding what a vision board was, asked to see the content of the box. The man obliged and to his surprise found that the home he had just purchased is the exact home that was on his vision board 5 years ago! Cool story, isn't it? 🙂
The funny thing is that as awesome and inspiring this may be, it isn't groundbreaking at all. For 2000 years, the Bible has told us the same thing in more ways than one. For instance:
Do not be anxious about anything, but in everything by prayer and supplication with thanksgiving let your requests be made known to God. Philippians 4:6
***
Finally, brothers, whatever is true, whatever is honorable, whatever is just, whatever is pure, whatever is lovely, whatever is commendable, if there is any excellence, if there is anything worthy of praise, think about these things. Philippians 4:8
***
Death and life are in the power of the tongue, and those who love it will eat its fruits. Proverbs 18:21
And these are just a handful of verses which reflect this same idea that your thoughts and your words will manifest in your life. What is consuming your mind today? How can you redirect your negative thoughts to positive ones? If you've been consistently getting negative results in your endeavors, maybe it's time to change your mind. Literally and figuratively. Find the good in every situation, focus your thoughts on all positive things and live colorfully beauties. You owe it to yourself!
Thank you so much for reading. I hope that when you stop by here, you find inspiration that encourages you to share with your peers, subscribe and come back for more of my Versicolor Closet, where we don't only Dress colorfully but also Live colorfully! 
With love,
Edwina