"Success is not final, failure is not fatal: it is the courage to continue that counts." – Winston Churchill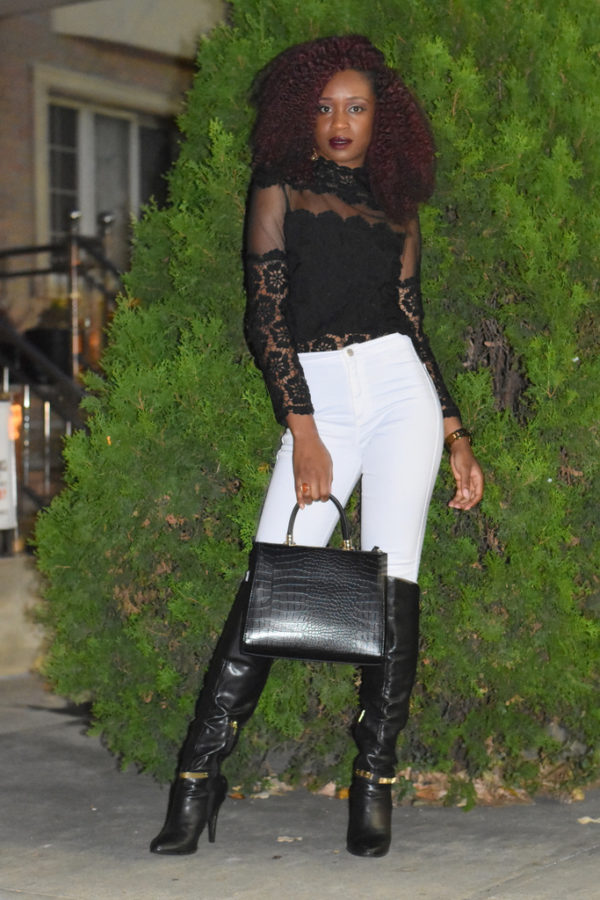 Happy Friday beauties! It is now officially fall and being the rebel that I am, my white denims are still not being stowed away. Tweaking the styling of your white jeans can make them, in my opinion, wearable year round. For this look, I went with over-the-knee boots and completed the look with a black lace top and rocked the best plum lipstick ever! I certainly need to stock up on some vampy lipsticks for this season cause I absolutely love the look on me. This outfit is simple, chic and perfect for both casual Friday at work and happy hour afterwards. 
Outfit details: CHICWISH lace top // AMERICAN APPAREL high waist denim // H&M handbag (only  $35! Also available in burgundy) // BOOHOO sleeveless coat
If you read up on what's happening in the blogging and / or business world, you would have heard about Mode Media – a media company who provided digital advertising to big brands with the help of bloggers and other influencers – shutting down with no warning and walking away apparently bankrupt, owing employees and content creators thousands of dollars for the work they've done. What has happened has been so devastating that it's being referred to as the Enron of Blogging. As a large company, I find it very cowardly that they were not transparent about their financial status but that they still, a week later, have not provided any explanation, press release or worst of all any severance pay to their employees.
 As Winston Churchill so eloquently puts it "Success is not final, failure is not fatal." When you're reveling in your success, you must remember that you have to work twice as hard to maintain it. Nothing in life is permanent or unchanging (except God!) therefore, you must keep in mind that the product you sold that made you successful, could become obsolete overnight. The job you have could be gone tomorrow, or the market could crash and you lose all your investments. Life is unpredictable so a million things could happen. It is crucial to remain grounded and remember where you come from because you never know who you'll need a hand from if your current success runs its course.
 On the other hand, it is imperative to get back up and try again when failure comes your way. The obstacles that cause you to stumble are simply detours that could take you down an even more lucrative path. Things may not turn out how you planned but if you believe that God will give you the prosperous future He promised, then you shouldn't worry yourself to death when things go wrong.  The bottom line is to keep your eyes fixed onto the Lord at all times. Praise Him when things are good and especially when things are bad. He will never leave nor forsake you, like the things and people of this world are guaranteed to do.  
Thank you for reading and have a blessed weekend.
Versicolorfully yours,
Edwina