As everyone is gearing up for the new year, traveling more is – year after year -one of those resolutions (like going to the gym) that sounds good in theory but that can also be hard to bring to pass. I am by no means a travel expert but over the past decade, I not only traveled within the states but I've also visited about 10 islands, traveled to Aruba in 2014, the Virgin Islands in 2015 and more recently to Haiti and Dubai this year. As we speak, I am planning my travels for 2017 and thought I'd share with you guys some tips to help you achieve your travel goals without breaking the bank. I'll leave the gym pep talk to the professionals but here are my tips for making your wanderlust dreams a reality so you can sit pretty like this in Dubai or anywhere else you choose 🙂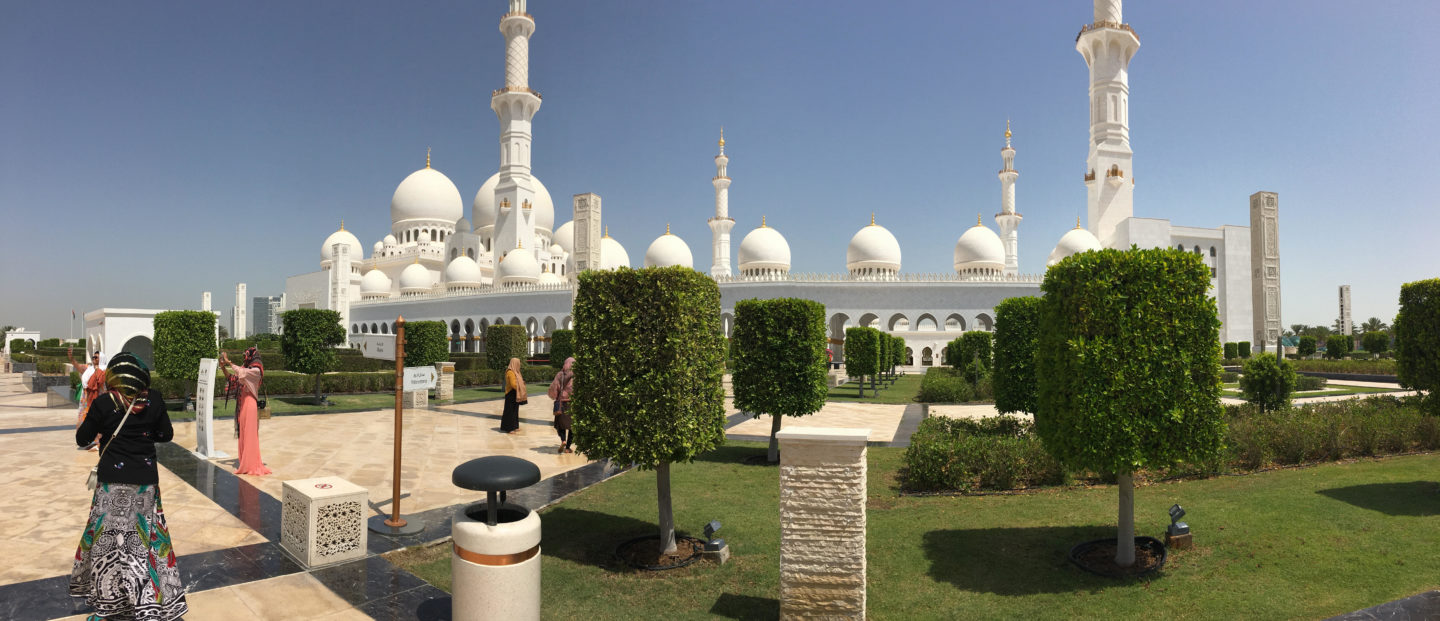 Pick the destination of your choice
I typically travel in May because that is my birthday month and my closest girls also have May birthdays which works out perfectly! With that said, when my cousin decided Dubai was the destination of choice for her 30th birthday, we got to planning almost a year in advance which leads to my next point.
Start your research at least 6 months in advance
When you give yourself ample time to do research and weigh your options, you aren't forced to take the first deal available. At the same time, you want to be ready because you never know when a deal will be available. Though we weren't traveling until May 2016, by November 1st, 2015 we had already booked our hotel. Since we were traveling with a rather large group, we originally looked into booking a house for the week but when we realized that getting a hotel closer to all the main attractions would be just as affordable, we decided to go that route instead and booked Avenue Hotel.
One of my followers reached out to me early December asking me which hotel to book in Dubai for her trip in January. When I checked Avenue Hotel, it was way more expensive because of the short amount of time between booking dates and travel dates so this is a perfect example why it pays off to plan ahead!
Compare prices on various travel sites
Some people go through travel agents to book their trips but not that I'm against it, I just personally have never used one. Websites like expedia.com, bookit.com, tripadvisor.com and cheaptickets.com all offer various travel options for flights and hotels. Another thing to do is to compare prices when booking flights and hotels separately versus getting a package. If it makes sense to book it all together, you're better off doing that.
Beware of fraudulent sites
We found Avenue Hotel on Trip Advisor and after reading reviews and comparing prices, we decided to go with it. It almost sounded too good to be true but when you're booking early, the world is at your fingertips. Beware of sites that aren't legit though! Always type in the website you need instead of clicking on random links that may either contain malware, steal your personal information or provide fake deals.
Travel in groups and share the travel expenses
It helps when you're traveling with a group and are able to share the cost of the room as well. In this case, 10 of us we were traveling for 7 nights, therefore needed 5 rooms. The total cost was $2,408.85 – that's $240 per person after taxes and fees.  Since I know seeing is believing, here's a screenshot of the reservation confirmation email we received after booking: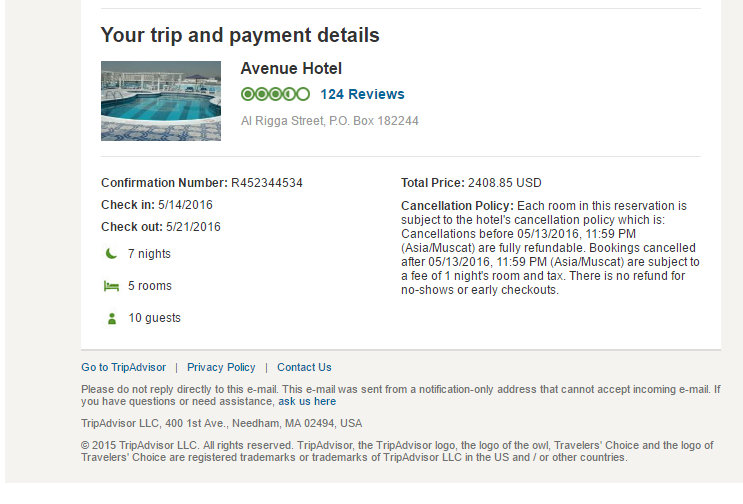 Sign up for websites that send alerts when travel deals become available
My friend swears by this service called hopper which sends flight alerts for the destination of your choice whenever a deal becomes available for the dates you intend on traveling. This service also predicts what time of year flight prices will fluctuate one way or the other which helps when budgeting. Though I haven't used it myself, I recommend a similar option for the person on the go who may not have time to search through endless options.
When it was time to purchase our flight tickets, an email from Groupon getaways alerted us that Emirates was having a sale. As mentioned above, because we were ready to go at a moment's notice, we were all able to snatch that deal. Like the saying goes, stay ready so you don't have to get ready 🙂 It also helps to follow your favorite airlines on social media and or subscribe to their email newsletter so you can be in the know when sales are going on.
Sign up for reward programs & earn points to use on future trips
This may not  have applied to my Dubai trip but it is worth mentioning. Last year I was able to fly to Georgia free of charge (only paid $12 in tax) because a Jetblue email alerted me that flights to Savannah were on sale for $59 each way. Because I had accumulated enough TrueBlue points to cover the rountrip fare, I put those points to good use and went on an unexpected trip without having to spend a dime. I also stayed with a childhood friend and saved on hotel costs. Score!
Don't book hotels on actual hotel's official sites
My last piece of advice is not to book your hotel stay directly on the hotel's website. The reason for that is because travel sites are typically more flexible in extending discounts than the hotels so it is smart to take advantage of the deals that are available. But because there is no set rules to this game of traveling on a budget, it never hurts to compare all available options before booking.
I hope this post has been useful and helpful to you and most importantly will motivate you to explore this beautiful planet we've been blessed to live on. But in the event that you have any questions, please feel free to comment below and I'll gladly address them. Lastly, if you'd like to save this on your Pinterest travel board or share this post with your friends, you can do so by hovering over the below picture and clicking on the pinterest icon.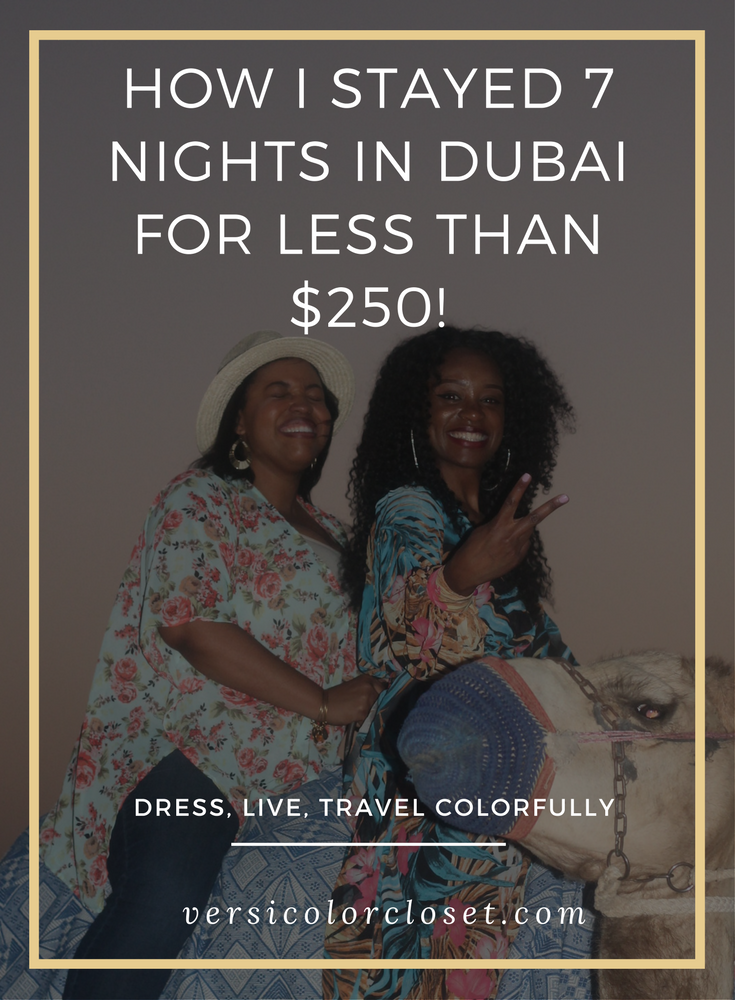 Until next time.
Versicolorfully yours,
Edwina