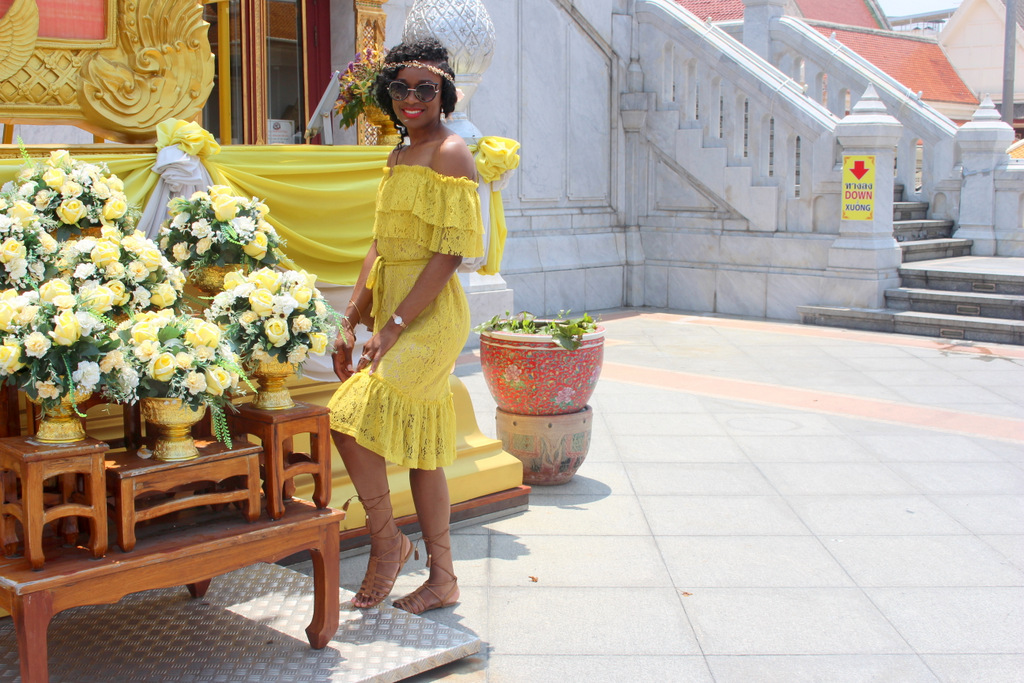 After relaxing and recovering from our jet lag on day 1, we were ready to hit the town the next day. With the help of our hotel's staff, we booked a day tour that took us around Bangkok to visit the temples.
Exploring the temples
If my memory serves me well, I believe the tour guide said there are about 400 Buddhist temples in Bangkok so there's no way you can visit them all. So we went to some of the most popular ones but from what I can tell, they all have one thing in common: insane amounts of gold details and beautiful architecture. I am absolutely fascinated with the details and the amount of work that went into building these works of art. One thing to keep in mind is that – just as in Abu Dhabi – shoulders have to be covered and shoes need to be removed before entering any temple. When I tell you the ground was HOT though!!! Imagine ceramic tiles in 100 degree weather. It was uncomfortable to step foot on those grounds to say the least.
When it comes to attire, I noticed that they were way more lenient than they were when we visited the mosques in Dubai: Some girls just threw a scarf over their shoulders and were good to go and in my case, I simply pulled my off-the-shoulder dress up to cover my shoulders and that was good enough. Whereas in Dubai, we had to wear a whole other gown on top of the long dresses we were already wearing and it was mandatory that we covered our heads as well in 102 degree weather. I digress…
Wat Traimit – The Temple of the Golden Buddha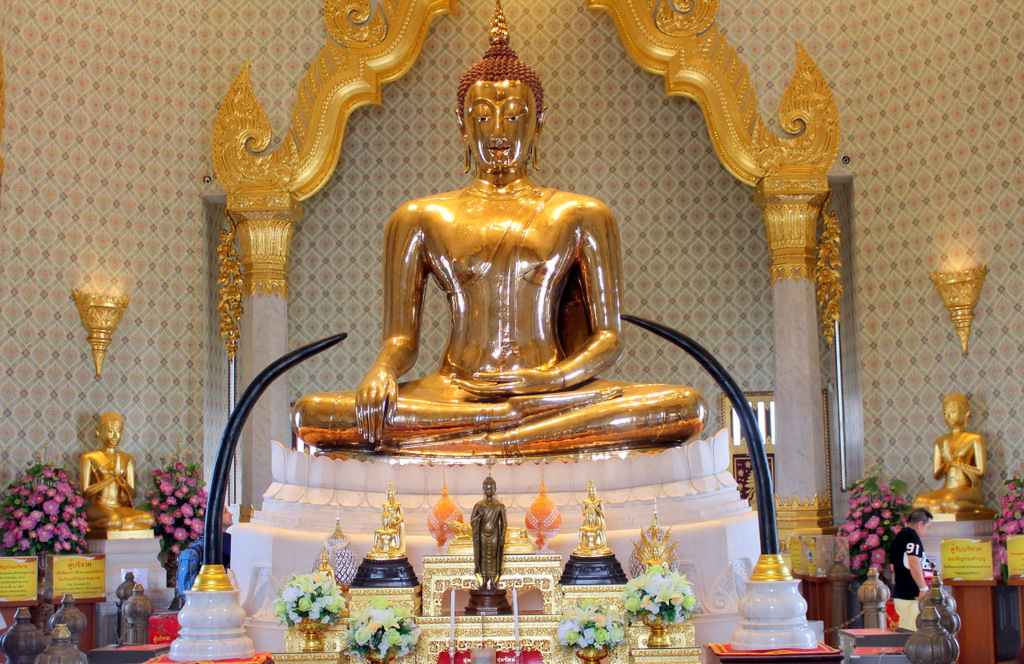 This massive golden statue is located inside the Wat Traimit also known as The Temple of the Golden Buddha which is the first one we visited. This Golden Buddha has been said to have been discovered by accident when it was accidentally dropped as it was being moved, revealing, under a casing of plaster, a beautiful solid gold. Source
Outfit details:
My dress is a birthday gift from Zara (sold out). I am obsessed with the color. My back pack is from Aldo and so is my head chain. Aldo's backpack and handbag selection is to die for so you should totally check them out. They'd make great holiday gifts especially for a Secret Santa! Lastly, my accessories are from Charming Charlie.
Wat Phra Kaew – Temple of the Emerald Buddha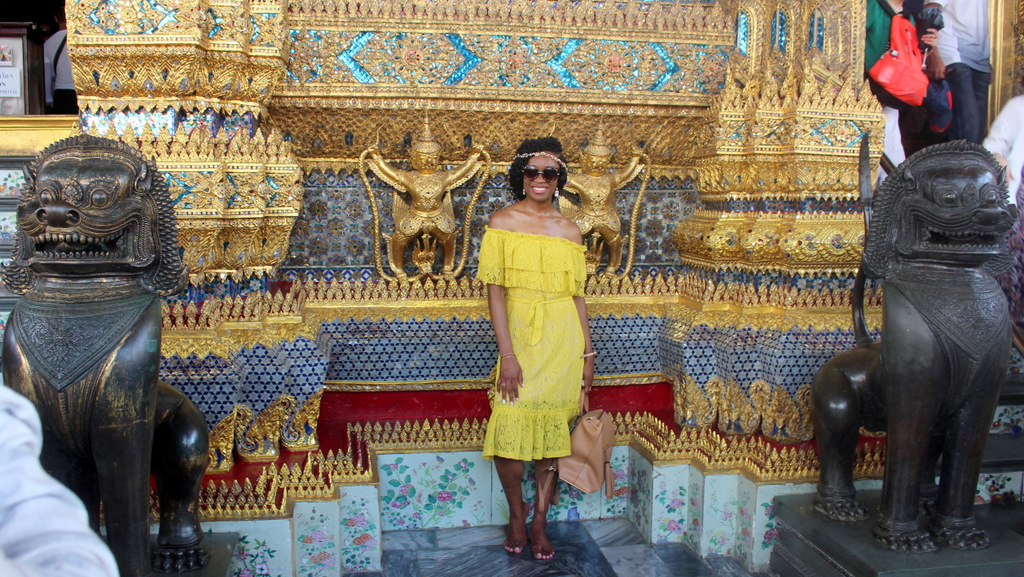 The temple of the Emerald Buddha is GORGEOUS. Located on the grounds of the Grand Palace, I can see why it is considered the most important Buddhist temple in all of Thailand. The reason for that is because it houses Phra Kaew Morakot (the Emerald Buddha), the highly revered Buddha image meticulously carved from a single block of jade. Source It is such a holy place for Buddhists that no pictures are allowed inside. I expected the statue to be much bigger than it was but in all actuality, it's less than 30 inches – considerably smaller than the Golden Buddha.
Here's a google image of what it looks like since I wasn't allowed to capture it myself. Source The king or the prince dress this statue for the seasons as they change.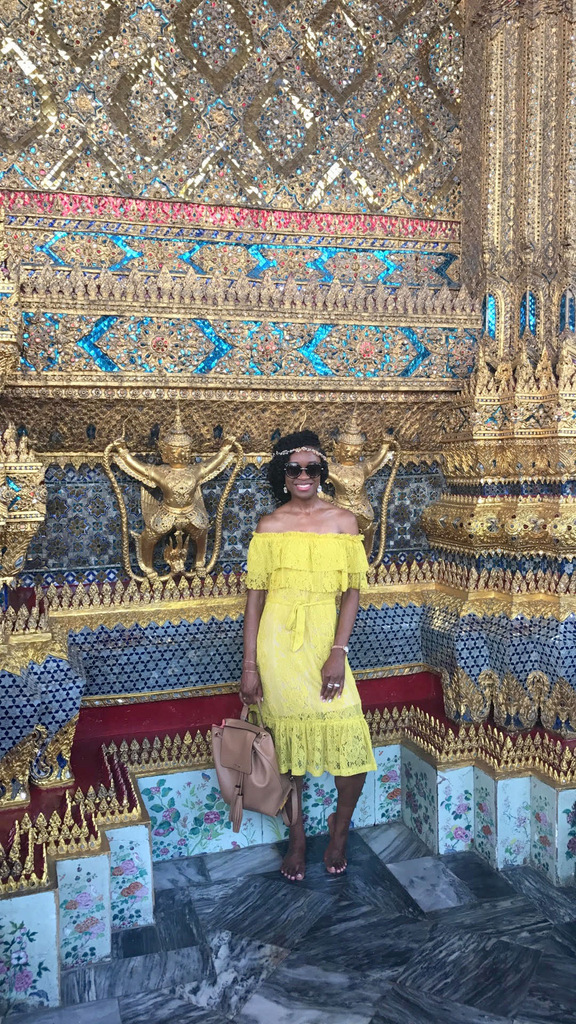 Tip: By carrying a backpack, I was able to throw my shoes in there and only walk a few steps on the hot tile before entering the temple. Everyone else had to place their foot wear on a shoe rack which was not directly in front of the temple's entrance so it was a real pain to walk for a while and feel like your toes are melting off. Young children had to be carried by their parents after they removed their shoes. It was that hot!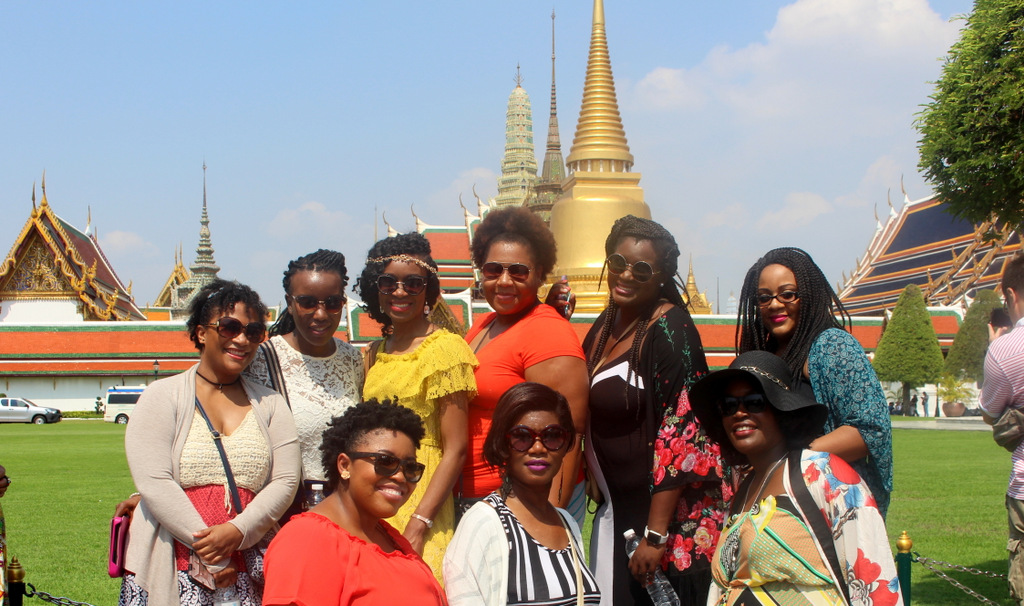 The Grand Palace
The below pictures are taken on the grounds of the Grand Palace which is the king's residence. There are a complex of buildings there and it feels like a city in and of itself.
Tip: We were warned many times that the Buddha statue is not meant for decorating but rather for contemplating and to pay respects. I'm not sure how anyone would know if they're used in the wrong context but they claim that there are hefty fines and even imprisonment for those who don't obey this rule.
We also visited the below but I can't remember its name. A couple people from our group also went to visit the Reclining Buddha statue but at that point, I was too tired, hungry and hot to see another temple so I opted to chill in the van and cool off for a bit.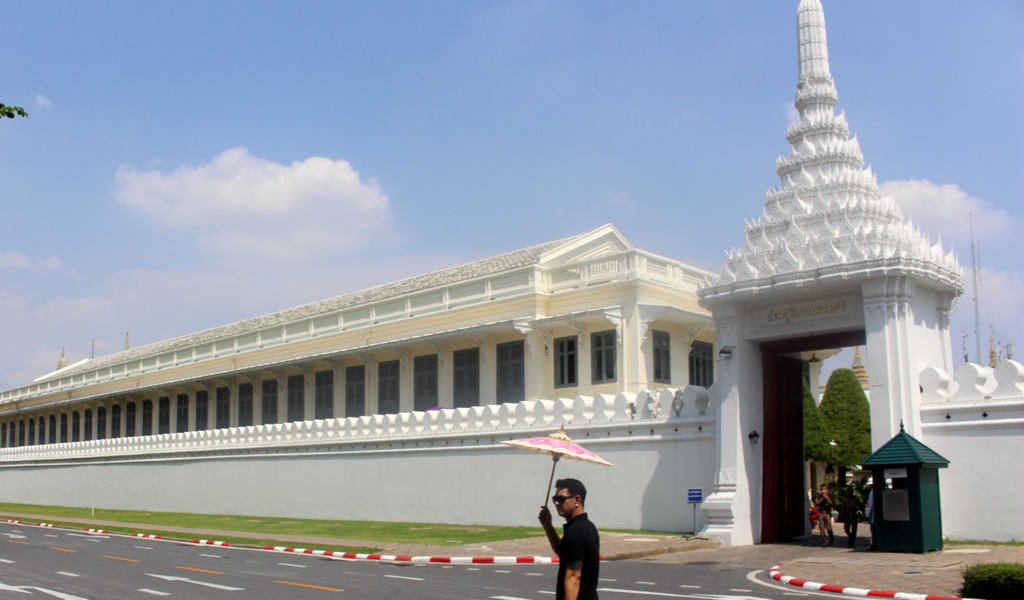 The late King Bhumibol Adulyadej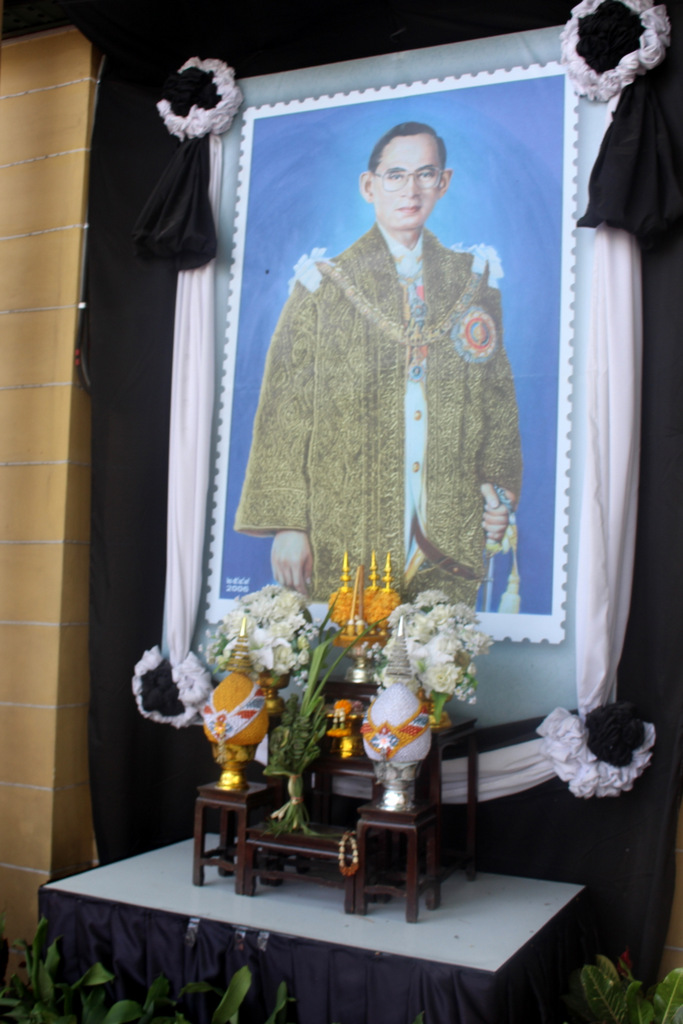 You may have heard that the Thai king – Bhumibol Adulyadej – passed away in October 2016 and man was he loved! The whole country was in mourning for an entire year and they finally held his funeral a year later on October 26th, 2017. Streets all over Bangkok and Phuket were decorated with black and white ribbons as part of the mourning process. We saw extremely long lines of people waiting to go pay their respects at the Dusit Maha Prasat Throne Hall of the Grand Palace (pictured above) where the king's body was lying in state. If you've never heard of that expression, lying in state is a "tradition where the body of a dead official is placed in a state building, allowing the public to pay their respects." It's so interesting to me that they would do this for an entire year.
No matter where we went, we saw endless photos of him and citizens of Thailand wore dark colors during the mourning period which finally ended on October 30th, 2017. This was reminiscent of the fact that pictures of the Sheikhs in the United Arab Emirates – though still alive – are exposed in every hotel, billboards, airports and everywhere in between. We definitely don't do that here in the US.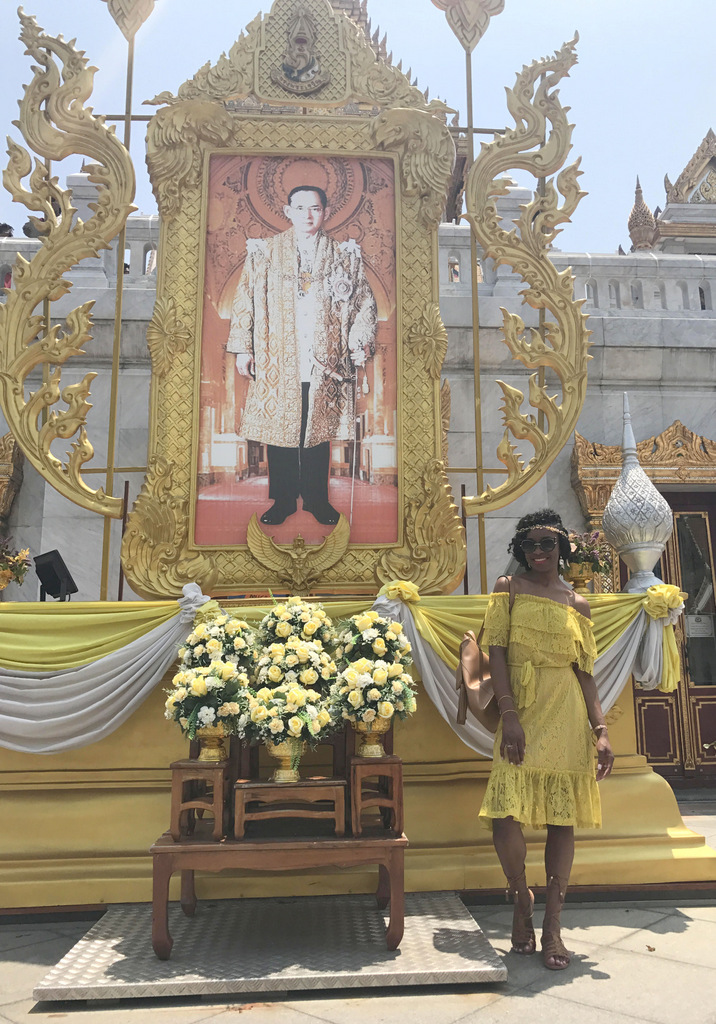 After a long day of exploring and literally melting in the hot sun, we headed back to our hotel to freshen up before heading to dinner at the tallest building in Thailand which had a deck that was literally spinning to give a 360 degree view of the city. You're not gonna want to miss this next post so be sure you're subscribed and stop by again soon 🙂
I am totally reliving this whole trip now that I'm sharing the pictures with you guys and I am just so blessed to be able to experience the joys of traveling and of discovering new cultures. It really is an eye opener to view the world from the perspectives of other people.
Now your turn
What's the coolest place you've traveled to or what place is on your bucket list that you can't wait to visit? I'd love to know.