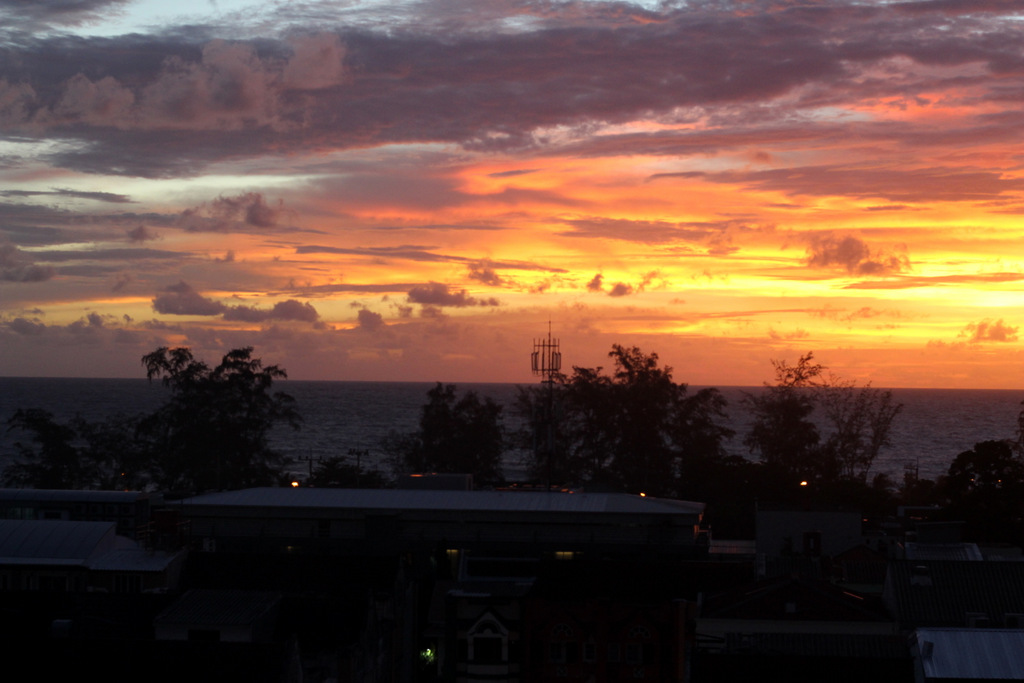 On day 4 of our trip, (See a recap of day 1, day 2 and day 3) we scheduled a one hour flight to Phuket from Bangkok for the remainder of our stay. Before checking out, we grabbed breakfast at our hotel and bid farewell to what was our home away from home in this city.

From Bangkok to Phuket
Although this was a domestic flight, we gave ourselves ample time in order to avoid rushing which ended up working out well in our favor. Because we arrived so early at Bangkok's Don Mueang airport – which is massive and requires a lot of walking by the way – we had time to go the information booths and ended up booking our excursion to Phi Phi island for the next day which I'm glad we did because by the time we arrived at our hotel in Phuket, the sun was already setting as pictured. We were also able to book a cab to pick us up from the airport. Upon landing, our taxi was waiting on us and they already had our hotel information. I felt pretty special having a driver holding a sign with my name for the first time. It's the little things in life 🙂
Where we stayed
We stayed at the Centara Karon Resort in Phuket which was beyond amazing considering how little we paid for it. From our room's window, we were able to watch the sun set and when we exited our room, we admired colorful buildings surrounding the resort and below us was a nice view of the pool.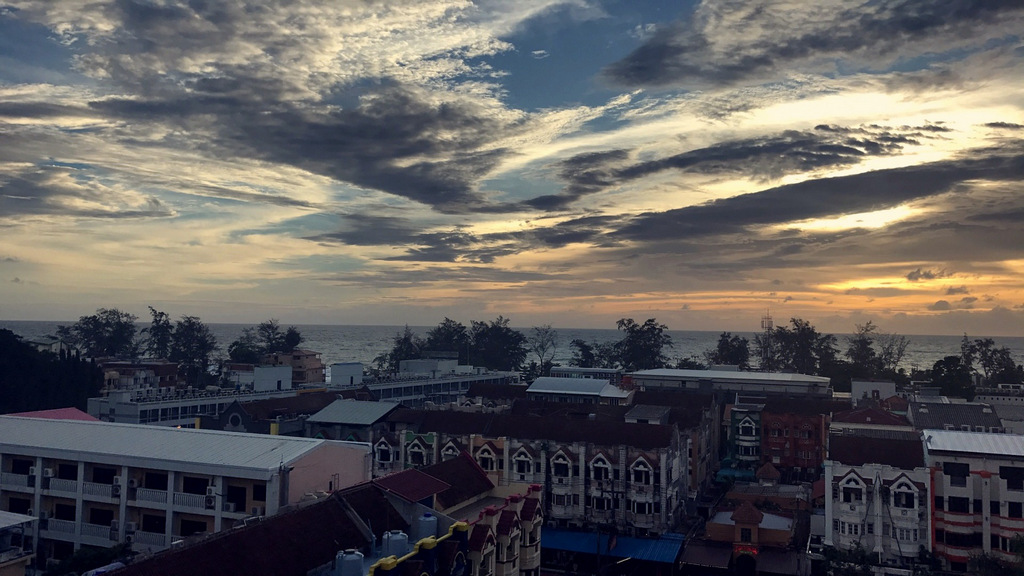 Upon arrival
After checking in, resting and showering, we stepped out for dinner at a restaurant nearby that we just walked to and as in true Thai fashion, the food was prepared quickly, smelled amazing, was colorful, and best of all, was extremely affordable. As if that wasn't a good enough way to end the night, we noticed a massage parlor right next door and for a full hour, I got the best massage of my life for the equivalent of $10US. Yup, TEN DOLLARS! The masseuse literally stood on my back and applied pressure with most of her weight and man, it was amazing! In the US, particularly in NY where everything is overpriced, a full hour massage is upwards of $100. For this reason, we made sure to get massages every single day we were in Phuket.

The next day
We got up bright and early because we were getting picked up at 7AM to head to the pier where we would be getting on the boat to spend the day at Phi Phi islands. I really had a moment on the boat: I mean, I've seen these views on Facebook, YouTube and popular travel pages on Instagram and here I was, little ole me, seeing these views with my own eyes, 20+ hours away from home. God's creation always amazes me man and I certainly don't take it for granted that He's given me the ability to experience his goodness by traveling the world! To say the views from this island were breathtaking would be an understatement.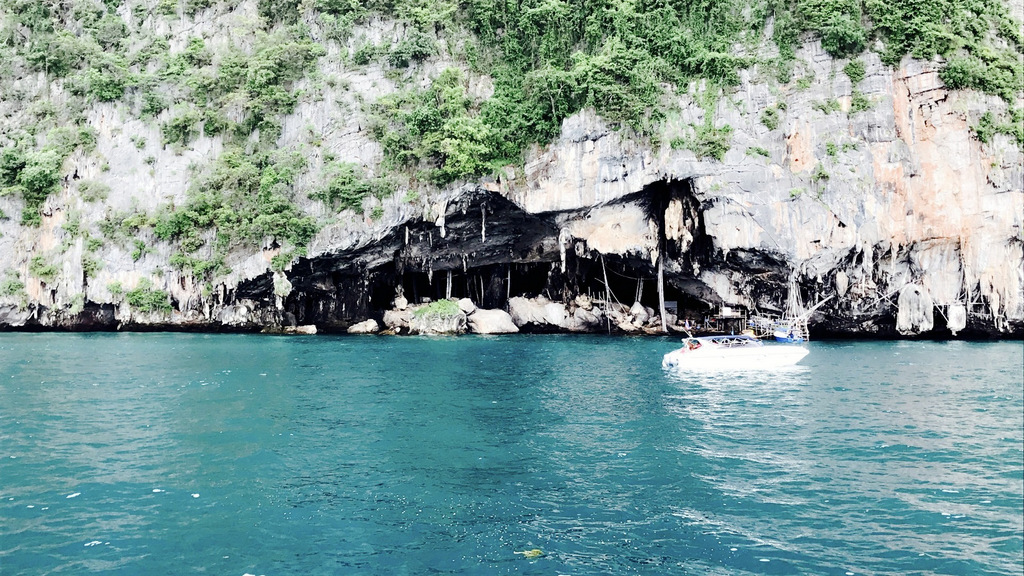 Arriving at Phi Phi Island
Unfortunately, as soon as we docked and walked over to the hotel, it started raining. Because meals were included in the package we selected, the boat crew worked with the hotel staff to notify them of our ETA. As soon as we arrived, lunch was served. We ate and although it was still drizzling, we decided to take a walk to the beach where I had a full blown photo shoot in my amazing Asos bathing suit currently on sale: top here and bottom here. The cover up skirt also from Asos was a perfect touch!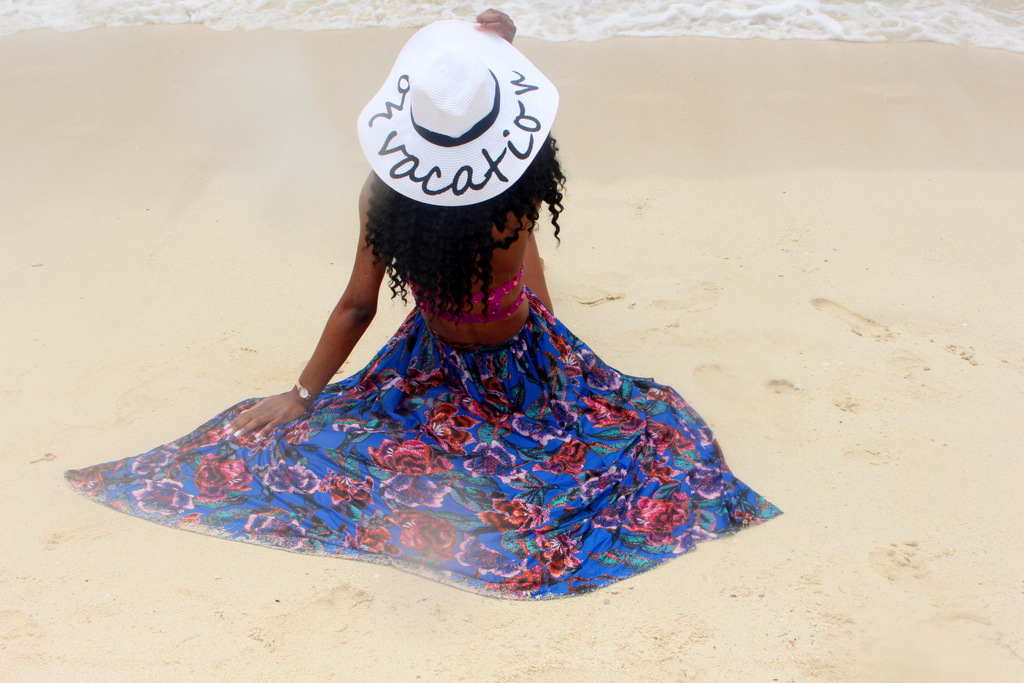 Snorkeling
After a full blown photo shoot at the beach, we got back on the boat to enjoy some snorkeling. We had the time of our lives. There were so many kinds of fish and the coral reefs were magical. Just being in the water without a care in the world does good to the soul. If you haven't snorkeled before, try it on your next getaway. Even if you aren't a good swimmer, you can totally enjoy it with a life jacket.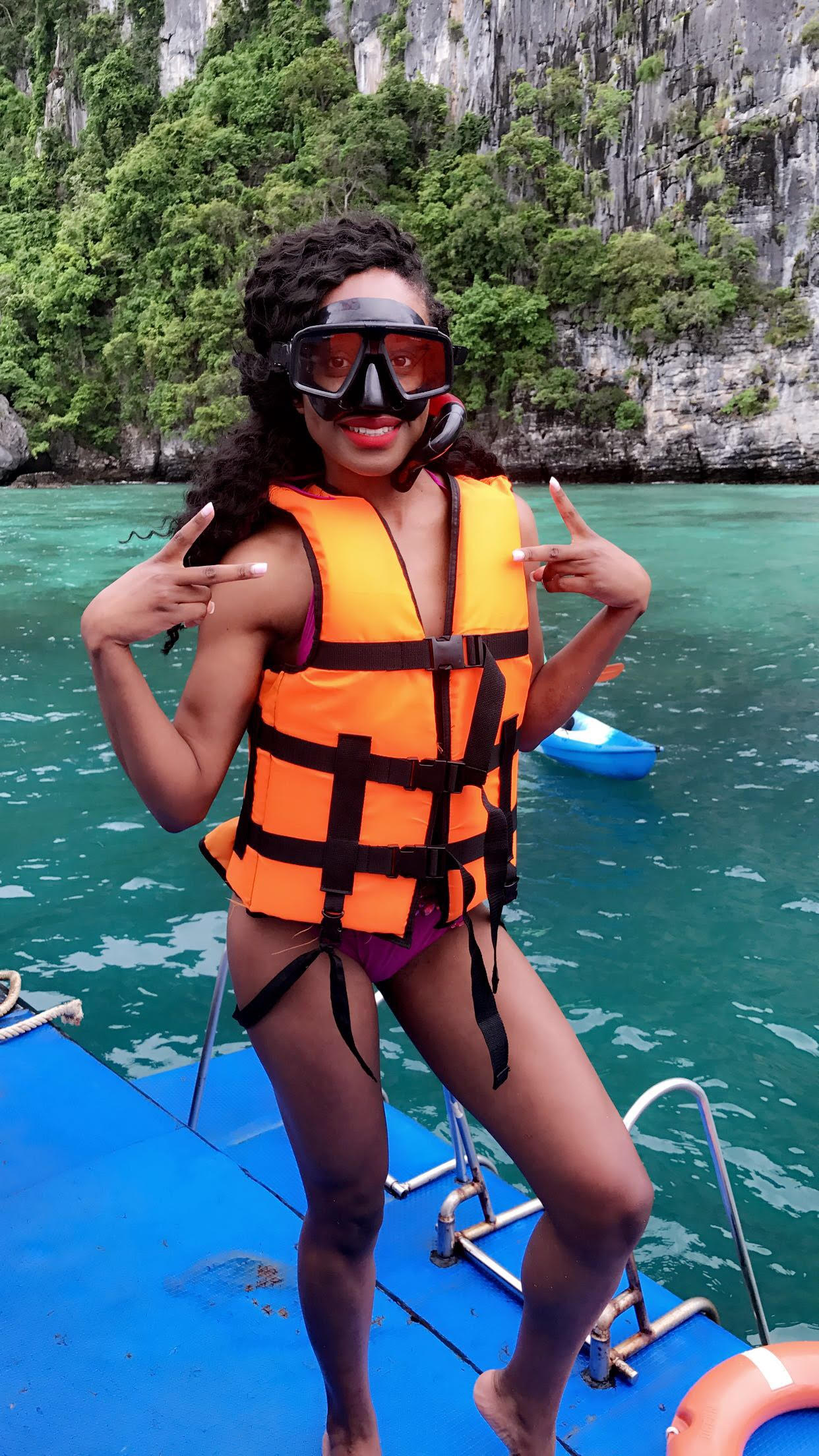 The end of a good day
After the adventures of day 5, we were exhausted. Many of the girls slept on the boat during our 2+ hours commute back to the pier. From there, the same taxi service that dropped us off in the morning was there to pick us up. It really helped to book these excursions at the airport and not have to worry about the logistics when we were exhausted.
We grabbed a delicious dinner near our hotel before calling it a night. The pineapple fried rice I  had was served in a pineapple which was as great as its presentation. It certainly didn't hurt to have a massage afterwards which then helped me sleep like a baby!
This post took a long time to write and is loaded with pictures as I tried to be very detailed with my experience in hopes of virtually taking you with me to the places I explore. With that said, I truly hope you enjoyed the write up and the pictures and will bookmark this link for when you decide to visit this amazing country yourself. Until next time!