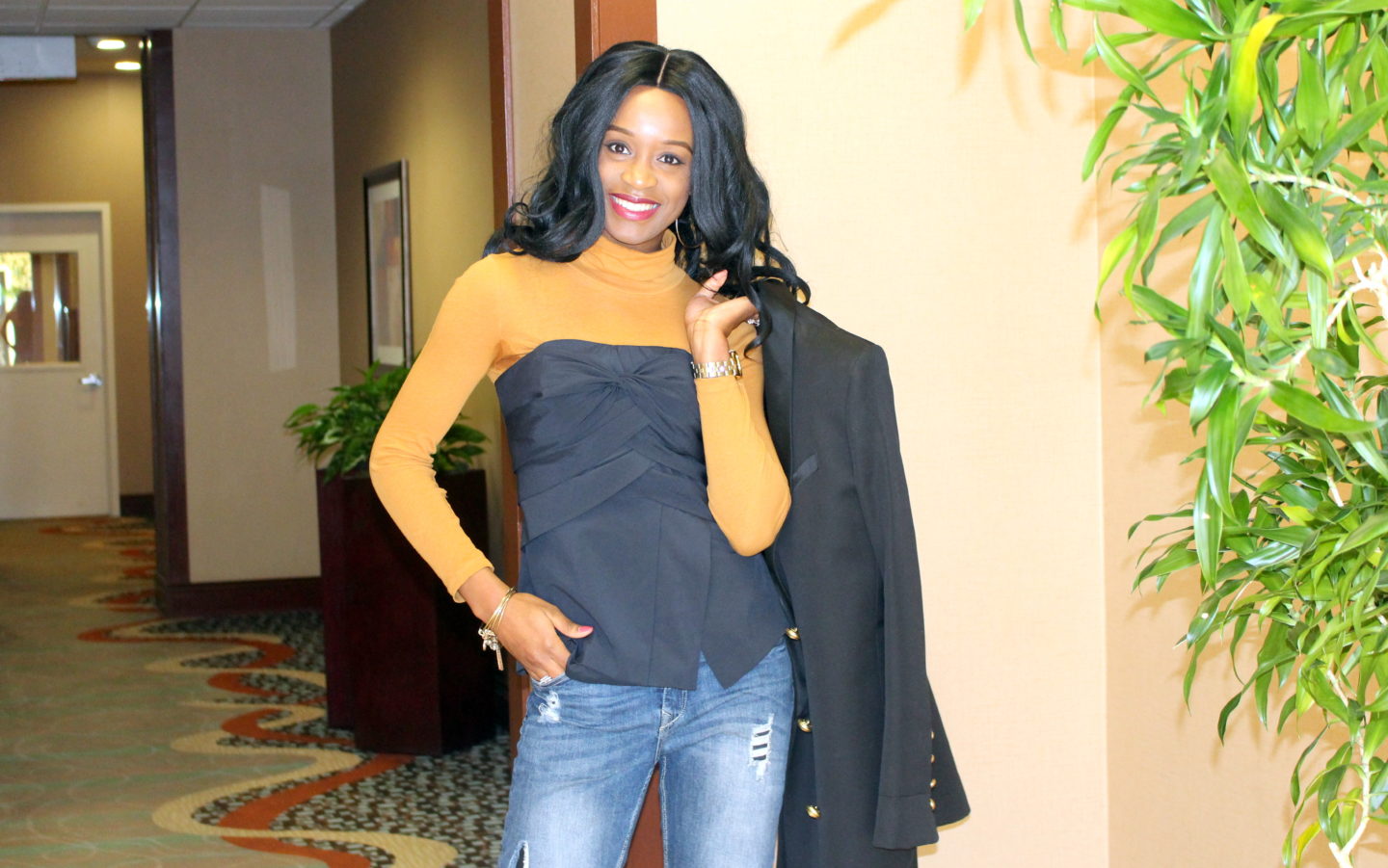 I never used to be a big fan of turtlenecks because I imagined they would make you feel as if you're choking but now that I started wearing them, I don't know how I ever survived cold weather without them. You know what they say, once you know better, you do better 🙂 This tissue turtleneck from JCrew Factory is truly a closet staple for fall and winter. Here's why:
It is lightweight which makes it the perfect layering piece
Who likes bulky garments? Not I and I'm sure you don't either. Layering with a light weight turtleneck is not only stylish but quite functional. It pairs easily with so many items such as a strapless summer top as I'm wearing in this post. You can also rock yours underneath your blazers, your work dresses and even underneath your jumpsuits.
It is a good substitute for a scarf
You can forgo wearing a scarf once you have on a turtleneck since it protects your neck from the frigid temps. If yours is made of a breathable cotton material like the JCrew one I'm wearing, it won't be tight around your neck so no need to worry about feeling like you're suffocating.
It pairs perfectly with your statement necklaces
Have you ever worn a necklace against your bare skin during the winter? It is so uncomfortable because the cold metal is directly against your skin but a turtleneck provides a foundation for your favorite statement pieces to shine without costing you comfort. It's a win win.
It's an easy way to elevate your winter wardrobe with a pop of color
Incorporating color into your winter wardrobe doesn't have to be a daunting task. You can simply layer a colorful turtleneck underneath your neutral pieces and instantly take your look from blah to wow!
Outfit details:
JCREW FACTORY turtleneck // FOREVER21 strapless top (similar option) // H&M distressed boyfriend jeans (similar option) // PUBLIC DESIRE booties (similar here) // H&M purse (similar here) // BALMAIN x H&M blazer (similar here)
I really loved how this look turned out. This Balmain x H&M blazer is one of my most prized possession because Balmain is my favorite fashion house so once this collaboration hit the stores a couple years ago, you better believe I was at the mall at before 5AM. It really pulled the look together and balanced out its otherwise casual vibe. I would wear this to brunch, date night or even to a Broadway show.
Are you a fan of turtlenecks? Where would you wear this look to?