"A lot of relational problems we face are the results of the people we embrace." Pastor Mike Todd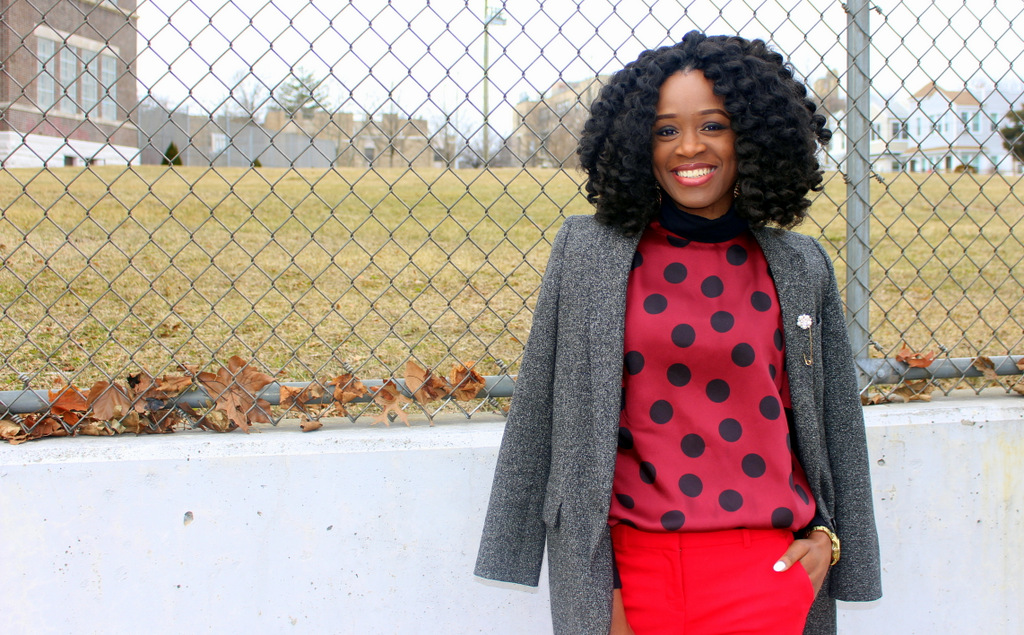 Valentine's day is a couple of days away and since it is in the middle of the week, we will for the most part be at the office. With that in mind, I am sharing an office appropriate outfit centered around what seems to be the official color of love: red.
The most popular question I get from my readers is "what color goes with that?" When deciding what to pair with any color, it helps to be familiar with the color wheel or at the very least have an idea of what the primary colors are and what shades complement them. In this instance, I paired this blood red pair of trousers with a burgundy blouse layered over a black turtleneck. By keeping the rest of the look neutral, the red pants remained the focal point of the look and the burgundy top provides a nice contrast since it is a different shade of the same color. This look also shows an easy way to style your summer blouses during the colder months with the help of a sweater underneath.
OUTFIT DETAILS
EXPRESS boot cut trousers // JCREW FACTORY turtleneck // ZARA blouse // ZARA blazer // ZARA heels // H&M purse (similar option here)
What are your thoughts on this look? Do you wear special outfits to work on Valentine's day?
On another note, do you have relationships with people who dim your light? Are some of your 'friends' draining you instead of lifting you up? Always remember that certain issues of life are simply the result of who you associate yourself with. This Valentine's day, take a look at your circle and make sure that all your relationships are filled with love and are helping you grow. Pray for discernment in your friendships because otherwise, you are doing yourself a disservice by carrying dead weight. Let it go!
I look forward to reading your feedback below… Be sure to stop by tomorrow for a different color pairing with red. Until next time,