"Throughout life people will make you mad, disrespect you and treat you bad. Let God deal with the things they do, 'cause hate in your heart will consume you too." – Will Smith
Outfit details: H&M sweater dress worn as top (old) // Charlotte Russe denim // F21 booties // Kate Spade bag (sold out) // Hat: Local boutique – Gorgeous option here // Steve Madden Leather sleeves trench (Previously seen here) – On sale here , love this, all black here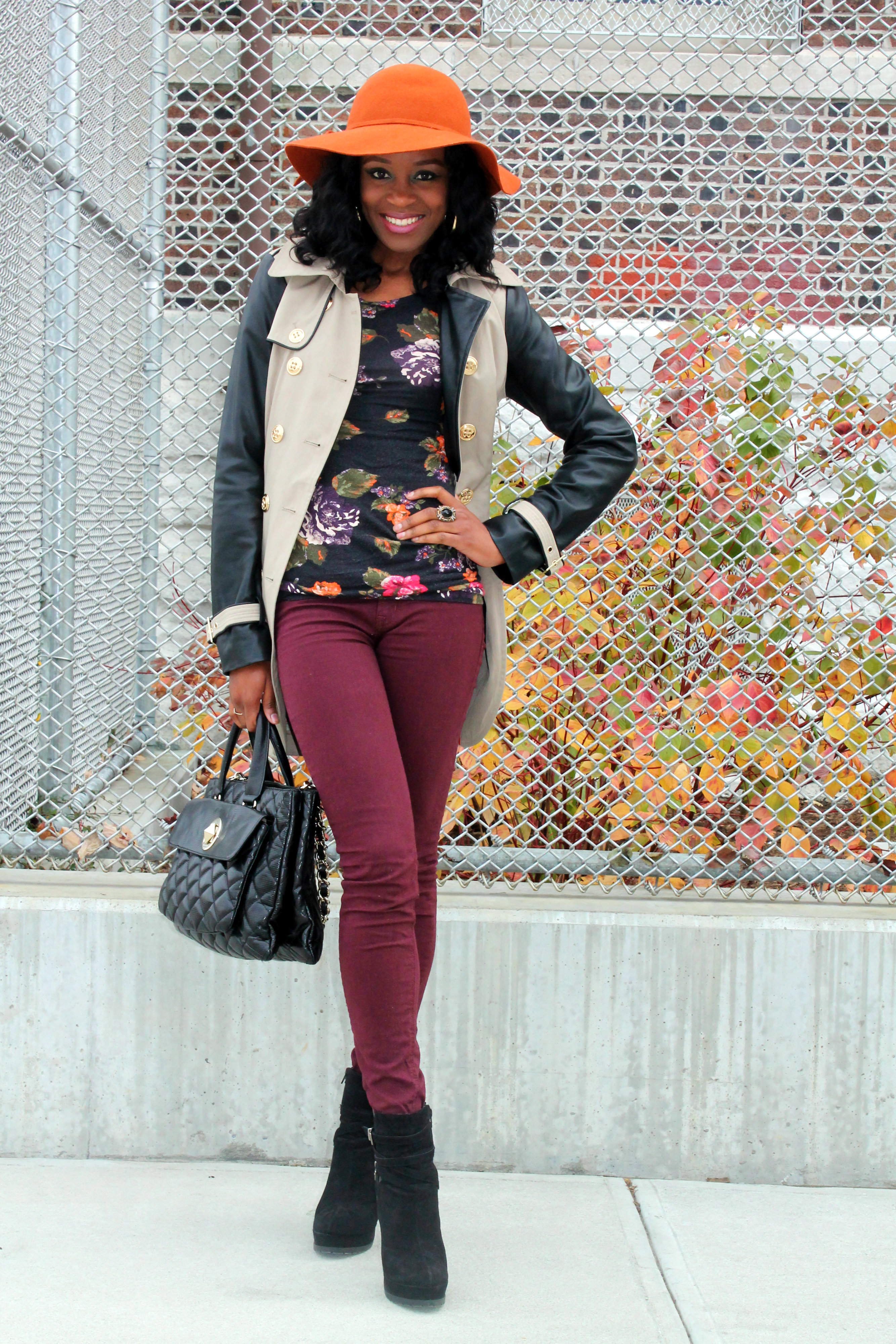 Photos by: Maliny Collections
Burnt orange!!! What a gorgeous color! For some reason, I think it makes a perfect combo when paired with royal blue but that will be on another post. Am I the only one who creates my looks around one item?! I find that to be the easiest way to decide what to wear. I started with this floral sweater dress from H&M which I'm wearing as a top and I used the colors on it to build the rest of the look. I really like the way it turned out, because although the look is colorful, it is still very season appropriate. Please share your thoughts below.
On another note, I'm having a meet-and-greet in NYC on December 5th to celebrate Versicolor Closet's first year anniversary. I really cannot believe it's been that long already because it seems like yesterday that I had my launch party. It's been an amazing journey with you, my lovely readers and I am so looking forward to what 2014 has in store for me and you. With that said, I think it'll be great to meet some of you in person to thank you for your endless support. I have not yet finalized the details for the event but if any of you residing in NY or in the tri-state area are interested in attending, please comment here or email me at 'versicolorcloset@gmail.com' so that I have somewhat of a head count. It will be fun to mingle, network, sip a few cocktails and get to know each other. I may just include a giveaway as part of the event so you  should definitely attempt to make it for a chance to win a super cool prize. Super excited about this:-)
Until then, stay blessed and fabulous!