What's better than getting good quality makeup? Getting it for free of course! Here's your chance 🙂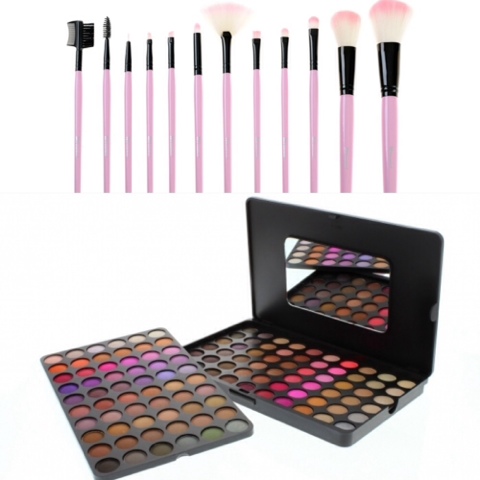 It is really surreal for me to see how many devoted readers I have: people from all walks of life who find the time out of their busy days to not only read my blog and visit my social media pages but also create the time to give their feedback and encourage me on this journey! So for this, I want to say a BIG thank you! Thank you for making this journey worthwhile, thank you for being positive and supportive, thank you for reading, liking, commenting and sharing my posts. I am forever grateful.
I don't really talk makeup on the blog simply because that is most certainly not my area of expertise. But nonetheless, I am learning and when I learn of something good, I immediately get the urge to share with my lovely readers. BHcosmetics offers very good quality, affordable makeup in a wide range of colors. The fact that every review I read was raving about the eyeshadow palettes being so pigmented is what pushed me to place my first order and ever since then, I have been hooked. (Versicolor?! Yes please!)
It seems that they have weekly deals on their site so I would encourage everyone to sign up for their mailing lists in order to get a discount on their already affordable makeup. 
I decided to give one lucky winner a 12-piece makeup brush set. If you're a beginner in the makeup department, the photo below (taken from their website) gives an idea what each brush is used for. I found it quite useful when I was starting out because I really had no clue what was what. 
I love that the pretty pink brushes come in this gorgeous case which snaps securely to hold your brushes in place and makes traveling that much easier. 
When deciding which palette to give away, I voted for the 5th edition 120-color eye shadow palette because it comes with an array of neutral colors and a quite a few vibrant colors in both matte and shimmery finish. When applied correctly, these colors work well on most if not all skin tones and are perfect for both day and night looks. I own the 1st edition and I love it but I will most definitely add the other 4 palettes to my collection. 

RULES: 
I wanted to make this giveaway very easy to enter therefore there won't be a long list of rules. All you have to do is the following:
1. Subscribe via email on the right hand sidebar of my blog. 
2. Follow me on Instagram and/or Twitter (@versicloset)
3. Re-post your favorite Versicolor picture on Instagram or Twitter with your email in the caption (so I can verify that you're subscribed) along with the hashtag #VersiclosetMakeupGiveaway.
 
– Giveaway starts 4/8/14 and will end 4/15/14 at 11:59PM Eastern. 
– Winner will be chosen randomly and announced on the blog, Twitter & Instagram on 4/16/14.
– After subscribing on versicolorcloset.com, you may enter once a day during the duration of the giveaway to increase your chances of winning. 
Best of luck everyone! 
GIVEAWAY CLOSED!
*All photos in this post were taken from bhcosmetics.com and are not my own.
* This post is in no way affiliated with BHcosmetics. Items being given away were purchased by me and I was not compensated to promote their products.