"Do not save what is left after spending. Spend what is left after saving." – Warren Buffet"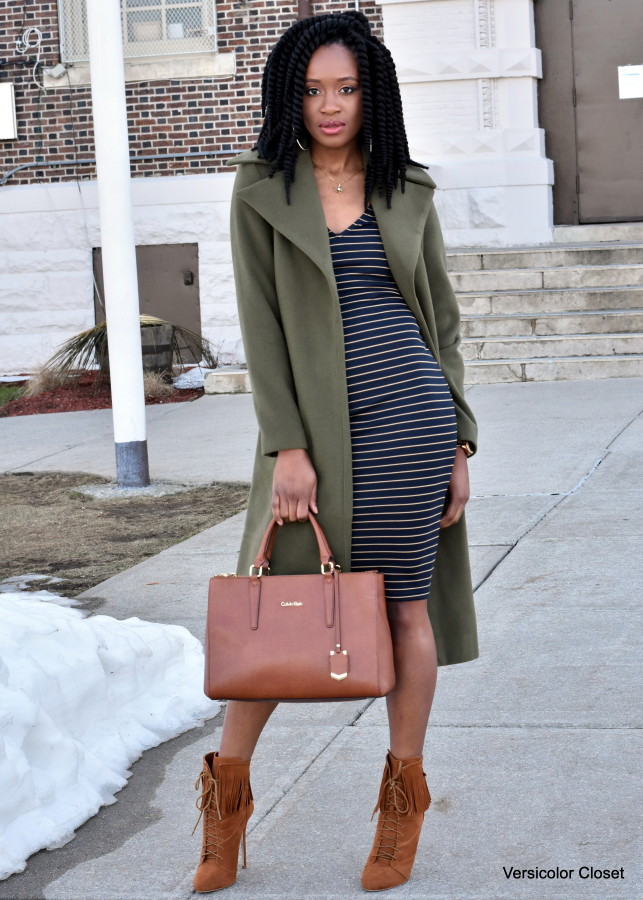 Last weekend, the temperatures dropped below zero for the first time in a long time. Then it snowed again. Then it rained but on that day it was 55 degrees. When I tell you I don't even know how to dress anymore, it's an understatement. I got this long sleeve striped dress for under $15 during Zara's semi annual sale so I threw it on with a coat and my sky high booties with no tights because it was warm enough – at least when I left the house. Then it rained. I just can't win… Oh, if you're interested in this coat, keep in mind that it is super warm but has no pockets. I know. Bummer!
Outfit details:
ZARA striped long sleeve dress // BOOHOO olive wool coat – camel version // PUBLIC DESIRE booties // CALVIN KLEIN purse
**
The other day I saw a picture of a teary eyed woman with her father's corpse in his coffin directly behind her at the funeral. In the caption, she mentioned how she didn't have any selfies with him while he was alive because he hated taking pictures but it was imperative that she took one last selfie with him since this time he had no choice. I WAS FLABBERGASTED! There was just so much wrong with the picture and that caption but somehow her followers simply commented with "RIP" messages – seemingly unbothered by the scenario. Are we really so engulfed in this social media craze that we have no decency anymore? I mean to each their own but in my opinion, some things should simply not be shared. In this particular instance, if a person wouldn't want a selfie while living, it goes without saying that their wish should be respected when they've passed on. I digress… I mentioned this to bring me to the point of social media and how much many of us have allowed these platforms to take over our lives. They dictate to our subconscious what is cool, what to eat, what's trending, and what you must have not now but right now; This has the potential to indirectly encourage reckless spending. Before I explain further, let's take a look at the below chart:
Part of the problem: We are so consumed by social media and the 'instafamous' who wears expensive shoes, travels frequently and consumes insta worthy meals that we would rather fall into debt in order to "keep up with the Joneses" (or the Kardashians if you're a millenial) because being perceived as part of an 'inferior' social-economic class would be a tragedy! Foolishness I say… Being content with what you currently have is the key to unlocking future blessings. Hebrews 13:5 says: "Keep your lives free from the love of money and be content with what you have, because God has said, "Never will I leave you; never will I forsake you."  
Part of the solution: As a Christian, I cannot stress enough how important it is for us to follow Jesus instead of following in the footsteps of the world. Let's not forget that envy is one of the 7 deadly sins. There's nothing wrong with enjoying nice things but if after lusting over the new pair of Louboutins your #WCW had on, you have to use your credit card to buy a pair of designer shoes just to get on the bus in style, then girlfriend you may need to have several seats and get your finances in order. TIP #1: Only spend what you can afford! Many of us think credit cards are equivalent to free money. If anything, it's more like expensive money because if you carry a balance for months and years, that $5 coffee may end up costing you $50 after interest is continuously added. 
Secondly, it's unfortunate that if you weren't a Business student, you don't get to learn in your college classes crucial information about keeping track of your credit score and credit report and the do's and don't's of credit cards. But just like you googled where to purchase that Chloe Drew bag, you can spend some time to research valuable tips to restore your financial health. Where there is a will, there is always a way. TIP #2: Educate yourself about healthy financial habits.
Have you ever swiped your card times and times again and later checked your account to realize you have way less cash left than you thought you did? Well, that's what happens when you spend recklessly without a plan. If you had known better, you could have made coffee at home instead of spending that extra $5 at Starbucks. TIP #3: Make a budget before your earnings even hit your account and stick to it! Impulse purchases are the enemy to being financially healthy so sleep on it and make sure you absolutely NEED something versus just buying what you WANT in the moment.
If you have no self-control, you have to make it harder and harder for yourself to spend irresponsibly. Advertisers know the tricks of the trade and will constantly drown your inbox with never-ending sales they know you can't resist. Which leads me to my next point. TIP #4: Unsubscribe from all your favorite stores' email lists so that you don't get tempted. Desperate situations call for desperate measures so if avoiding going to the mall will help you reach your goal of financial stability, then by all means make that detour and look not in the direction of Zara and JCrew. I'm obviously talking to myself here. Lol!
Lastly, now that it's tax season, it's the perfect time to set short and long-term financial goals. You can start by taking a look at the above chart again and making a conscious decision to be part of the 14% of people who have upwards of $10K in savings by XYZ date. Remember a goal without a deadline is just a dream and a dream without a plan is… well a nightmare. Ha! I obviously made that last part up but did you know that 60% of Americans cannot cover unexpected expenses? That means 60% of us are only a paycheck away from being homeless if the unexpected were to happen. That's beyond scary! 
TIP #5: Start saving – not some day but today! As the rich and famous Warren Buffet puts it best, be sure to save before you spend and not the other way around. You may still be in your 20's & 30's but now is the time to also start saving for retirement. Your future self will thank you.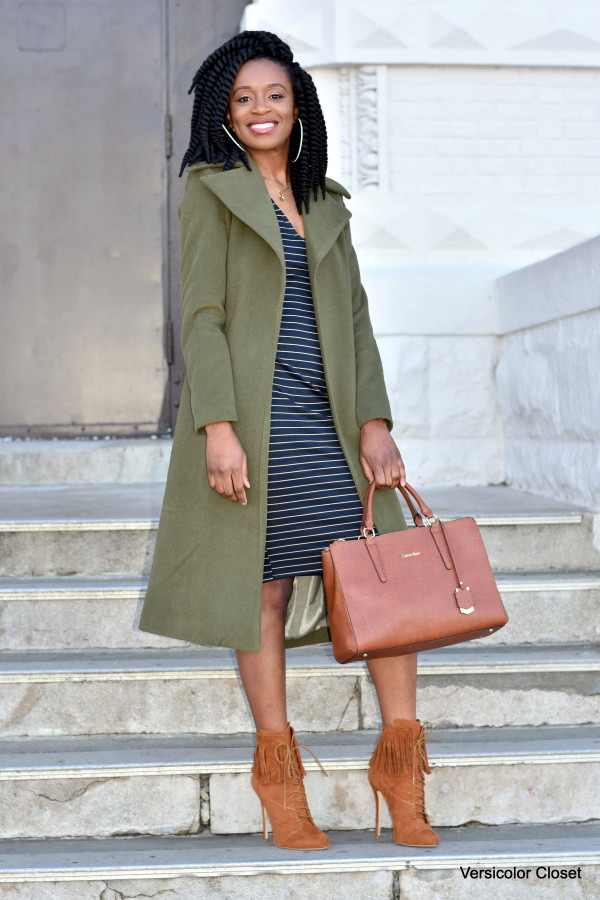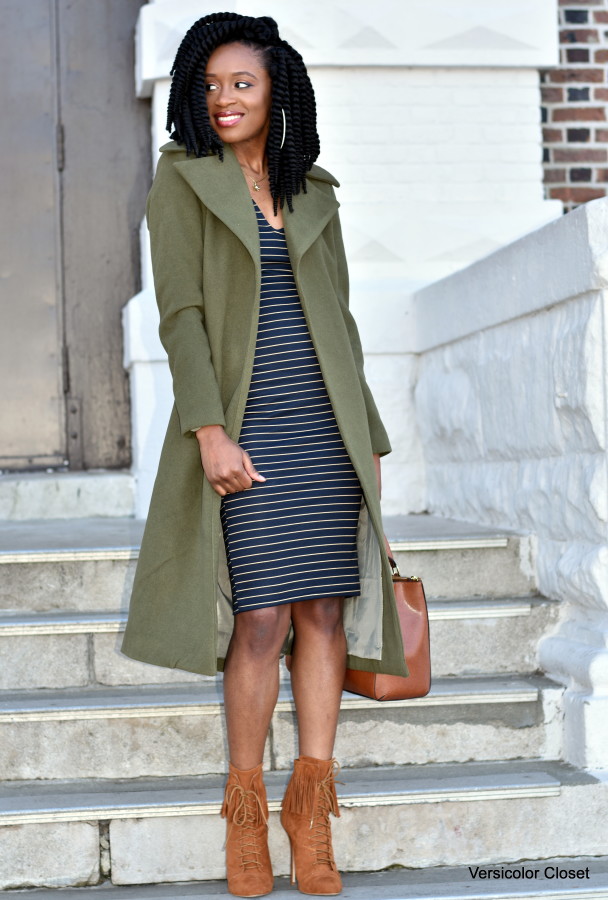 I appreciate you stopping by. Please feel free to chime in below and let me know which of these five tips you found most helpful. Your feedback is always greatly appreciated.
Until next time darlings. With love,
Edwina