"Hearts rarely get broken when legs are kept closed" – Unknown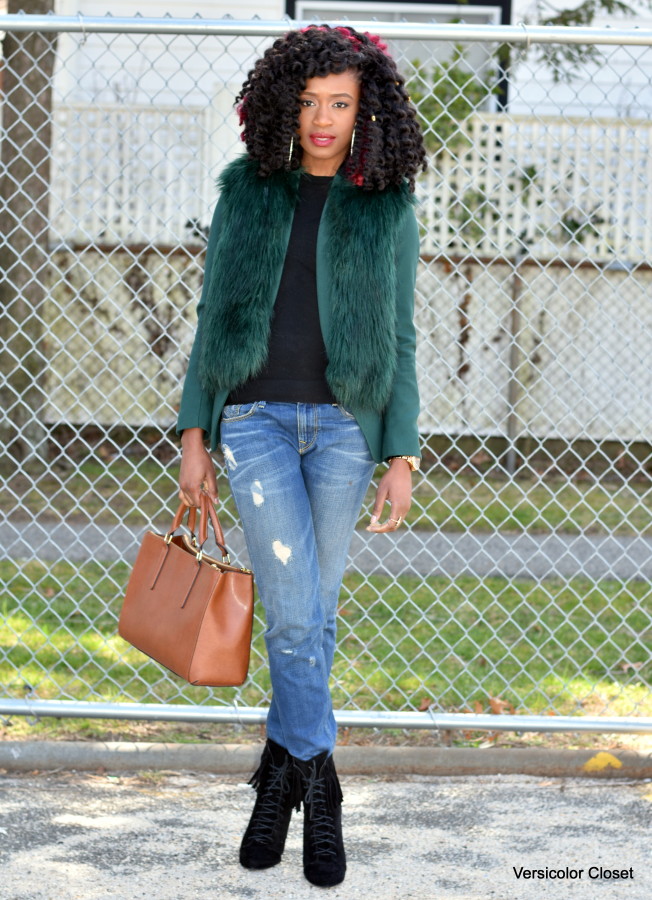 Outfit details:
ZARA jeans // ZARA sweater – available in 6 colors // H&M blazer (sold out) // JESSICA SIMPSON faux fur vest // PUBLIC DESIRE booties – open toe version // CALVIN KLEIN purse
I absolutely love how carefree this look is as it represents my mood most of the time as of late. Jeans and a sweater with a touch of glam added by the faux fur vest make a perfect weekend attire, brunch outfit or even first date look. 
**
Am I the only one who has been enjoying the rise of the "celibacy before marriage" movement? Not to say that this wasn't a thing before, but lately, with communities like Pinky Promise created by Heather Lindsey, celebrities like Ciara & Russell Wilson publicly admitting that they're waiting for marriage, and Meagan Good and Devon's Franklin's book "The Wait" explaining how they managed to remain abstinent until they tied the knot, it seems that this is becoming a "trend" in a society where sex is the determining factor in deciding if someone is worth dating. I must admit that it is quite pleasant to see this welcomed change in the 21st century considering the fact that the Bible has been telling us to go that route for 2000 years but I digress… 
The reason I'm mentioning this is because of a comment that keeps coming up on social media among other places every time celibacy is the topic of discussion. That is "Marriage is just a piece of paper. Why should I have to wait until then to find out if I'm sexually compatible with someone?" Everyone is clearly entitled to their opinions but as a Christian, I can't help but to be annoyed disturbed by this notion. Marriage is NOT just a piece of paper. In my eyes, marriage is a covenant before God, a lifelong commitment to share your life with another human being. The fact that we think it is simply a piece of paper is the reason why our marriages are now lasting 72 days. People are so focused on having lavish weddings but are not the least bit concerned about the marriage itself which is obviously the most important part.
During their book tour, Devon and Megan talked about the fact that before they even got engaged, they attended pre-engagement counseling. I didn't even know that such a thing existed but it makes so much sense. When you attend pre-marital counseling, you are already engaged and on the verge of marriage. But pre-engagement counseling helps both parties involved to confirm that they truly want to go down the road of marriage before saying yes under the pressure of a romantic bended knee moment. Just brilliant!
Many of you, my dear readers are reaching the age of young adulthood and the topic of marriage almost always comes up some time after college graduation. If you don't remember anything else I've ever advised on this blog, remember this: A man is supposed to love a woman as Christ loves the Church and a woman is supposed to submit to her husband. If sex is the factor by which your mate has to determine if he / she loves you and if you're compatible, then the relationship is already in trouble.
A strong foundation is indispensable for the survival of a marriage because if a couple has nothing to hold them accountable to their commitment to each other through thick and thin, the relationship will crumble at the first sign of trouble. There is a reason a majority of marriages fail especially if tragedy strikes. Don't be easily swayed. Value the temple that is your body and "Do not conform to the pattern of this world, but be transformed by the renewing of your mind. Then you will be able to test and approve what God's will is – His good, pleasing and perfect will." Romans 12:2
*But what do I know?! I'm just a single girl giving marriage advice 🙂
As always, I hope you guys enjoyed the look and the post. Feel free to drop me a line below to share your thoughts on the idea of celibacy. Until next time beauties.
Versicolorfully yours, 
Edwina