Day 3: Desert safari 
Monday mornings never looked so promising. After having so much fun the day before, we decided to sleep in a bit. At

noon

, we stepped out for lunch and then got picked up for our safari tour. I wore a sheer dress which was supposed to be a bathing suit cover up. If it was 104 degrees outside, I figured it would feel like 200 degrees in the desert. Since we had so many activities planned, I rocked my new gold sneakers for comfort.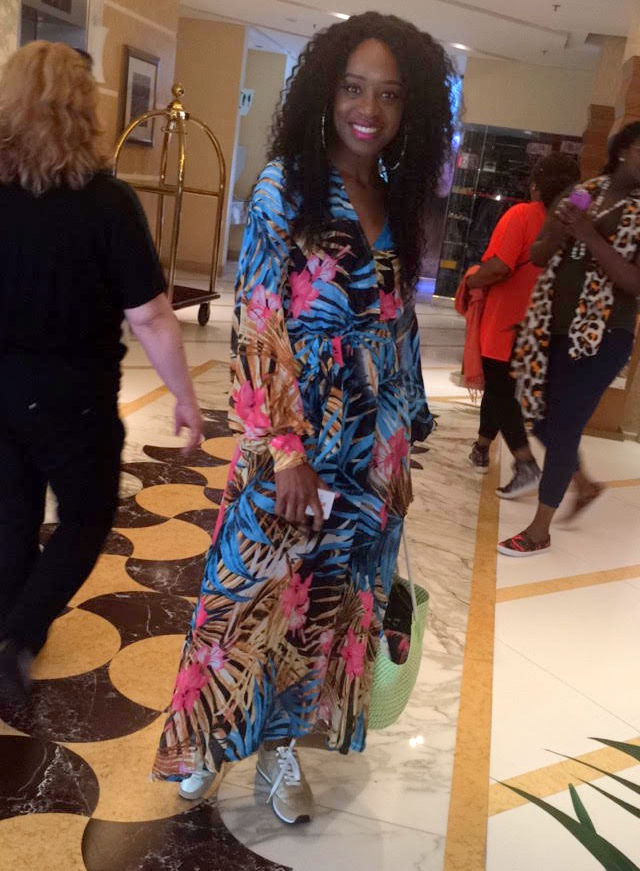 Ever since we booked this trip, the number one thing on my to-do list was riding the camels and simply being in the desert; so to say that I was excited for this adventure was an understatement. Our group of 11 split to get on two SUVs and after about 20 minutes, we stopped at a rest area for bathroom breaks and a little shopping to purchase head scarves and gorgeous beaded kaftans while our driver made sure the car tires were fully inflated.
Wearing: SHEIN sheer dress // MICHAEL KORS sneakers (on sale!)
We then got back on the road and in no time reached the desert. I can't remember our driver's name for the life of me but he made sure everyone's seat belt was buckled and the dune bashing ensued. Man, that was so much fun. It was as if we were for once able to ride in a car with no speed limit and ignore the fact that there were speed bumps everywhere. The thrill was exhilarating and we were all laughing uncontrollably. Even my mother enjoyed it though I was scared she may have a heart attack. At some point, the car was tilted downward over what felt like a cliff and the driver just stopped as we screamed and held on for dear life. If you've been tensed for a while, dune bashing would loosen you up in no time. I must say that they should have advised everyone not to eat too much because the turbulence (so to speak) can surely make you regurgitate your lunch. Sorry for the imagery but I watched this happen from another car that pulled over and also felt as if I would be the next nausea victim. Thank goodness that didn't happen.
As if this experience wasn't exciting enough, we proceeded to take a break and some of us got the chance to sand board. I couldn't wait to try it but someone required medical assistance at the time which caused the rest of us to miss out on the experience. My mother fully enjoyed it though as you can see.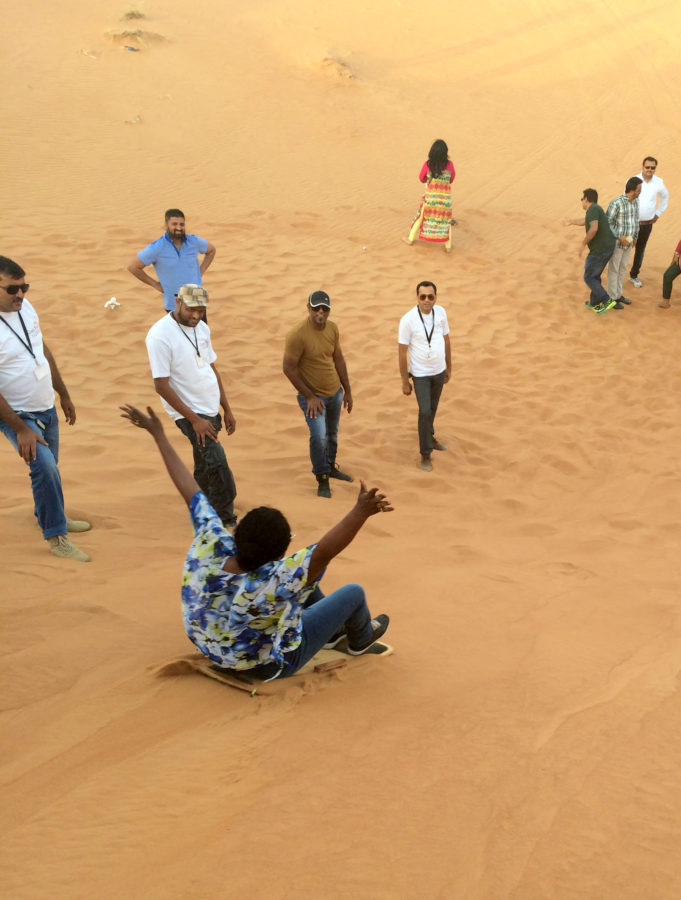 The next stop was at the desert camp to ride the ATVs. For a quick second I flashed back to my father who told me in 5th grade that even if he were to pick me up from school in a motorcycle not to get on because he's seen too many deadly accidents from those things. But everyone was having too much fun on them for me to miss out so I paid the 150 Dirhams (~$40) and shared the ride with my girl Gracie who flew from Florida to come celebrate with me. Yes, I'm loved that much 🙂 I can't come up with a stronger word than exhilarating when it comes to ATV riding but that's exactly how it was. I even stood up as the wind blew in my hair and felt totally unstoppable. It was amazing!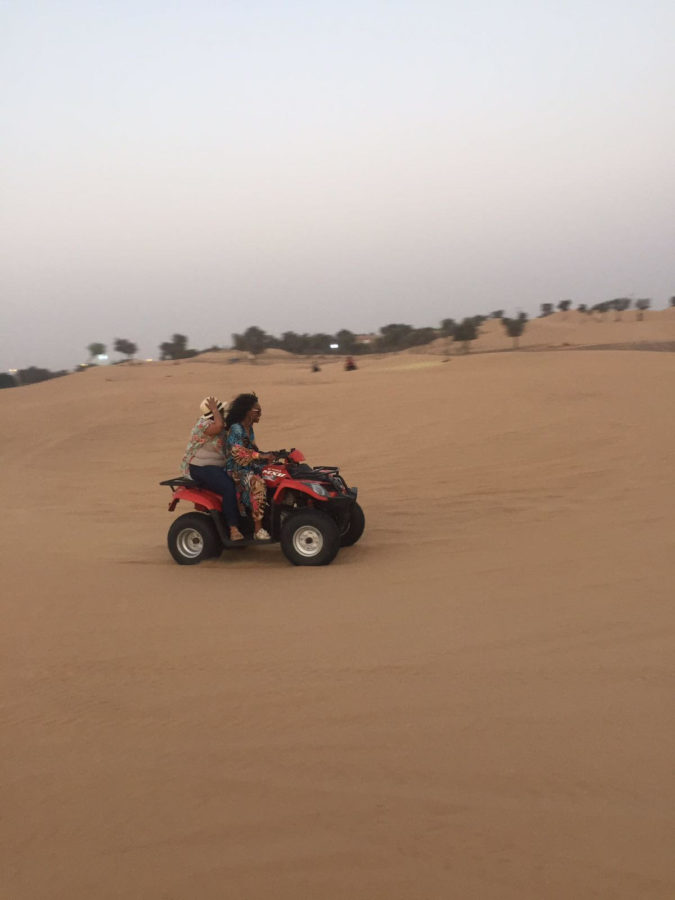 Once we were over that thrill, it was time to get on the camels. By then, the sun was setting. If you've ever watched the sunset from the desert, you would be convinced that there is a God and He is indeed a talented artist. Neither words or pictures can depict the essence of this magical view. We got on the camels but sadly it lasted what felt like all of 30 seconds. Once on their back, I felt on top of the world because they're so tall. They went around with us in a circle before bending down the front two legs followed by the back two in order to let us off. We laughed so hard!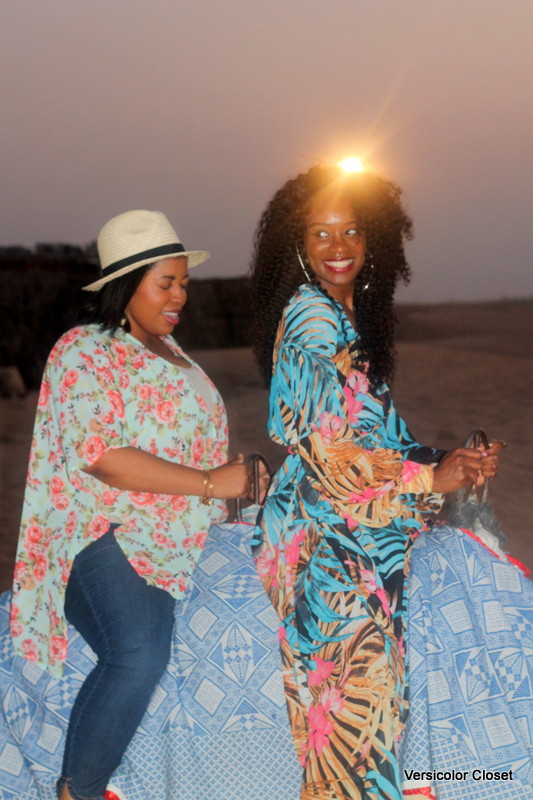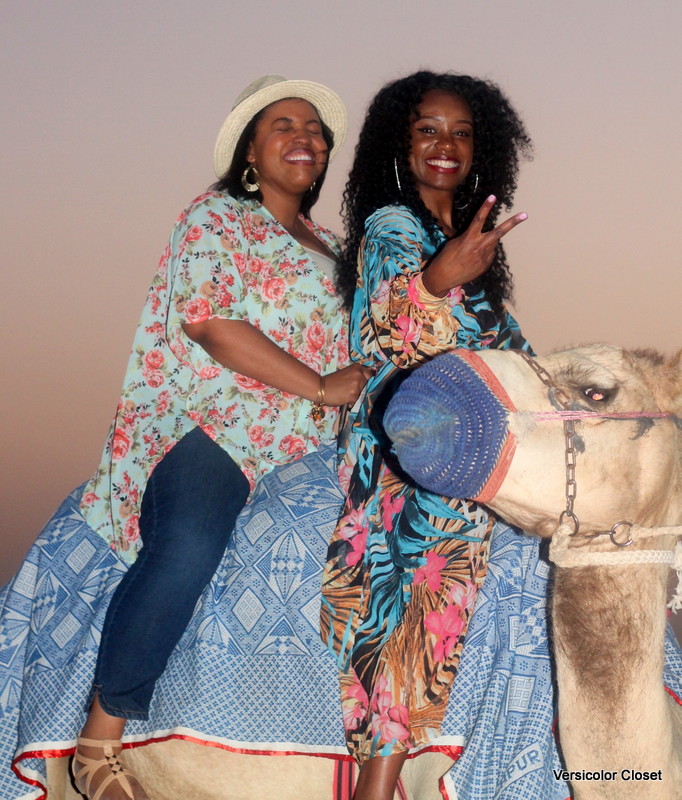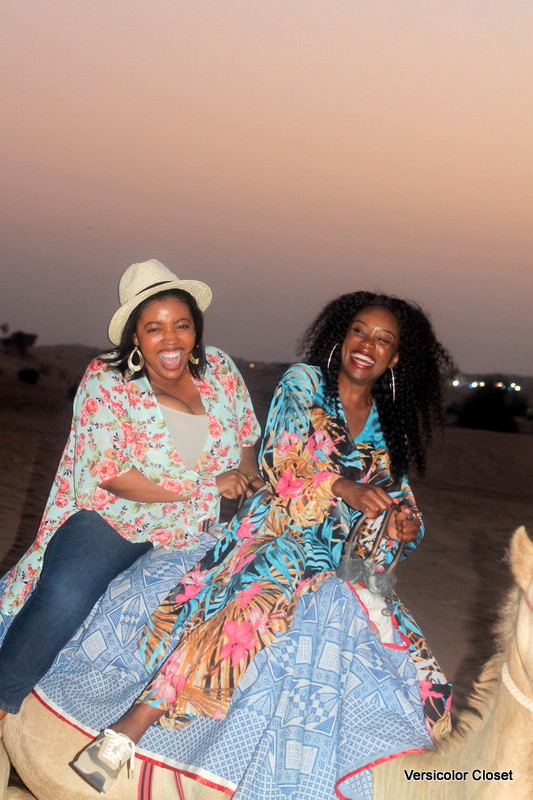 We took pictures and videos before proceeding inside the camp where we sat on pillows on the floor as they served us appetizers. On the big screen, we were able to see all the photos we took on the camels and the ATVs which were available for purchase at the end of the night. In the meantime, a belly dancer and other performers put on a show to keep us entertained while vendors sold souvenirs and some of us got henna tattoos done and took pictures with the kaftans and hijabs provided. This was all followed by a buffet dinner which was pretty delicious.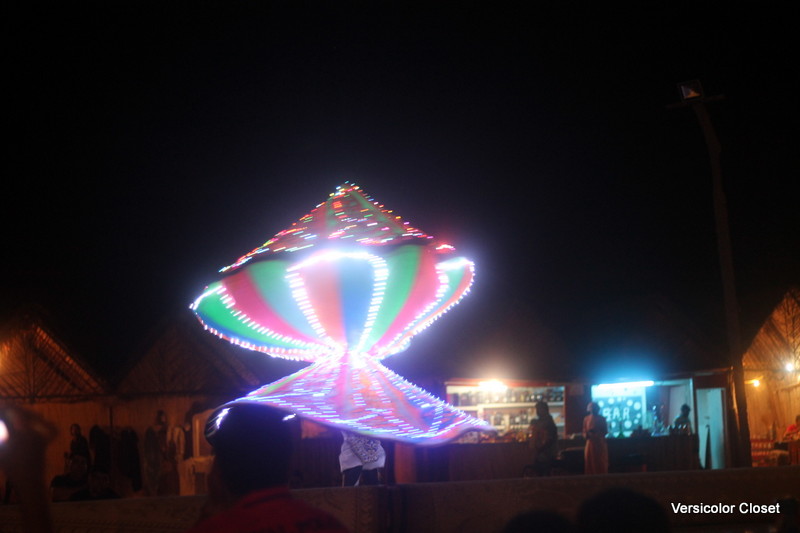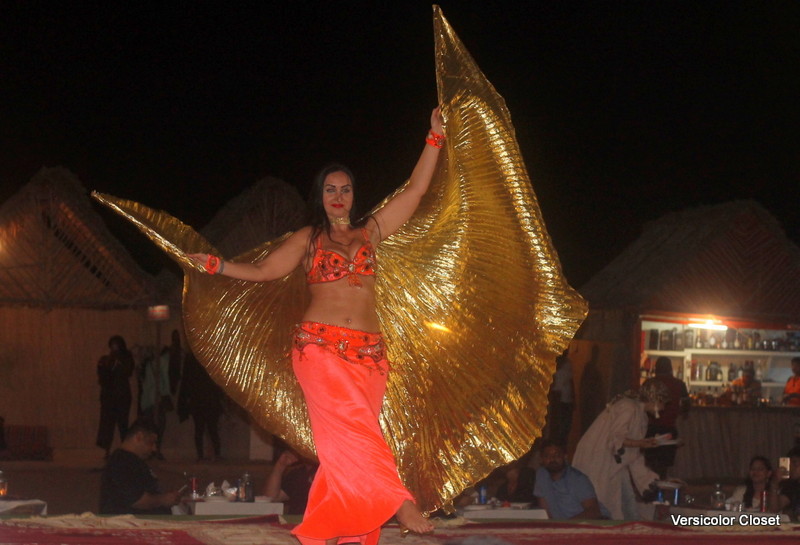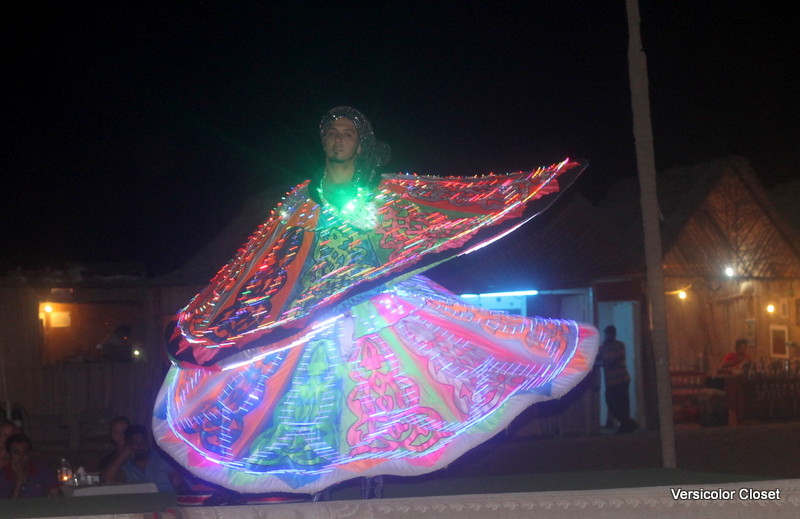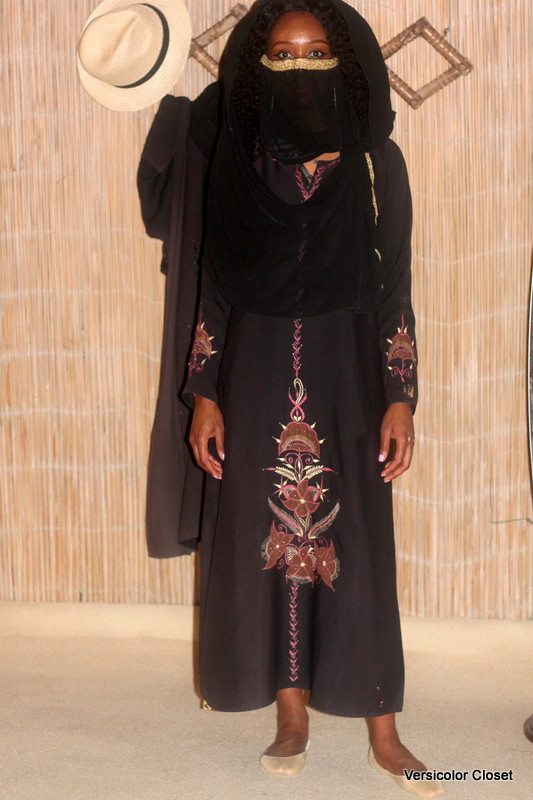 The most magical desert safari trip ended as we got back in the SUVs to get dropped off at the hotel and we couldn't stop talking about all the fun that we just had. The only thing I didn't like was the fact that we didn't have enough time at the camp to all get our henna tattoos done because the 5 hours were up and we had to leave. We also noticed that the way some people speak can come out very rude even when they don't mean to have an attitude. One of the drivers told us that we should've all gotten our tattoos as soon as we got there instead of wasting time and waiting towards the end. His attitude definitely rubbed me the wrong way but I wasn't going to let one person ruin an entire evening of magical memories.
Since we returned to our hotel early enough, we took a needed nap and planned to explore the Dubai nightlife for the second night in a row. We got semi dressed up and wore flats and headed to Fairmont Hotel which is known for its parties. As soon as we walked up to the entrance, we were told that heels were a requirement to come in so we were unfortunately forced to go to another place. Down the streets was Zinc which was a nice club but we didn't care much for the music choices or the fact that everyone was smoking everywhere. I still can't believe that smoking is allowed in most indoor places in Dubai. It's very nauseating.
Upstairs from Zinc was another club where we got super expensive drinks. Everyone seemed to be having fun but I don't enjoy the noise and the smoking so I was ready to step out for some fresh air. We then grabbed a sandwich at Elevation burger and sat outside where a drunk guy told me in more colorful terms to ignore the fact that he's wearing a $7,000 Dior diamond watch but that he would like to take me out. Such a turn off.
Wearing: RIVER ISLAND skirt // EXPRESS shirt (worn in black here & here) // NINE WEST flats // WHO WHAT WEAR crossbody bag from Target // SASSY JONES BOUTIQUE Alyssa bib necklace
We took a cab back to the hotel and called it a night. A trip to Abu Dhabi was in the works for the next day so we couldn't wait for day 4. See you soon for the rest of this series!
Versicolorfully yours,
 Edwina