"Summer afternoon—summer afternoon; to me those have always been the two most beautiful words in the English language." ― Henry James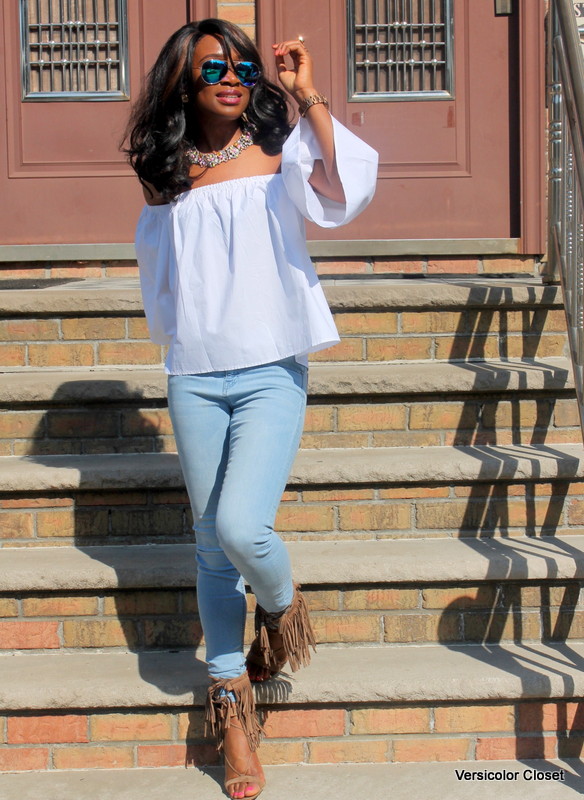 Hello ladies,
I'm sure you all have been seeing endless off-the-shoulder tops and dresses in every store lately. To be honest, I wasn't always a fan of this style because I always felt that it would be annoying to deal with that 'my shirt is falling off' feeling all day but I was highly mistaken. This top is so versatile and so comfortable that I figured I'd share 3 ways to rock one this summer. No matter your body type, you can style a cold shoulder top for many occasions and I guarantee you'll feel effortlessly fabulous.
For look 1, I paired this Romwe top with a light wash pair of skinny jeans from H&M. I love that this look can be easily transitioned from day to night without changing anything at all. This can be worn to brunch, for a girl's night out on the town or even to a baby shower. I actually wore it over the weekend to my little cousin's recital and got lots of compliments. It's definitely a cute and flirty outfit without being over the top. I completed the look with my Alyssa bib necklace (sold out but you can shop other fabulous & super affordable jewelry at Sassy Jones Boutique) and adorned my feet with this cool pair of neutral fringe heels gifted to me on my birthday by my bestie Malita. Love this similar pair here.
Be sure to check back tomorrow for look 2 and stay tuned for an upcoming Calvin Klein wallet giveaway. If you're not subscribed by email, now would be a good time to sign up and officially become part of the Versicolor family! 🙂
Versicolorfully yours,
Edwina
*Disclaimer: This post is in collaboration with SheIn but all opinions expressed are my own.