"If you really want to do something, you'll find a way. If you don't, you'll find an excuse." – Jim Rohn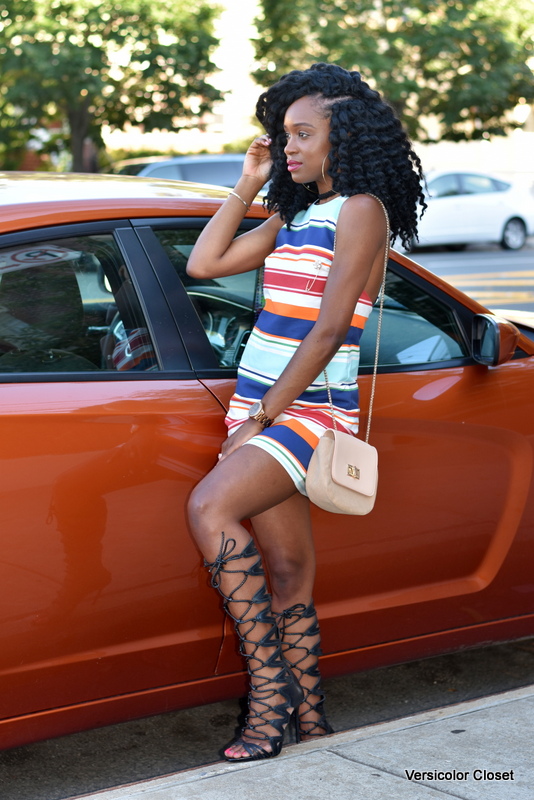 My mom loves the details of this dress so much that she claims she's going to get it made for herself. When mom approves of your outfit, you know you're doing something right! 🙂 Read on for three easy tricks to be a styling queen. 
Outfit details: 
ZARA dress (sold out) Try this for $11 or this // ZARA gladiator heels (sold out) Try this or this // WHO WHAT WEAR crossbody bag // CHARLOTTE RUSSE choker – identical here // H&M ring & bracelet
There's this fabulous woman who attends service at my church every Sunday but always comes wearing the same thing. By that I mean the same style but not the exact outfit. I find it fascinating. Her heels change, her accessories change but the dresses? They come in different colors and cuts but are always fitted, midi length dresses that fit her to perfection. That had me thinking about how creating a go-to uniform so to speak is such a smart thing to do especially if picking clothes out every morning feels like a chore. Once you find what works for your lifestyle and your body type, you can eliminate this part of your daily decision-making process and focus on the more important things in life. One can argue that her looks are predictable but at the end of the day, she can strut in confidence because what she's wearing has been tried and tested for a long time and she can keep things interesting with an array of accessories. This is where I come in.
Today, I'd like to use this outfit to share with you three ways to accessorize your daily "uniform" that will help take your looks from predictable to "Wow, you look amazing!" Who doesn't like compliments? 🙂 
A brooch

I find a brooch to be one of these accessories that make me feel womanly. I mean you don't typically see a 15 year old rocking her mother's brooch just yet. As I step more comfortably into my womanhood, I've developed an infatuation with brooches of many kinds  and actually hope to start a vintage collection of them eventually. So when I found this gorgeous modern pin with pearly details at H&M, I had to have it. Simple but add a little extra oomph to any dress, top or even blazer.



Gladiator heels

If you're wearing shorts, a mini / midi dress, or even a skirt that hits you right at the knee, you can ditch your typical pumps and swap them for a pair of gladiator flats or heels. Simple never has to be boring so take the attention from your look and have everyone stare at your feet instead.



Choker necklace

I have a love / hate relationship with chokers because on one hand they are absolutely fabulous and a bit different from your typical statement necklace but on the other hand, they can do just what they claim to do and choke you if you put them on too tight. Be sure to allow some breathing room when rocking them.


What are your favorite accessories to spruce up your looks? Mine may be sunglasses but don't quote me on that because I'm obsessed with all kinds of things that make my outfit slay 🙂 I hope you enjoyed this post and will share it with your friends, especially if they need help in the accessories department.

Thank you for reading and don't forget to hit the like button, share and subscribe if you like what you see.
Versicolorfully yours,
Edwina