"Failure will never overtake me if my determination to succeed is strong enough."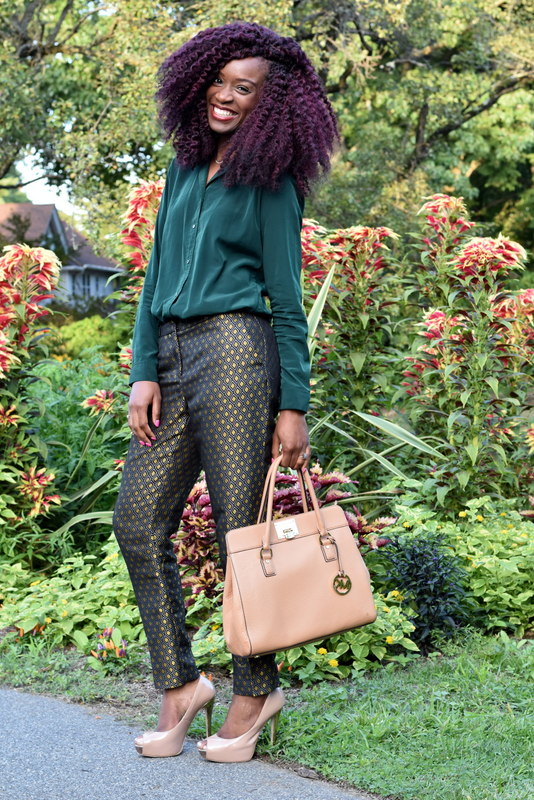 About the look: To get ready for the dropping temps, I tried an all new red hair which I have had to get used to a bit. What do you guys think about it? Over here at the Versicolor Closet, we are in full blown fall mode as you can see. It was fun to stop at the park and shoot this look after work last week and still see the flowers in full bloom. There's something so serene about parks but the same can't be said about having to change in your car for a shoot there and hope that no one's watching. #BloggerProblems #ByAnyMeansNecessary
Outfit details: H&M trousers – similar here // JUST FAB heels – similar here // MICHAEL KORS purse – similar here // TWENTY 5A blouse- similar here
Today's word of motivation: Earlier today I heard something that resonated with me: "You see people's glory but you don't know their story." #Facts!
As outsiders looking into our peers' lives now more than ever with the help of social media, it's easy to let comparison steal our joy because 'although our Toyota was a blessing, it doesn't compare to Gracie's Lexus.' Once in that place, the devil then plays with your mind some more… You won't just start noticing all the glitz and glamour in everyone's feed but you may even contemplate what you can do – immoral or even illegal – in order to achieve those same results. To make matters worse, when it appears that others are reveling in the kind of blessings you've been praying for, you lose all hope and figured something has to be wrong with you or that God doesn't answer your prayers. But remember, all that glitters isn't gold. You have no idea what struggles Gracie went through to get to the point where she can afford that Lexus. Maybe she still can't afford it and only posed near one for a selfie but you assumed it was hers. Or maybe it is hers but she's in debt for it, and can't afford to fill it up or even maintain it. You really never know what you're wishing for when you envy others.
So as I always say, keep praying until your prayers are answered but most importantly, never forget to be grateful for all the things that you do have. Don't associate a delayed response from the Lord with a negative response. He knows best and therefore will never lead you astray! When you can't understand why He rejected your prayers, remind yourself that sometimes God's rejection is His protection because we tend to ask for things we don't need only to impress people we don't even know… Get it together girl! 
I hope you've enjoyed this post and will apply the advice shared if you find yourself always comparing your life to others'. We're all guilty of this to some extent. Just be sure not to let the comparison deter you from your goals. Live colorfully boo! God's got you 🙂
Versicolorfully yours! 
Edwina