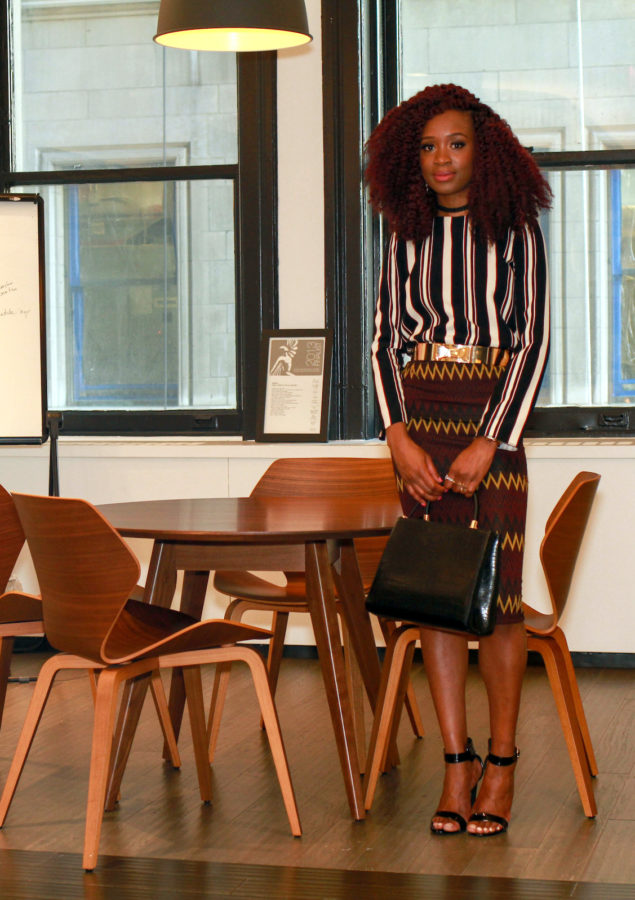 Welcome back VersiDivas!
The second look from the Versicolor Closet x The Coco Gawdess fall lookbook video focuses on our take on the pencil skirt for work during the fall months! Delfine AKA TheCocoGawdess styled her skirt with a bodysuit and made it work appropriate by covering up with a cardigan. Listen, I need her skirt in my life! 🙂 I on the other hand decided to mix some prints and bring color to the picture in true Versicolor fashion! I mean look at my hair 🙂 
Since both the top and the skirt have black and burgundy patterns, pairing them was a safe risk to take (if there is such a thing!). If you work in a corporate environment with strict dresscode, then this may be too bold for the office but almost any look can be altered to cater to your office culture. I'm so thankful I work in a not-so-strict-on-dresscode kind of office because that would simply stifle my creative mind. I digress… To finish the look, I went with all neutral accessories from a black choker, to black heels and this super sophisticated black snake print purse from H&M . 
Outfit details: ZARA skirt – styled here – try this // ZARA top (old) // LULU'S heels // H&M bag // ASOS belt // CHARLOTTE RUSSE choker
**
Have you heard this song by Hillary Scott called Thy Will be done? I have been on an emotional rollercoaster this past month dealing with some personal stuff that I try not to think about by burying myself in my work but this song just does it for me… It says:
I know you're good
But this don't feel good right now
And I know you think
Of things I could never think about
It's hard to count it all joy
Distracted by the noise
Just trying to make sense
Of all your promises
Sometimes I gotta stop
Remember that you're God
And I am not
So Thy will be done
When the going gets rough and you can't even find the words to pray, I encourage you to lay your worries down at the cross, believing that He is able to handle it all. May His will be done in our lives. Always and Forever!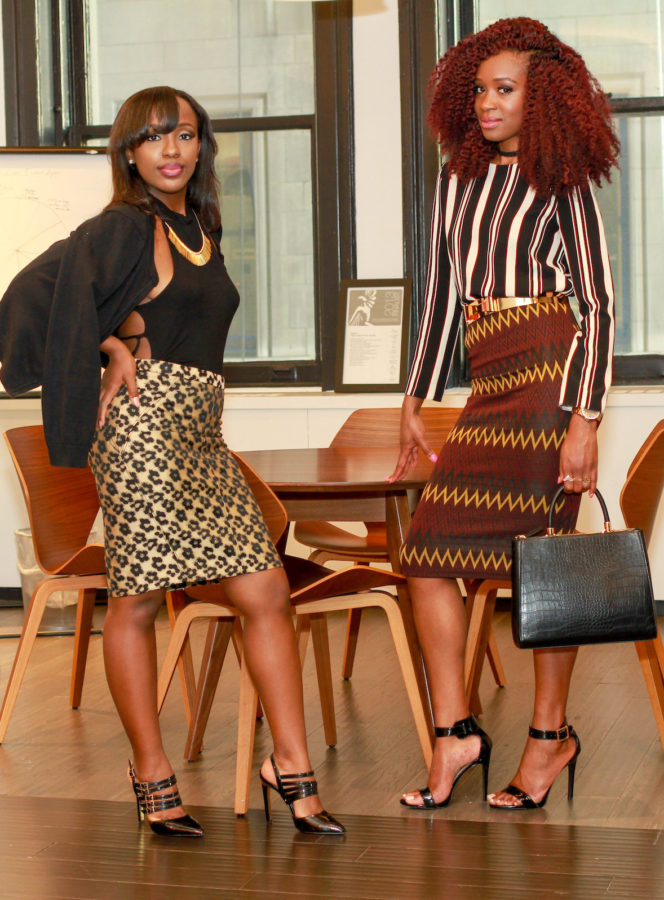 Please check out thecocogawdess.com for all the neutral outfit details featured in the video and if you like what you see (how could you not?!) you can join the fun on Instagram and other social networks by following Delfine @TheCocoGawdess. 
Big thanks to the talented people who have contributed to the success of this video: 
Photography and Videography: A. Sutton Photography 
Music: Fritz
Editing: Delfine 
Thank you for reading & watching! As always, your feedback means the world to me. Please let me know which look in the video is your favorite and what your thoughts are on this look. Be well darlings! 
Versicolorfully yours,
Edwina