"Love is friendship that has caught fire. It is quiet understanding, mutual confidence, sharing and forgiving. It is loyalty through good and bad times. It settles for less than perfection and makes allowances for human weaknesses. " – Ann Landers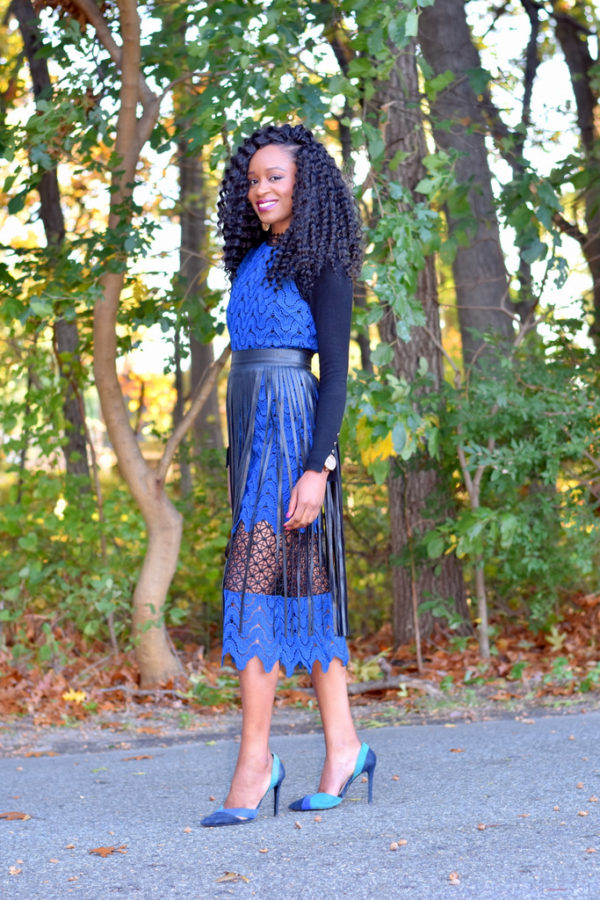 Happy Monday beauties! My weekend ended on a high note as I attended my friend's engagement party. [All the fun was posted on my snapchat] Call me a hopeless romantic but there's really nothing more beautiful than being in a room filled with family and friends celebrating love.  I'm so excited for the new beginnings for my girl Jennifer but most importantlly, I cannot wait for the actual wedding. Funny story, this is the third of 3 sisters that is getting married and I've caught the bouquet at both of the previous sisters' weddings. Third time's a charm? Ha! We shall see 🙂

Outfit details: 
SHEIN Lace dress // SHEIN fringe belt (sold out) // ZARA sweater (similar here on sale!)  // ZARA heels // H&M purse
Yesterday we woke up to 70-degree weather and by the end of the afternoon, there was a torrential downpour that came down out of nowhere. The temperatures also dropped quickly and it got dark so early. I'm definitely going to miss the longer daylight hours of summer but I must admit that as unpredictable as fall weather may be, it allows plenty of room for creativity when transitioning your wardrobe.
By adding a black sweater underneath this dress previously styled here, I added an extra layer of warmth to the look with a simple black sweater without having to resort to wearing a bulky coat. The fringe belt added visual interest, and a pair of colorblock court heels served as the perfect pop of color to an otherwise dark look. This outfit could also be styled with opaque tights and ankle booties or over-the-knee boots along with additional layers of coats or jackets when it gets even colder.
I hope you've been inspired not to stow away all your summer pieces just yet. Layering your favorite jackets (i.e. a denim jacket underneath a sleeveless coat or a leather jacket over a coat) is also a good way to make your summer looks fall appropriate. How will you style your favorite warm weather pieces as the temperatures are dropping?
Thank you for reading. See you soon! 
Versicolorfully yours,
Edwina